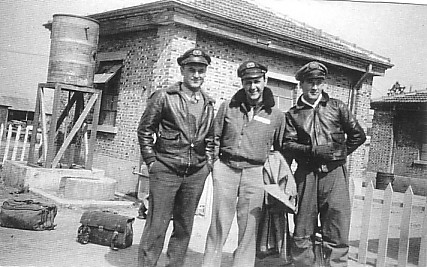 left to right
"Three pilots before take off at Lungwha airport in Shanghai - 1948"
Preston Moore, Lopez Mantoux and Jerry Shrawder
(Photo Courtesy of the Shrawder's)
---
From the 1960-1962, 1964 and 1965 CNAC Mailing List:
Mantoux, L. J. p
420 Woodland Dr., S.E.
Washington 21, D. C.

---
From the 2/1/65 CNAC Mailing List:
Col. L.J. Mantoux
63rd Troor(p) Carrier Wing
Hunter S.F.B., Georgia

---
From the 1976 and 1979 CNAC Mailing List:
Col L J Mantoux
220 E Bay St
Savannah Georgia 31401

---
From the 1994 CNAC Mailing List:
Mantoux, L.G. *AFV
4917 Ravenswood Dr.
#211
San Antonio, TX 79072

---
January 7, 2002
From Valerie Parish Kendrick, daughter of Len Parish
Lt. Colonel L. J. Mantoux, 3740-A, stationed, at one time, at -- Box 472, Westover Field, Mass. He was with, at one time, the 162 9th Support Sqdn whose APO 57 was New York, New York. This information came from my Dad's little black book. I'm pretty sure I sent you a list of all the names in that book.(she did) Wish I could tell you more about him. I believe Westover Field is still in operation. Somewhere I have an email address of a fellow who flies model airplanes in that area. When I find it will... zip it to you. (Thanks Valerie.)

---
Short Bio:

Born Dallas TX. Raised in Alabama. Graduated from Auburn University in 1938 and commissioned 2nd Lt. in the Field Artillery. Active Dury with 36th CA Brigade, Ft. Bragg, NC. Became a lighter-than-air pilot and observer with 2nd Ballon Sq., Pope Field, NC Went thru flying school as a 1st Lt. and flew combat in B-17s with the 8th Air Force in England from 1943-45. After leaving China re-entered the regular USAF. Flew C-121, C-97. C-130 in command and staff assignments until Retirement in 1968. Had two tours in Vietnam in 1962 and 1967 in airlift operations.


---
November 12, 2003

Hello Tom,

I was browsing and found your web site. If I remember I was looking at the request of Lopez "Monte" Mantoux. "Monte" is a very good friend of mine and we live in a retirement center called Air Force Village One near Lackland AFB in Texas. As you notice, his last name was misspelled on your web site. He still goes by the name of "Monte" and is well-liked by everyone who knows him. He has given me the following information that you might want for CNAC:

Left China 1948 and returned to the USAF as a regular Lt. Col. and stationed at Westover AFB. Commanded the only AF squadron of C-121's (Connies) and the first squadron of C-97 on the East coast.

In 1951 assigned as the MATS commander at Rhien Main Germany. Promoted to colonel in 1952 and reassigned to Prestwick, Scotland. In 1954 transferred to Washington, DC and stationed at Andrews AFB and the Pentagon until 1961.

Transferred to Japan as Vice Commander and Chief of Staff, 315th Air Division (PACAF Airlift Command). Spent nearly a year TDY in Vietnam in 1962 setting up airlift system for SFA.

In 1964 returned to the C-124 Wing Hunter AFB, GA until 1966 when he returned to SFA as commander of a C-130 wing until he retired in 1968 at Savannah, GA.

Was Vice President of the Liberty National Bank until retirement in 1978.

Lived in Savannah until 1984 when he and his wife Stella moved to Air Force Village One, San Antonio, TX. He married Stella Moya of London, England in Shanghai, China in 1946. Lost his beloved Stella in June of this year (2003) from cancer.

In reasonable good health at 88 years of age.

I am Lt. Col. Paul W. Deppert, USAF Ret. and will respond to any questions you might have about Monte. I flew as a navigator of B-24's in ETO during the war.

My e-mail address is: deppert@swbell.net



If you would like to share any information about Lopez Mantoux
or would like to be added to the CNAC e-mail distribution list,
please let the CNAC Web Editor, Tom Moore, know.
Thanks!