JOSEPH KURZMAN (1914 - 1949)
"Joe"
(Pilot)
(CNAC November 1943 - Still with CNAC late in 1944)
(Captain - ???)
(Hump Flights - XXX)


In the 1943-45 log book of Don McBride, Joe listed two addresses:



JOE KURZMAN
131-60 233 ST
LAURELTON LONG ISLAND,N.Y.
and
18 EAST 46 ST
N.Y.C.


---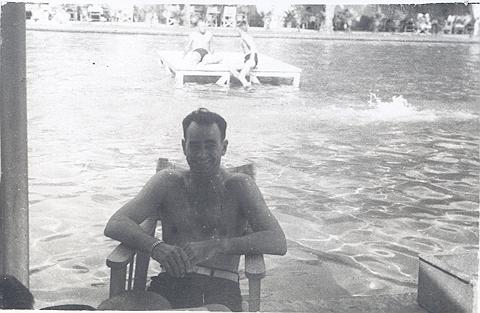 Joe Kurzman at the RC Swimming Club -- Later killed
Anyone know the two men in the background?
(Photo Courtesy of Jim Dalby)
---

Joe Kurzman later worked for CATC and was killed June, 2, 1949, two hundred miles east of Chungking, China.






If you can share any information about Joe Kurzman
or would like to be added to the CNAC e-mail distribution list,
please let the CNAC Web Editor, Tom Moore, know.
Thanks!



Background music to this
page can be controlled here.
"When You Wish Upon A Star"