In the 1943-45 log book of Don McBride, Jim listed his home address as: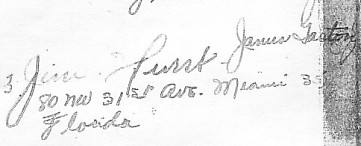 Jim Hurst - James Gaston
80 NW 31st Ave. Miami 35
Florida
---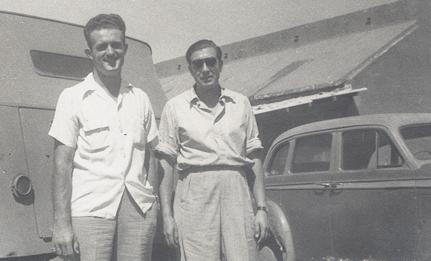 Jim Hurst and Wyly Flint
Location and date unknown
(Photo Courtesy of Jim Dalby)



November 8, 2000
Jim Dalby remembers: "Jim Hurst was married to a very nice lady, Maggie, for many years but she died about ten years ago. Jim has been remarried for several years. I do not recall any children."

---
July 11-12, 2001
Your CNAC website is great. I just wanted to update my father's profile.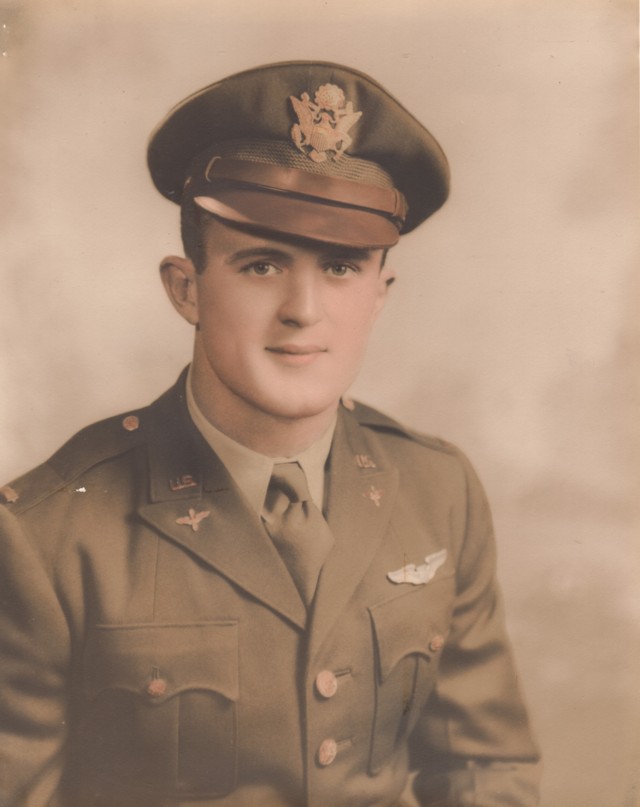 Army Air Corps - 1942


James Hurst met his first wife, Colleen Quin-Conroy, in Calcutta during WWII. Colleen and Jim were divorced, but they had three children: Brian James Hurst (deceased); Kathleen Lang Hurst Keesler (deceased); and Patricia Colleen Hurst Barrett. He has four grandchildren: Christopher Benjamin Hurst; Katey Hurst; Jennifer Leigh Davis Vitulli; Adam Zachary Barrett and one great-grandchild, Michael McClean Vitulli.

His second wife, Maggie, died several years ago.

Jim is now married to Nita Pogue Hurst, and they live in Nashville, Tennessee.

My dad's complete name is James Gaston Hurst, Jr. He was born June 17, 1922 in Jacksonville, Florida. He graduated from Landon High School in Jacksonville where he was an all-state center on the football team. He received a scholarship to play football for the University of Georgia under Coach Wallie Butts (I believe he played cornerback for UGA). He was very good friends with teammate Frank Sinkwich, a famous All-American at UGA. Dad was injured in his sophomore year at training camp when he fell down the Minnihaha Falls in Rabun County, Georgia. He is one of the few people who survived that fall. I visited the site several years ago, and I was amazed that anyone could live after plummeting down the sharp boulders much less land in the relatively shallow pool at the base of the falls. He received a concussion and several broken bones and bruises. Anyway, much to his eternal regret and because of his injuries, he had to quit playing football for Georgia. He attended the University of Florida for awhile, but the red and black (UGA's colors) was too thick in his veins, and he detested every minute. He joined the Army and went to Texas for his flight training. Then he was sent to India, and I'll need to speak to him again before I can give you the rest of the information you requested.

Thanks.

Pat Barrett
patbarrett12@yahoo.com
(Pat is Jim's daughter.)

---
Jim was good friends with Jack Brown, another CNAC Captain.

---
October 29, 2003

Tom,

My father, James Gaston Hurst, Jr., passed away on Saturday, October 25, 2003, in Nashville, Tennessee. He was preceded in death by his daughter Kathleen, and son Brian. He is survived by his wife of 9 years, Nita Pogue Hurst, myself, 4 grandchildren, one great-grandchild, and several step-children and step-grandchildren.

Of course you may share the information. My father was very proud to be included on your CNAC web page, and he would have wanted his compatriots to know of his passing.

His wife is Nita Hurst, and her address is 7441 Highway 70 South, Apartment 407, Nashville, Tennessee 37221.

My father's wishes were that he have no funeral. He was cremated, but my family and I will gather together in the spring or early summer and spread his ashes and hold a service of memory.

My father attended the University of Georgia where he played football for the famous Coach Wally Butts. Three of my children graduated from UGA.

Pat Barrett
patbarrett12@yahoo.com

---
January 16, 2006

Tom, I'm forwarding several pictures; I can't remember if you have any of these or not, but here goes anyway.

My dad was an Eagle Scout and represented a Florida council in Washington, D.C. in the 1930s (not sure of the exact year).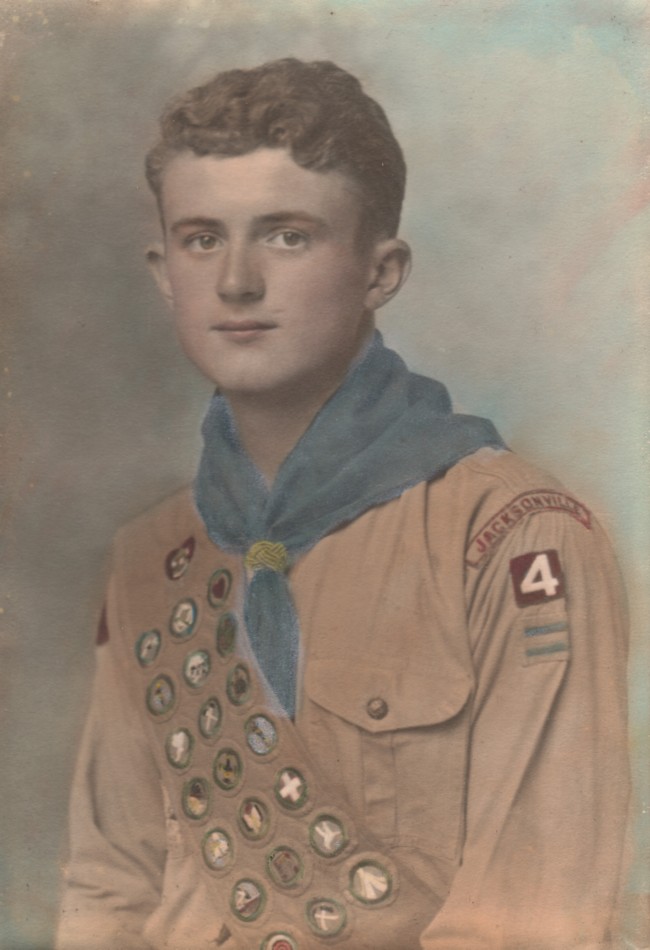 At any rate, his exhibit included baby alligators, which excited and surprised First Lady Eleanor Roosevelt who examined them rather quickly.

During high school, he was an all-state center with Landon High School in Jacksonville, FL, and I'm including a picture of the wide stance which, along with his talent, got him a scholarship to the University of Georgia where he played under Coach Wallie Butts.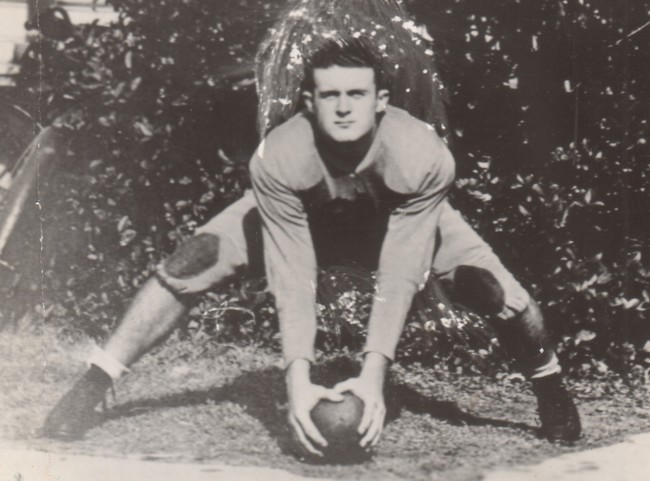 Three of the pictures were made during WWII: a portrait, one on the steps of his home in Jacksonville, and one getting into the cockpit of a plane. Dad trained in Texas, and I now live there. He often asked me if I had visited Guadalupe Peak, because he and the other pilots used it as a visual marker during their training. I have indeed visited, and have hiked one of the trails there. It is as beautiful from the air as it is on the ground, maybe more so.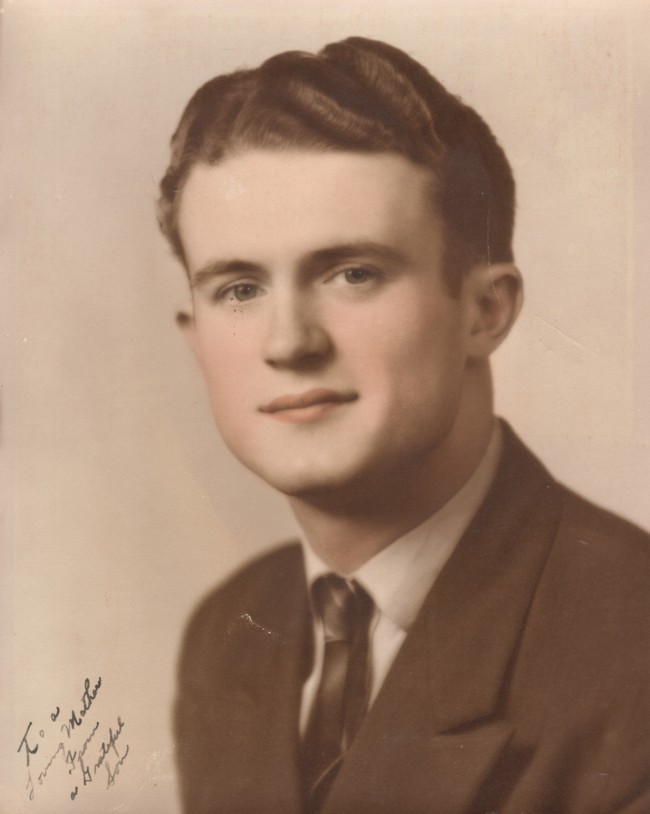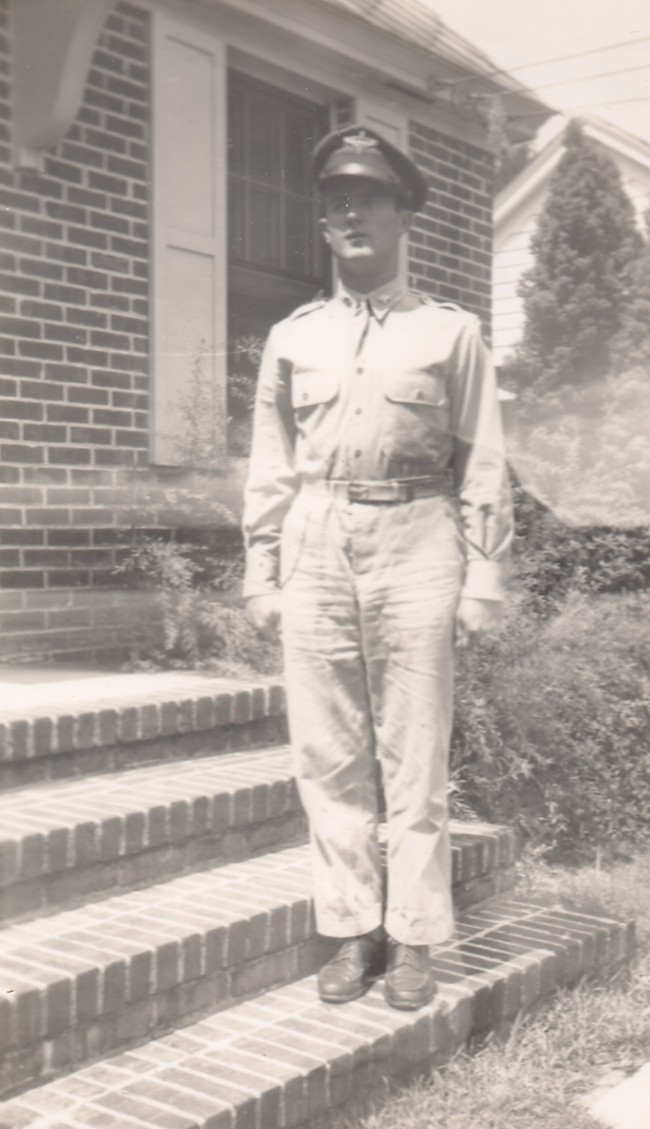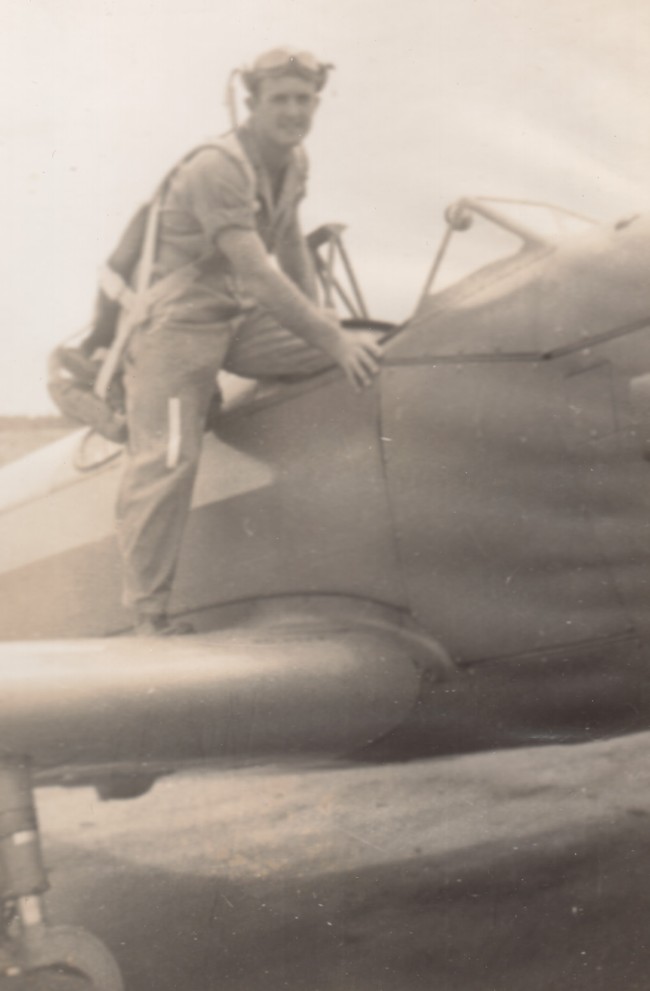 During the 1950s, my father was involved in a private endeavor where he built a plane called the Challenger 250 and competed against a plane called the Champion, built by Champion Batteries, if I'm not mistaken. I'm a little hazy on the details, but he lived in Detroit at the time, and I visited the hangar many times. I'm enclosing a photo of Dad with Col. Roscoe Turner and another one taken during the Challenger project.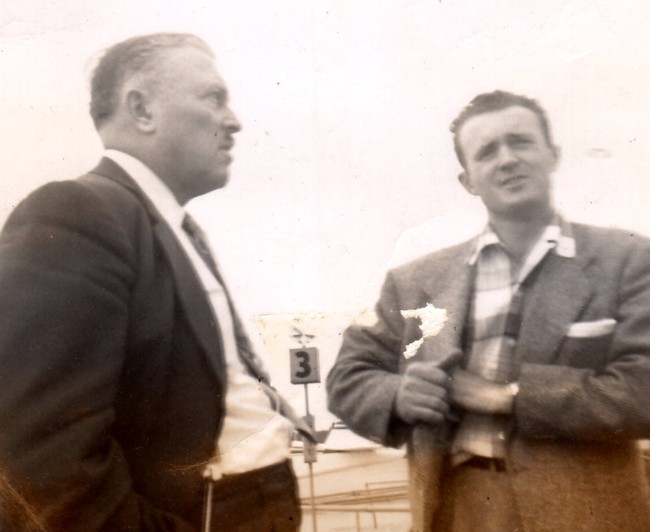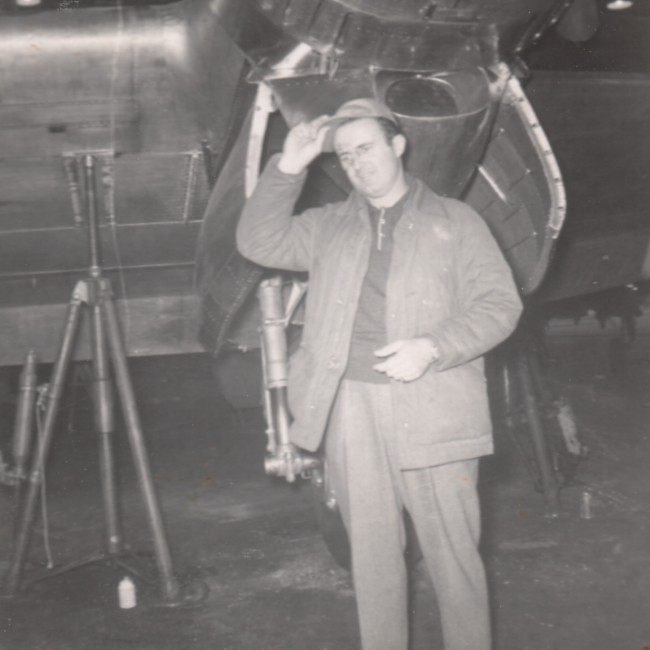 My father's third wife Nita Pogue Hurst passed away last summer, just two years after my father's death. I neglected to write and tell you that. I'm including a photo of them taken in 1994 shortly after their marriage. They were married just nine years, but my father was blissfully happy with Nita, and I loved her very much.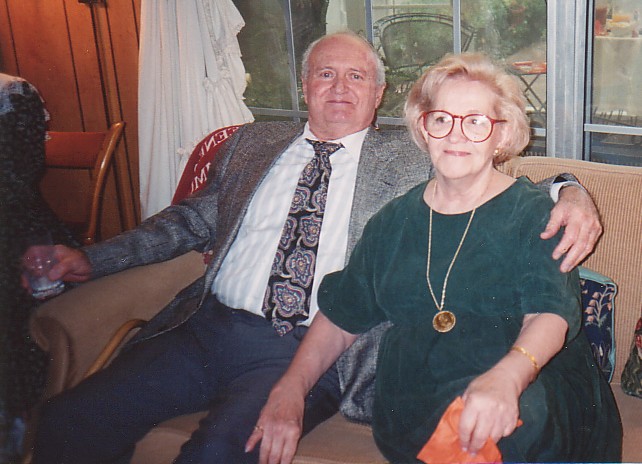 The final one is my favorite recent photo taken of my father in 1997; it shows his indomitable spirit and his incredible smile.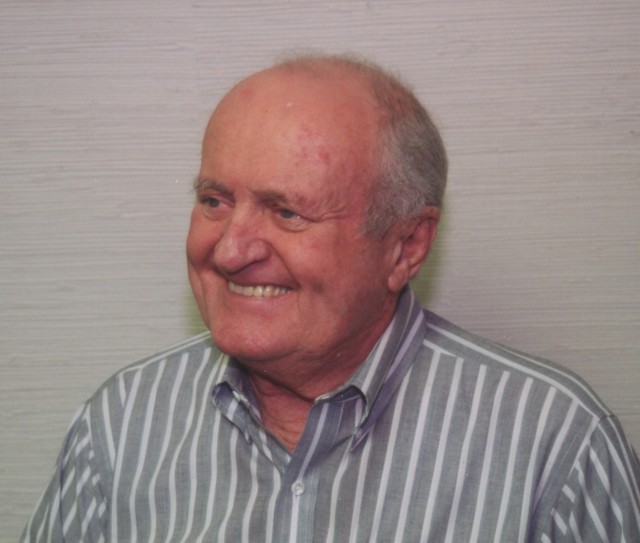 Hope all these come through. I've sent a lot of megabytes; if I have to, I'll break this up and send just 2 or 3 at a time, but I'm going to try to send them together first.

Happy New Year to you. I enjoy the CNAC website. Keep up the good work.

Pat Barrett
daughter of James Gaston Hurst, Jr.



If you would like to share any information about Jim Hurst
or would like to be added to the CNAC e-mail distribution list,
please let the CNAC Web Editor, Tom Moore, know.


Thanks!