FRED Y.T. CHIN
(CNAC August 1943 - 1945 and 1948 - 1949)
(Stockroom)
then
(Captain - late in 1948)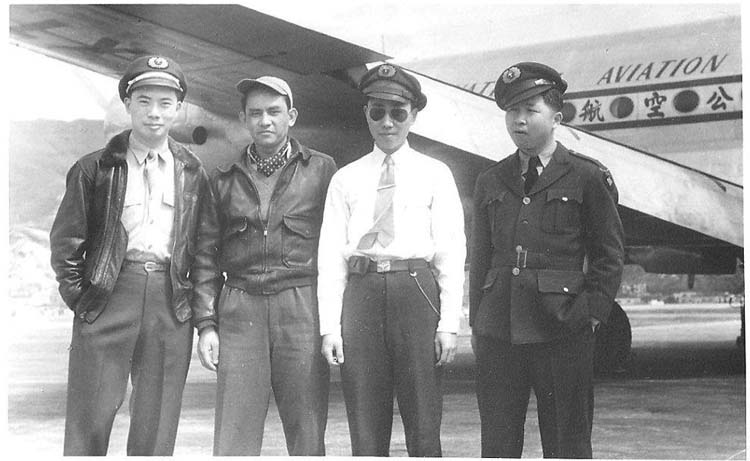 Fred Chin, unknown mechanic, Bing Zhou and Lu Yuen-Bin
Standing next to a DC-4
about 1947
(Photo Courtesy of Frank Watson. Frank's dad was Jules Watson, so we're guessing that Jules took the photo.)
---
Late 1990s with some other hump pilots at SFO Golden Bridge;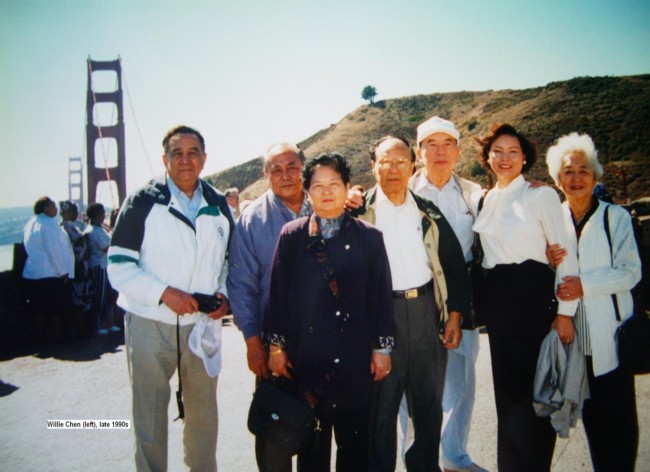 left to right
Willie Chen, Unknown, Umknown, Unknown, Fred Chin, May Chin (Fred's wife)
and Zhang wei-xia; CNAC Flight Attendant (Zhang's husband, Tsai ke-cheng was a CNAC co-pilot)
---
On July 12, 2005, I received the following e-mail from Fred:

Dear Mr.Tom O.Moore,Jr,

My name is Fred Y.T.Chin from CNAC CAPT. I call you tel, 916-772-3226, they don't know where you move. if you receive my e-mail please do call me tel, 626-839-5828 or let me know your tel. number, I'll call back.

Fred Y.T.Chin

That afternoon, I had a nice telephone talk with Fred Chin. Here is what he told me.

Fred Chin started work in the Stock Room, August 1943, in Calcutta for 1 1/2 years. In 1945 he went to the "States - Texas" got his pilots license and went back to China and CNAC late in 1948. CNAC passenger in a CNAC DC-4 to Hong Kong. He was checked out in a C-47. He was also co-pilot on the DC-4.






If you can share any information on Fred Y.T. Chin
or would like to be added to the CNAC e-mail distribution list,
please let the CNAC Web Editor, Tom Moore, know.
Thanks!


Background music to this page can be controlled here.
"Begin The Beguine".
Top of the chart in 1940.