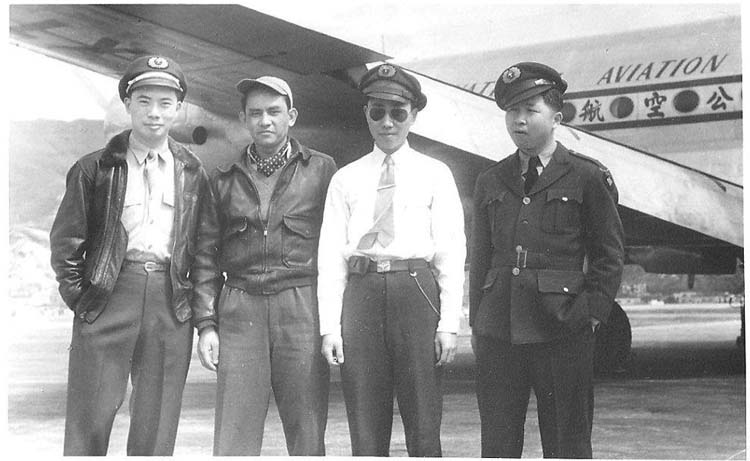 Fred Chin, unknown mechanic, Bing Zhou and Lu Yuen-Bin
Standing next to a DC-4
about 1947
(Photo Courtesy of Frank Watson. Frank's dad was Jules Watson, so we're guessing that Jules took the photo.)
---



Reunion after a half of century
By Jason Chou,
son of CNAC Co-pilot Bing Zhou


One night in the spring of 2000 (3 days before my father's departure to China from his last visit to the US) my father and I were watching the History channel on TV. It was a program about the Flying Tiger in WWII which was a part of history that my father was familiar with and took a part of in that history.

As the camera zoomed in to the keynotes speaker, my father shouted, "Dick Rossi". From the way he called a person's name, I could tell that he was very happy and excited to see Dick on TV. After a short and quiet moment, he said to me that I hoped that Dick is still alive and he wanted to see him, if it was possible. From my father's words, I knew Dick Rossi was someone he not only knew, but knew very well.

After the TV program was over, my father began to tell me about Dick Rossi. My father first met Dick in 1944. Dick was a senior pilot of CNAC (China National Aviation Corporation) and he was a fresh CNAC co-pilot just graduated from college in Kunming. At that time, CNAC was heavily involved in Hump Airlift Operation to bring US military goods into China by flying over the Himalaya Mountains; the Hump!

Dick jointed the Hump Airlift Operation of CNAC from beginning (1942) until the end of WWII. During that period, Dick flew over the Hump 750 times, a record held in the entire operation. My father flew countless trips with him over the Hump until the war was over and also flew a lot of trips after the war until the end of CNAC in 1949.

By the time, my father finished his story telling, it was the bed time. He asked me to help him find Dick. If Dick was still alive, he wanted to at least call him. I agreed.

The next morning, I called the Hump Pilots Association in Memphis, TN in which my father has a membership. I thought this would be the best starting point to trace down Dick's current status. I introduced myself and told the lady who answered the phone why I was looking for Dick Rossi. She gave me Dick's phone number and informed me that Dick lives in Oceanside, California near San Diego.

As soon as I told my father that I got Dick's phone number, he was very happy, much like a little boy anxious to speak to his old friend. The phone rung at other end -- Dick's wife, Lydia, answered. After my father greeted her and introduced himself to her, the phone passed to Dick.

"Hi, Dick! I'm Bing, your co-pilot flew over the hump. Remember me?", my father said.

After a little silence, Dick said, "Oh, Bing, I remember you. We had many trips together over the Hump ...."

The conversation kept up for a hour. They finally made arrangements to see each other at Dick's house. My wife drove 3 hours each way from Los Angeles to Oceanside. These two "Death Route" flying partners finally met on the day before my father left for China. His last trip to the US.

The following year, Dick came to China for a big Flying Tiger pilot dedication to attend 60 year anniversary ceremonies for the Flying Tiger in Kunming. Dick and my father met again to catch up again from their first reunion a year ago.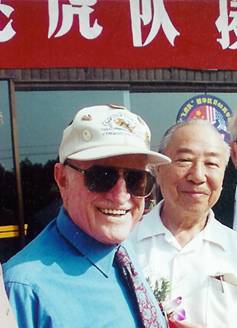 Dick Rossi and my father, Bing Zhou,
attending the 60 year anniversary ceremony for Flying Tigers.
left to right
Lu Yuan-bin, General Robert Scott, General Sam Wilson and Bing Zhou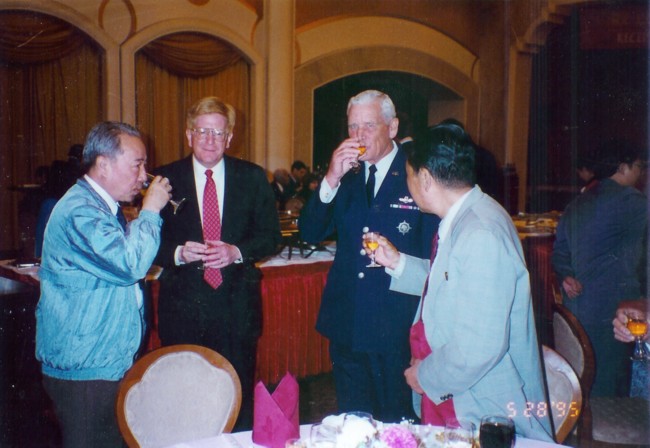 left to right
Chinese Official, US Defense Department official, General Sam Wilson and Bing Zhou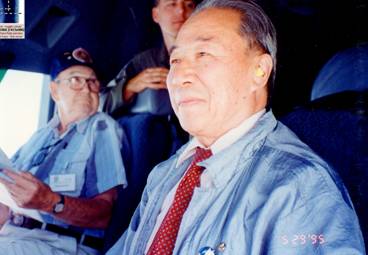 After the ceremony, my father was invited by General Wilson
to fly with his C-17 from Kunming back to Beijing
May 1995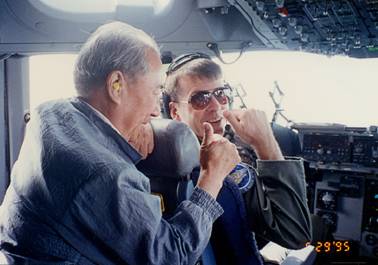 My father was chatting with C-17 charter flight Captain
during the flight back to Beijing
May 1995

If you would like to share any information about Bing Zhou
or would like to be added to the CNAC e-mail distribution list,
please let the CNAC Web Editor, Tom Moore, know.
Thanks!