Nancy Wright is working on a biography for her Father.
And in 2011 she has finished it! Congratulations Nancy...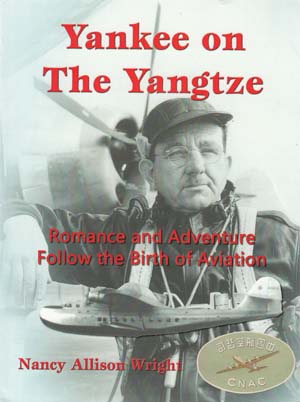 And here's a picture of her Dad, Allie, taken during his US Air Mail days.
Allie's "pride and joy" - his personalized DH-4.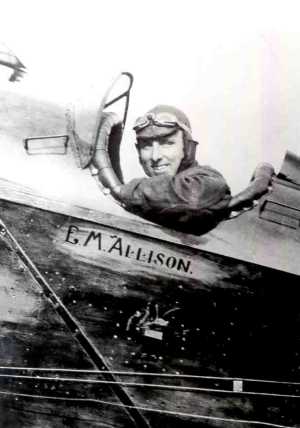 Nancy maintains a very interesting web site about Air Mail Pioneers,
one of which is her father.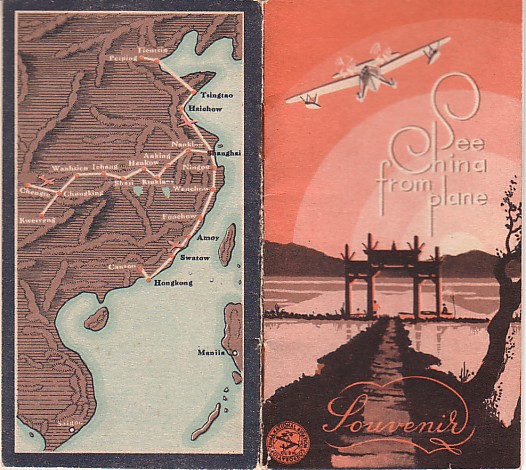 This is the front and back of a small booklet that was given CNAC passengers in the 1930s.
The booklet has many pages to it, so click here to see the entire booklet.
(Booklet Courtesy of Peggy McCleskey)




Captain E. M. Allison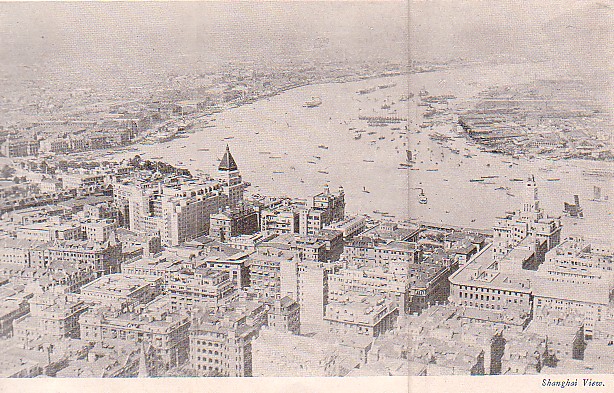 New York Times - January 10, 1934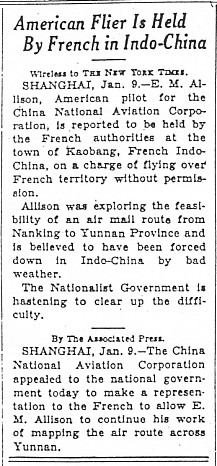 Please enjoy these pictures from 1949 taken at the fabulous
Peninsula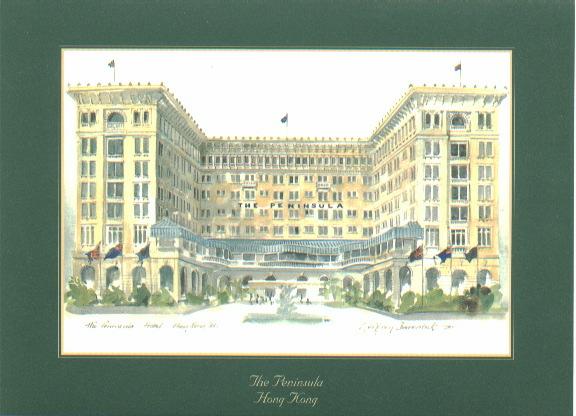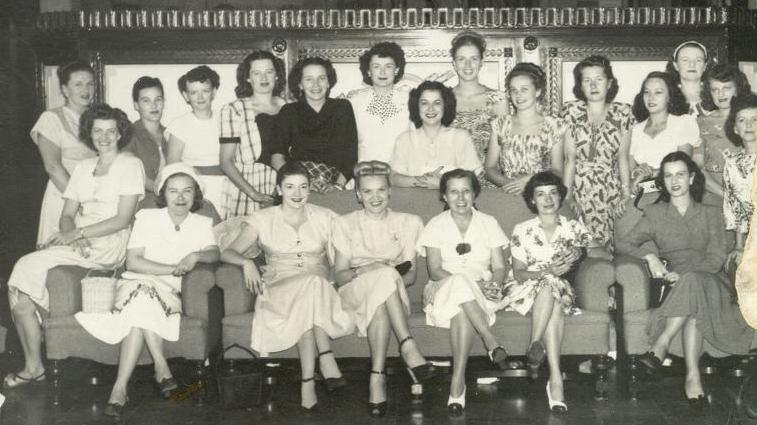 TAKEN AT PENNISULIA HOTEL, MAY 24 1949, HONG KONG.
FLORENCE ALLISON'S GOING AWAY PARTY GIVEN BY VAL McDIVITT.
MY MOTHER (Fran Parish) IS STANDING, IN THE BACK ROW,
WHITE DRESS WITH PATTERNED SCARF AROUND HER NECK.
FLORENCE FRONT ROW, ON COUCH, WHITE DRESS WITH BROACH.
SITTING TO FLORENCE'S RIGHT IS VAL MCDIVITT (BLOND WITH HAIR ROLLED).
(Photo Courtesy of Valerie Parish Kendrick)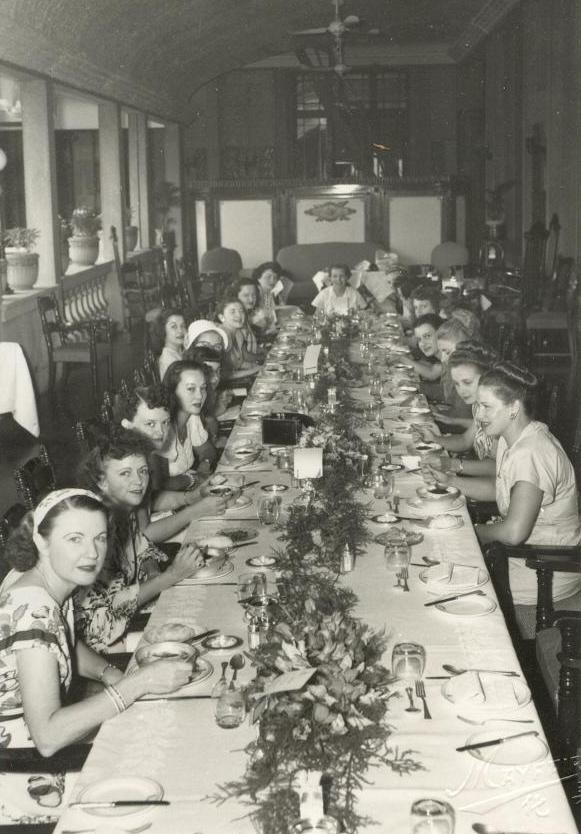 MY MOTHER (Fran Parish) SEATED LEFT SIDE, AT THE END
NEXT TO FLORENCE ALLISON SEATED AT THE HEAD OF THE TABLE.
SITTING TO FLORENCE'S LEFT IS VAL MCDIVITT (BLOND WITH HAIR ROLLED).
(Photo Courtesy of Valerie Parish Kendrick)
---
The following information has been provided by Nancy Allison Wright, the daughter of CNAC Pilot Ernest M. "Allie" Allison:

Born: December 26, 1894 on a farm near Superior, Nebraska.

1907, family moved to Bristol, Colorado.

1911 watched exhibition flight in Lamar, Colorado.

1916 enrolled Cooper College, Sterling, Kansas.

December 8, 1917, joined the Signal Enlisted Reserve Corps, Fort Omaha, Nebraska.

March 1918 assumed active duty. Army Flight Training School at North Island, San Diego.

July 20, 1918 commissioned second lieutenant.

September 13, 1918, took instructor's flight training at Brooks Field, San Antonio, Texas. Became flight instructor, Scott Field, Belleview, Illinois, flight instructor, San Antonio, Kelly Field. Passed Gen. Claire Lee Chennault from Washout Board.

August 17, 1919 transferred to the 8th Aero Squadron and assigned to McAllen, Texas, on border patrol.

October 27, 1919, was honorably discharged.

1920 bought a war surplus Jenny. Barnstormed at county fairs and exhibition flying around Philadelphia.

August 20, 1920, joined the U. S. Air Mail Service -- New York to Cleveland route.

February 22 to 23, 1921, flew first and last flight of first day/night transcontinental air mail.

February 1923 took part in experimental night flying; transferred from Cleveland to Omaha.

July 1, 1924, flew first scheduled Omaha to Cheyenne night flight.

From 1924 to 1927 flew U.S. Air Mail Service night-route, North Platte, Nebraska, to Cheyenne.

Pioneered plane-to-ground radio communication.

1927 joined Boeing Air Transport.

July 1, 1927, inaugurated BAT night route from Omaha to Cheyenne.

January 1929 became superintendent of BAT field in Cheyenne.

Summer 1929 accepted offer from U.S. Air Mail pilot Harry Smith to go to China as senior pilot for new airline.

October 21, 1929 inaugurated Hankow to Shanghai route for China Airways.

1934 appointed operations manager of China National Aviation Corporation (CNAC).

August 13, 1937 - war broke out with Japan, turned bloody in Shanghai. CNAC ceased operation. Most American personnel returned to States.

September 1937 became an advisor with Gen. Chennault to Commission on Aeronautical Affairs. Directed the work of establishing and maintaining airfields to be used against the invaders, improved plane-to-ground communications of China's small defending air force and set up an air-raid alarm system. Also piloted Commission aircraft, flying high level governmental officials: Chiang Kai-shek, Mme. Chiang, T.V. Soong, H.H. Kung, etc.

December 1937 and January 1938 flight-tested Vultee V-11 bombers for William D. Pawley.

Spring 1938 CNAC resumed operation.

February 1939 Returned to U.S.

March 6, 1939 Chennault recommended Allison as representative from China to airplane factories in US.

1939 conferred with U.S. State Department: Currie, Gen. Magruder re: peril to China.

October 1939 employed by Kansas City Southern Transport, sought a certificate to operate air service from Kansas City to New Orleans.

1940 worked for Ministry of Finance, Republic of China, inspecting, test flying and overseeing packing of cargo planes for service in China.

1940 employed by CNAC as inspector/test pilot for rebuilding of five Condors, Glendale, California for use in freight. Purchased new DC-3 for CNAC.

January 25, 1941 became president of Harlow Aircraft Company of Glendale.

June 25, 1942 took temporary job organizing new company, Arizona Gliding Academy.

July 1942 Boeing production test pilot of B-17s in Seattle.

June 1943 - November 1945 Boeing chief test pilot for B-29 in Wichita.

February 1947 returned to China as CNAC operations manager.

December 1948 CNAC transfered base of operation from Shanghai to Hong Kong, personnel evacuated.

December 21, 1948 CNAC vice-president Quentin Roosevelt killed in CNAC skymaster crash approaching Hong Kong.

1949 assumed duties of CNAC operations manager and vice-president.

March 2, 1950 resigned CNAC and left Hong Kong.

1951 formed Allison Aircraft Export selling planes and parts to Indonesia.

1955 retired, bought land on the Mohave Desert and raised alfalfa.

February 23, 1976 died.



If you can share any information about Ernest Allison
or would like to be added to the CNAC e-mail distribution list,
please let the CNAC Web Editor, Tom Moore, know.
Thanks!