WHITAKER FAMILY


Background music to this
page can be controlled here.
"Dahil Sa Iyo"


Evalyn Eddy Whitaker (mother)
Helen Elizabeth Whitaker
Jocelyn Alfred Whitaker
Margaret Evalyn Whitaker (daughter - now Squires)
Septimus Tom B. Whitaker


---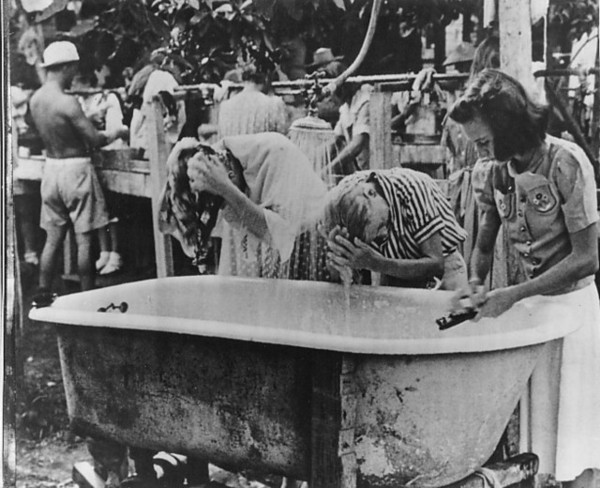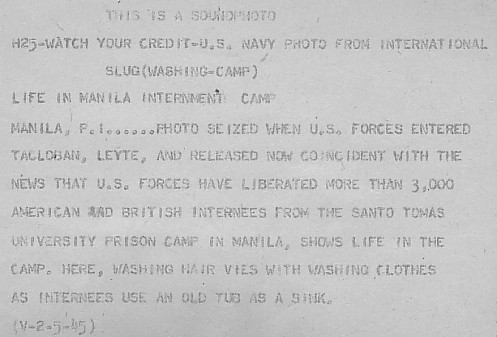 1942-1943
Behind the main building
Bathtub for hair washing
Margaret Evalyn Whitaker on right in Girl Scout uniform
(Oops - it's not a Girl Scout uniform - those are flowers on the blouse's pockets)
Margaret's mother, Evalyn Eddy Whitaker, in the middle
Others are unknown
(Photo courtesy of Tom Moore)
---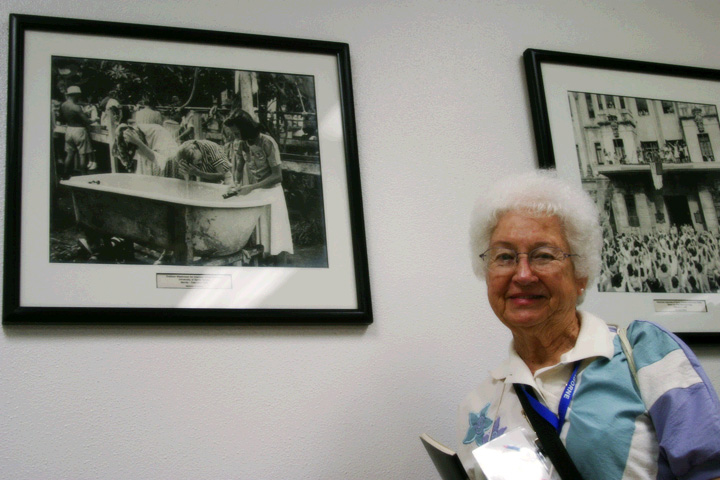 Margie Whitaker Squires.
February 2005
"I happened to see this picture at the American Embassy and
Margie remarked that was indeed her and her mother taken by
a Japanese soldier. She said she was looking down because her
mother told her NOT to look at the soldier taking the picture".
(Photo and text courtesy of Lou Gopal)
---
May 29, 2005

Dear Tom,

Bob Holland alerted me to the STIC picture of my mother and me in your website and mentioned my being in a Girl Scout uniform, so my son helped me locate the website. I am amused at anyone's thinking that the embroidered flowers on my blouse pocket were part of a uniform. After my son left I did try to reply to you, using the website address, but something went awry. I hope this goes through. My two-piece dress was made by our seamstress and was no uniform!

Pat Chittick Remey had thought it was she, wearing a uniform, but on our tour she rescinded the claim. That may be why there is a discrepancy. Also, when we returned home I mailed a pre-war photo of my Girl Scout troop to Virginia Foster of the American Embassy in Manila. I was being given an award by High Commissioner Francis B. Sayre. Ms. Foster was interested because the ceremony had taken place in the High Commissioner's Palace, now the Embassy, and she added the picture to her pre-war photos. That was when I was in uniform, badges and all!

I am just learning the capabilities of my computer. Your website is fascinating. So glad I found you! Let me know if you need any more information. I was in the Los Banos camp when rescued and married a member of the Reconnaissance Platoon who had a major part in it. Fly Flanagan had him contribute to his "Los Banos Raid." Martin and I had 52 wonderful years of marriage before he was felled by a stroke in 2000, leaving us within two weeks and devastated.

Please send me the link, as I'd like to see it again after you've made the correction. Thanks so much. You're doing a great job.

Take care.

Margaret Squires (nee Margaret Evalyn Whitaker)

P.S. You noticed I spelled Evalyn with an "a"!



If you would like to share any information about the Whitaker Family
or would like to be added to my POW/Interneed e-mail distribution list,
please let me, Tom Moore, know.
Thanks!
Back to the Los Banos Home Page
Back to the Santo Tomas Home Page