The Chancery is in the United States Embassy in Manila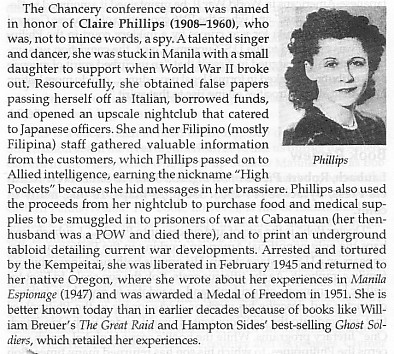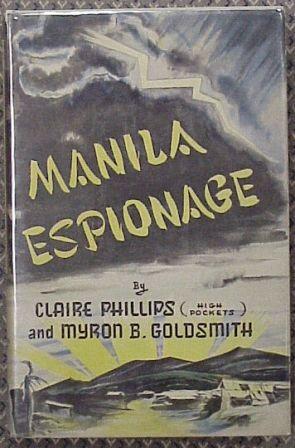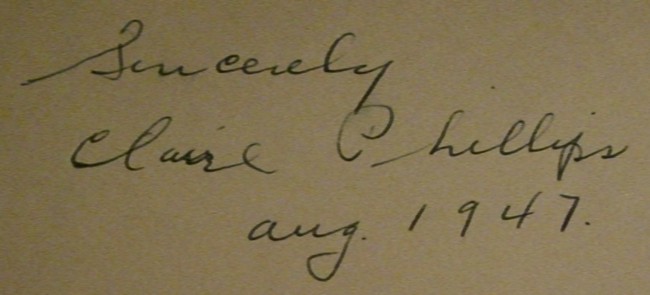 Click on the following link for the kind of story that is great to hear, about the above book.
http://www.sonic.net/~geronimo/index.html
---
The movie story of Claire Phillips, "I Was An American Spy" was released in 1951 staring Ann Dvorak.
Here is Claire at that premire and Claire signed the photo on the pot.
(Photo Courtesy of Timothy Bint)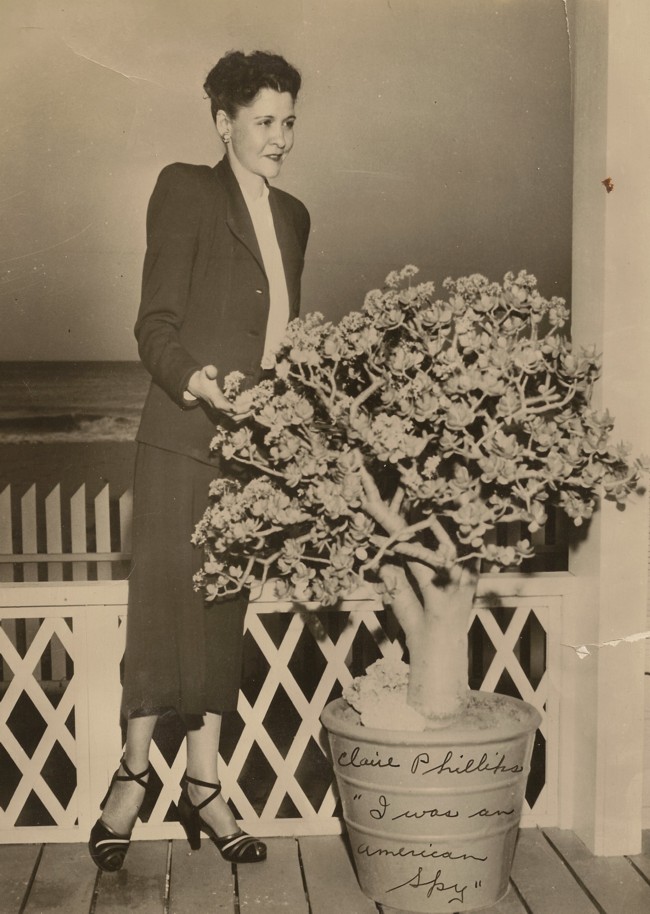 ---
Claire Phillips was born December 2, 1908 and died at the Portland Sanitarium in Portland, Oregon on May 22, 1960.


---
August 15, 2005

Tom,

I just found your site on the internet with the referance to Claire Phillips. As a boy I remember stories my mother told of Claire Phillips. My mom knew Claire when she resided in Portland, Oregon after WW2. My mother said that Claire had shown her the scars on her body (back I think) from her experiance with the Kempietai (Japanese secret police).

Stu Sanford
Woodbridge, Virginia
stusanford@comcast.net


---
March 17, 2007

Hi Tom,

My name is Donna Powers. I would very much like to be on your distribution list.

John V. Phillips (1918-1942), Claire's husband, was my uncle. His sister, my mother, is still living at age 91 in California. I only met Claire once when I was a young child but I remember her visit to our home very vividly. I never saw her daughter, Dian, but would like to know if she is still living. I do not know too much about Claire but can probably find more information by talking to my mom as well as one of her brothers and her sister. Her sister is scheduled to arrive here for a visit in about 2 weeks. My uncle and his wife kept in touch with Claire after she returned to the states so I will call them and see what they can tell me. I know she died in 1960 and I believe she had been living somewhere in the Bay Area for awhile. I know nothing about Dian other than my mom understood Claire to say that she had adopted her, although her book left the impression that Dian was the product of a previous marriage. Dian was not with her when she came to visit us after the war. We lived in Whittier, California at that time and mom has photos of all of us with Claire. I live in Buena Park, California and have for nearly 50 years. Mom lives in an addition to my house. I only recently read Claire's book, Manila Espionage. My brother has the copy Claire gave to Mom. Don't really know why I waited so long to read it except that I had just read Return of the Rouges by Ted R. Williams. Ted was a good friend of my late husband and he and I kept in touch after my husband passed away, until Ted's death this past December. He had been in the death march and made annual visits back to the Phillipines until about a year ago. Rouges of Bataan was his first book and both of the books were very enlightening and well written. Ted had met "Highpockets" on several occasions but did not recall ever meeting John. I hope to hear from you again soon. I really would like to find Dian if she is still alive.

Claire was born on December 2, 1908. I am very sure of the December date as she mentioned it herself when she told about the blue coupe John gave her for her birthday present. Claire said she and John, "Phil" as she called him, were married on Christmas eve 1941. As to the spelling of Claire's middle name. My mom has confirmed Claire's middle name to be Anette (only one "n"). She obtained this information through John's correspondence with the family.

In May of 1945, Claire was living in or near Portland, Oregon.

Thanks for your time in searching for additional information. I plan to keep trying to fill in the gaps by talking to more of my relatives and will continue to follow any leads that may surface that could help me to locate Dian, if she is still living.

Donna Powers
7631 Colombia Drive
Buena Park, CA 90620
Octoberwwofw@aol.com

Additional information from Donna...
April 26, 2007

Hi,again-

Just read your last e-mail and will answer before going to bed. John was born January 16, 1918 on a farm near Jenkins, Missouri. He died in Cabanatuan prison July 27, 1942 of malaria and dysentery. My Mom said the last letter she received from Claire was, as she recalls, sent from San Francisco about four years before Claire died. In that letter she wrote that she had married a man who was very much like John but she did not mention his name. Mom is going to have the snapshots I mentioned copied and enlarged a bit. They are quite small. I will send you a copy when I get one.

Donna


---
NOTE: In the Philippines, Claire met John Phillips, an American Army radioman. On Christmas Eve—a few short weeks after the outbreak of war-- they were married.


---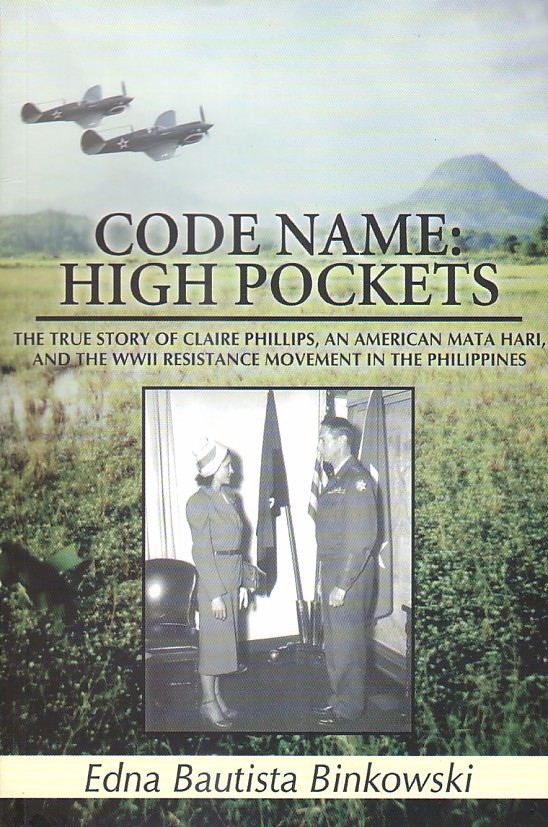 U.S. COPYRIGHT 2006. By Edna Bautista Binkowski
E-mail Edna for information about purchasing this book: endbink@mozcom.com
---

September 6, 2009

I received a message from Claire Phillips' granddaughter, Wendy Johnson. See the following link for Wendy's story and photo: http://www.democratherald.com/news/local/article_9f276d98-97fc-11de-9c85-001cc4c002e0.html



If you would like to share any information about Claire Phillips aka "High Pockets"
or would like to be added to my POW/Internee e-mail distribution list,
please let me, Tom Moore, know.
Thanks!