June 5,2005

I stumbled onto your site while trying to find information about my daughters great grandmother Marie F. Foster. She started out as Martha Marie Foster but on her obituary it was Marie F. Logan. She had married John Thomas Logan in Montana. In 1934 she was in Shanghai, China when the Japanese invaded and was caught by the Japanese and put into prison. She came back home on December 1, 1943 on the exchange ship Gripsholm. She died in New York Jan. 1945. The following is all I have on her.

In 1934 Martha Marie was manager of "Cathay Maarsines" Rue Bourgeat and Rue Cardinal Mercier, Shanghai, China.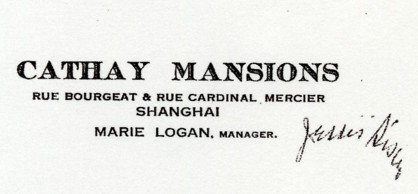 Martha returned home on the exchange ship Gripsholm Dec. 1, 1943, and died Jan. 24, 1945 at Natalie's home in New York.

Obituary for Martha Marie Foster Logan Jan. 1945, (Martha must have dropped her first name and used F. for Foster as her middle name.)

Marie F. Logan Former Resident, Dies in New York
Sheridan Press Wed. Jan. 24, 1945 page 1
Mrs. Marie F. Logan, former Sheridan and Birney resident died in New York City after a short illness according to word received here by her sister Miss Jessie A Foster, 334 West Brundage street. Funeral services will be held Thursday.
Mrs. Logan came to Sheridan and Birney as a bride in 1903. Living many years on a ranch. Her husband, John Thomas Logan proceeded her in death in 1930.
A business woman in Shanghi, China, for many years, Mrs. Logan was taken prisoner by the Japanese and was confined in prison camp until returning to the United States on the exchange ship Gripsholm, Dec. 1 last year.
Survivors are two daughters, Natalie Logan Bonham of New York City and Virginia Logan McCuistion of Forsyth, Montana; two grandsons, Robert Logan Bonham and Joshua Perry McCuistion. Mrs. Agnes F. Dittman of San Diego, California, and Miss Foster of Sheridan, sisters, also survive.

All of the above are now deceased. I have been hunting for the camp lists to see if I can find her or something of the years she lived in Shanghi but can find nothing. I would appreciate any information you could give me as to her imprisonment, etc.

I am desperate to find out something but don't know where to look anymore. Do you know of the lists of American civilian prisoners in the prison camps? I pray you can help me.

Thank you,

Alice Fredrick
E-mail teri502@hotmail.com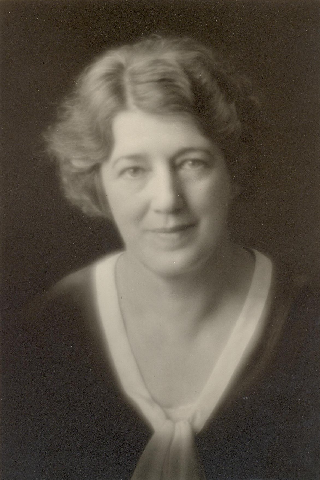 Marie Logan about 1930
(Photo Courtesy of Alice Fredrick)
---
Alice - here come some of your answers...
June 6, 2005

Not known personally but Marie F Logan, American, home town given as San Francisco, CA was in Chapei (Zabei) Camp Shanghai which opened Feb 1943. She was exchanged with Japanese in American hands sailing 15 Sep 1943 on the Teia Maru to Lourenco Marques ( Now Maputo) Mozambique Africa where she was put on the Gripsholm sailing to NY.

This recorded in the NY Times list of Gripsholm passengers and an article in "Chapei Times" issued 14 Sep 43. They were addresssed by the Comanadnat Tsurumi who said that they could take 200 cigarettes with them into the USA!!!

Hope this helps,

Regards
Ron Bridge
Ex Weishien
Crowbrough England


---
And more information from Alice...

June 6, 2005

Martha Marie Foster was the last born of Dr. Lysauder Patterson Foster and Cynthia A McKnight. She was born May 6, 1883 in Minneapolis, Minnesota. She had three sisters, Grace, Jessie and Agnes; and two brothers, Oliver and Walter. Martha married John Thomas Logan Sept. 19, 1903. John died in 1930.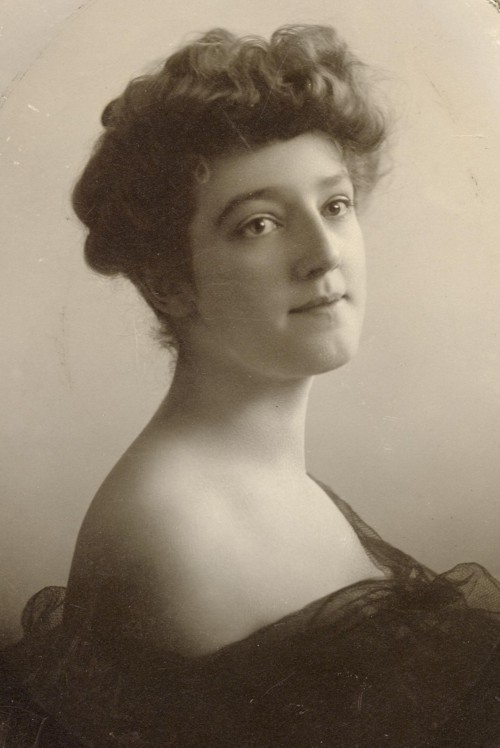 Marie Foster Logan - 1904


It was somewhere between then and 1934 that she ended up in Shanghi. I am trying to find out if she went there because of or with a Bonham since there was one listed in my searching, in Shanghi. Could be just coincidence. The first name did not match. She and John had two daughters, Virginia and Natalie. It was Natalie that was married to Robert L. Bonham. They had a son Robert Logan Bonham. The father died don't know when and have not found the son. I do have pictures of Martha Marie. She seems to have dropped the Martha and taken Marie F. I suppose the F. is for her maiden name Foster. Just my hunch.

Alice

Alice thought of more clues to share in this story...

June 6, 2005

Tom,

I have many photos of Marie, from babyhood on up. Would you like them all? Or just the latest one I have. It was taken before or around the time her husband died, 1930. I can scan the obituary in but it is only a page e-mailed to me with Jan. 1945 written on it on the side. I had a person at the Sheridan Cemetery where she is buried look up both her husband John T. and Marie. That, and a familly tree paper written by her sister in Sheridan is how I found out about the ship and her coming back to New York and dying soon after. I had a hard time understanding the writing. I have had one person already contact me with her internment info. You just don't know how much this means to me. Her daughter Virginia was my husband's mother. He and I were married for 13 years and divorced. After our son was killed we became fast friends again and called each other often. He is gone now and all that is left is our two daughters who I am making the scrapbook for. Virginia told me that her mother was in the prison camp in Shanghi and that they somehow got a trunk and a few things out of China around the time she was incarcerated. Virginia had the trunk and most of the other things were stolen when she had a yard sale and showed them to someone who came back and stole most everything except the trunk. My daughter now has the trunk. I asked her if anything was in it but will ask again. I have been very interested and want to find out all I can. She can tell me if there was anything else. If we could trace the Bonham that was in Shanghi at the same time frame maybe his relatives would know something. I don't know. I didn't know abut Bonham at the time and when I found out I can't remember where I saw it. Her other daughter Natalie was married to a Robert L. Bonham and they had a son Robert L. Bonham but that was not the first name given.

I looked on the web pages you gave me. You have a very impressive back ground and I feel confident that I have found help at last. It was on your aunt "Georgi's" web site that I found your e-mail address. Thank you for posting it.

Again thank you for your help,

Alice


---
June 6, 2005

Dear Alice,

Desmond Power copied me in his reply to you. I'm afraid I can't add much specifically to what he has told you about Marie F. Logan.

However, by 1940, she was no longer listed as the manager of the Cathay Mansions. By 1941, she had apparently had taken a job with another company. Liebermann, Waelchli & Co were export, import, and commission agents located at 8-10 Rue du Consulate in Frenchtown. They were agents for BH Macy & Co, Carson Price Scott & Co, L. Bamberger & Co, and The May & Co department stores.

Also, the Gripsholm docked in Jersey City, across the river from New York, on December 1, 1943 (the obituary got it wrong). Internees left the Far East in September 1943 and arrived almost three months later in the US.

My own family were interned in several Shanghai camps. I am currently writing a book abou the Japanese internment of Allied civilians in China, 1941-1945. Life in Shanghai before and during the Japanese occupation will be covered in detail, as will life in Chapei, and the repatriation and journey home of those who were repatriated. If you would like, I would be happy to let you know when the book is available.

Sincerely,

Greg Leck

Chapei All Internees Surname Given Name Title Age Natlty Occupation Additional Information From In date Event To When Logan Marie F Mrs 53 Amer manager Liebermann Waelchli & Co fashions dept.
Mar 43 repatriated USA Sep 43



If you would like to share any information about Marie Foster Logan
or would like to be added to my POW/Internee e-mail distribution list,
please let the me, Tom Moore, know.
Thanks!