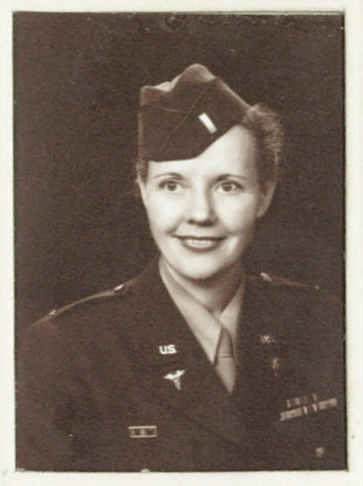 1945, after liberation


1st Lt Frankie Thelma Lewey, USANC, RET, was born at Range Township, in Texas County, near Guymon, Oklahoma. She was named for her father, James Franklin "Frank" Lewey, a steam engineer whose work frequently took him away from home to repair small engines.

Her mother, Emma, moved the family from Guymon, about 25 miles to Texhoma, the Oklahoma side of the street. Emma loaded everything the family owned into a wagon packed straw (food for the animals that pulled the wagon) placed around their possessions. They left Guymon when it was warm; Emma drove the team southward along the railroad line and to cool themselves, the little children removed their shoes and stockings and tucked him away in the dense straw as they played in the wagon. Frankie's oldest sister told her the little children were unable to find their shoes and were still barefoot when the family arrived in the wet, winter-like bitter cold of Texhoma. Emma was sorely embarrassed and deeply wounded by people saying "Look, more Oakies too poor to afford shoes for their children." Emma was not poor; her children had shoes …somewhere buried in the straw filled wagon.

Emma was a hard working business woman who rented a building and made a boarding house. Frankie's daily chores included cleaning the chimneys of all the oil lamps, emptying and cleaning the wash basins and placing the fresh water in the pitchers for each of the rooms. She attempted cooking; once was enough. While living in Texhoma, Frankie saw her very first automobile

The Leweys moved to Dalhart, Texas, where Frankie graduated high school. Frankie moved to Temple, Texas, to study nursing at Scott and White Hospital Training School; she graduated in 1932. (For Scott and White School of Professional Nursing, click on University of Mary Harding-Baylor.) After graduating from Scott and White, Frankie moved into a nicely appointed bedroom in the Neisis' private home. The bedroom came with the owner's dog Jigs, a Boston Terrier, the breed known as the American Gentleman. Frankie became Jig's possession.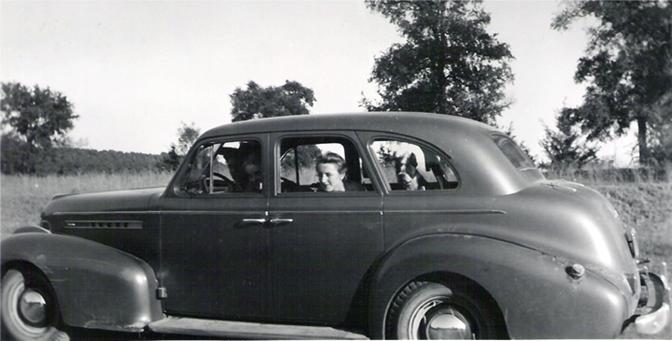 Frankie peeking out front window and Jigs at the rear


Following graduation, Frankie had hoped to attend Saint Elizabeths Hospital for additional training. Her uncle, however, told her mother to say "No." He reasoned the advanced education would be of greater value to her if she had a bit of work experience first.

Frankie finally was able to continue her studies in 1939 by enrolling in the "post graduate course in the nursing of mental and nervous diseases" at Saint Elizabeth's Hospital in Washington, D.C. At the time, the hospital was the premier federal psychiatric training facility in the United States. It also was a leader in military psychiatry having cared for members and veterans of the Armed Forces since the Civil War. The hospital's six month Psychiatric Training Program provided Frankie new skills and extensive experience working with members of the Armed forces who had become mentally ill or been severely traumatized by war.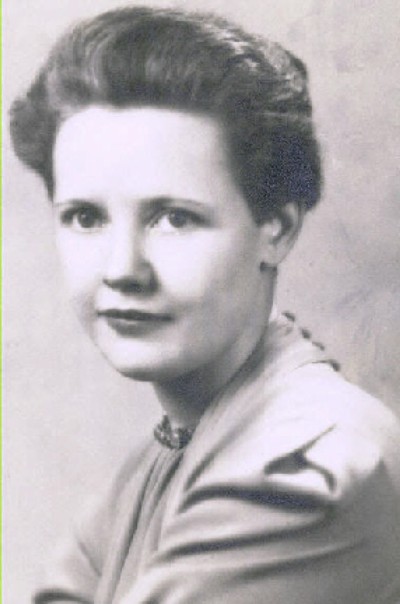 Frankie, 29 years old
1940, Washington DC


After completion of her post-graduate work, Frankie sought to enlist in the U.S. Army Nurse Corps. She initially was rejected because at 29, she exceeded the age requirements. She knew the army needed psychiatric nurses and returned with her Saint Elizabeths Hospital Certificate in hand. Even then, it took the Army almost a year to obtain a special dispensation that allowed her to enter the service in May 1940.

Frankie came from a long line of pioneers and activists like her great-great grand father George Lewey, one of the South Carolina Regulators mentioned in the South Carolina Regulator Pardon; her great-grandfather, William Reid, was born in South Carolina, and resided at Walker County, Alabama, from where he was elected to the Alabama State House of Representatives in 1857, and was a well respected member; her mother, Emma, was a supporter of women's suffrage. Frankie carried that activist-pioneer spirit into the social arena early-on by her acceptance of a commission in the U.S. Army Nurse Corps at a time when that was socially unacceptable. She paid a personal high price for her pioneering spirit and desire to help people; her extended family, those outside of Frankie's immediate family, turned their backs to her - for her life-time.

The Dalhart Texan newspaper followed Frankie's story and quoted her mother, Emma Catherine Powers Lewey, stating Frankie had gone into the Nurse Corps saying if there was a war, she wanted to be right in the thick of it. Frankie was assigned to the Philippines and prior to the war, would go to a leper colony near Manila on her days off and volunteer her nursing skills. When war broke in the Philippines Frankie went with the soldiers into the jungles of Bataan and was sent to the island, the rock called Corregidor, just minutes before the fall of Bataan. When Corregidor was surrendered, the nurses were taken to Santo Tomas in Manila.

Santo Thomas Internment Camp was liberated the evening of Saturday, February 3, 1945 by the 1st Cavalry Division's Flying Column, the 2nd Sqdn, 8th Cav Reg, 1st Cav Div: the second serial of the Flying Column, Lt.Col. Haskett "Hack" L. Connor, Jr. commanding with Company B 44th Tank Bn., attached, was the first serial to enter Santo Tomas.

Frankie fell in love with her future husband, 1st Lt. Francis Jerrett, the rifle platoon leader of G. Troop, when he was brought in, unconscious and severely wounded, from the fierce street battle that took place at Far Eastern University, across the street from Old Bilibid Prison POW Camp. G Troop prevented the Japanese from attacking the rescuers at Santo Thomas. Lt. Jerrett wrote home that he fell in love when he opened his eyes and saw the most beautiful Angel standing by him, crying for him.



"For those who missed Normandy or Cassino, Manila would do." 1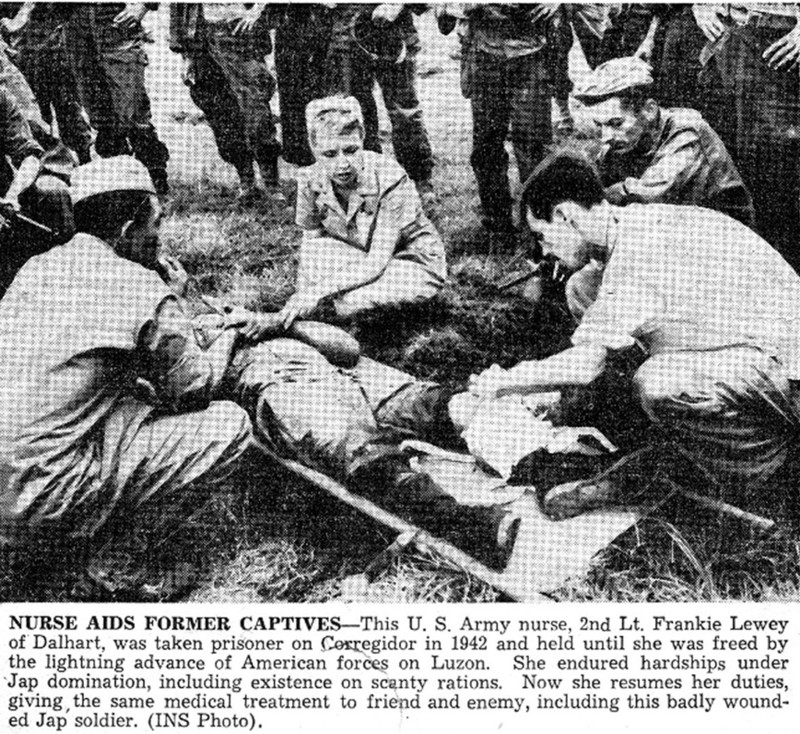 Frankie treating wounded Japanese soldier
This photograph is on the cover of "All This Hell"


Frankie thought the photo on the previous page was taken about two weeks after liberation. She stated the U.S. government did not allow any photographs of the nurses until they had put on weight. Frankie said this was because the government was fearful of the American people's potential reaction to seeing the condition of the nurses and the knowledge the Japanese had used food as a weapon of the terror of genocide against disarmed men, women and children.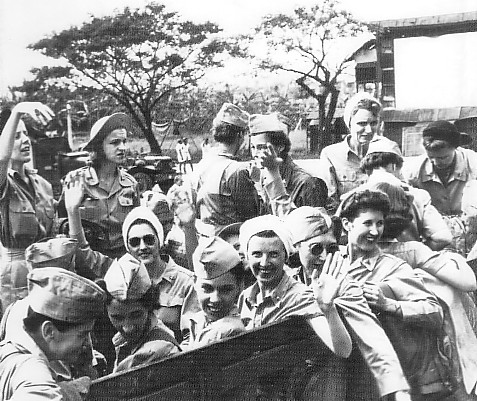 February 12, 1945, the Angels leave Santo Tomas
This photograph is on the cover of "We Band of Angels".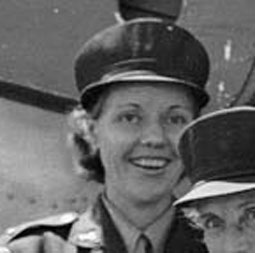 Frankie (center) at Hickam Field


The names of all of the Angels appear on the cover of "To The Angels", in a replication of the nurses Memorial placed on Corregidor.

One of the letters Frankie received upon her return home in 1945, came from a nursing school friend, Mrs., J.W. Mueller, of Houston, Texas, who gives a description of Frankie's temperament, and provides a bandaging scene from nursing school that gives an appreciation of her feistiness.

postmarked March 2, 1945

"Dear Old Pal,
For the last three years I have not been able to think of you without a prayer in my heart that some day you would return to us. Now I just say "Thank God." I have often wondered what being out there has done to you - and I have never believed anything else than you would come back. As Dr. Jenkins once said to me, "If she doesn't come through, God pity the others." He meant that in admiration. He added a humorous touch "I imagine if the Japs had the chance they would be mighty glad to let her go." A fellow would have had to be in class with us the time that you all but took out his few remaining hairs to appreciate why he said that. I well know ..."

...Ralph Bozorth, who honored Frankie at the WWII Memorial, recognized her strength and commitment to service.

"ACTIVITY DURING WWII
She was an army nurse assigned to various locations in and around Manila, Luzon of the Philippine Islands when the Japanese attacked on December 8, 1941. In January 1942, she was transferred to Bataan and in April 1942, transferred to the island of Corregidor. She treated her patients while under the constant attack of the Japanese. She was captured on Corregidor on June 25, 1942 and transferred to Santo Tomas Internment Camp in Manila on august 25, 1942. While held as a POW in Santo Tomas internment camp, she administered to the sick and wounded under barbaric conditions including long hours of work and barely enough food to sustain life. On February 3, 1945 she was liberated from Santo Tomas internment camp, promoted 1 grade in rank. Awarded the bronze star, the Asiatic-Pacific theater medal with 2 battle stars, a presidential unit citation with 2 oak leaf clusters, the American defense medal with 1 battle star, the Philippine defense ribbon with 1 battle star, the Philippine liberation ribbon with 1 battle star and 6 hash marks for years of overseas military service."

....Perhaps the most telling assessment of Frankie's invaluable contribution to her country as a nurse was reflected in the military's reluctance to discharge her upon her return to the United States.

"This morning I was going through her retirement boards. The POW nurses who asked for retirement were being retired. Mom, with a "whole slew" or "whole passel" of medical problems was denied and then given "general duty." The Army was not going to let her go…" (Sue Trout)

1 The history of the 37th Division of the Ohio National Guard which was sent the next day to the Far Eastern / Bilibid street to street, floor to floor, and room to room battle gives an accurate picture of the battle and what G Troop had gone through the night before. "For those who missed Normandy or Cassino, Manila would do."



NOTICE

Copyright © 2004 - 2009 by Sue Trout All Rights Reserved.
Adapted and Reprinted with author's permission
Please ask before using or reproducing any material on this page.
Thank you.




If you would like to share any information about Frankie Lewey
or would like to be added to my POW/Internee e-mail distribution list,
please let me, Tom Moore, know.
Thanks!