I would like to thank the family of Carroll Grinnell for sharing the following information.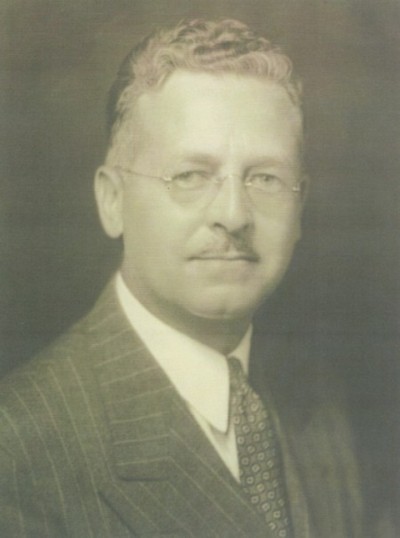 Carroll Calkins Grinnell


Carroll Calkins Grinnell was born June 13, 1898 in Troy, Bradford County, Pennsylvania, to Stowell Elijah and Ellen Jane (Calkins) Grinnell. He was an exceptionally bright and hard-working young man and graduated from high school when he was 13 years of age. His parents felt he was too young to go to college at that time so he got a job. At the age of 15 CCG began attending Union College, Schenectady, NY. He graduated at the age of 19. CCG married Ruth Hutchins Belding on October 9, 1920 in Schenectady, NY. Their first son, Carroll Calkins Grinnell, Jr. was born in Schenectady County, NY.

CCG became employed by General Electric in June, 1919 and was sent to Japan in 1923. The couple's second son, David Bayldon Grinnell, was born while they were residing in Kobe, Japan. In 1933 the family was transferred to Manila, where CCG served as Far Eastern Commercial Manager of the International General Electric Co. and President of General Electric Co. (P.I.) Inc.

CCG, Jr., returned to the States in 1934 to attend preparatory school in Albany, NY. He then graduated from Amherst College in 1943 and was inducted into the Army and trained for Japanese prisoner interrogation. Because of physical limitations, he was transferred to Medical Administration Corps for the remainder of the war.

Every 3 years the family would return to the States for 6 months. In 1940 David was ready to enter 8th grade, so the family returned to the States to enroll him in preparatory school. He would later serve in the Army and attend college. This was CCG's last visit home before being interned in STIC. The State Department would not allow Mrs. Grinnell to return to Manila with her husband because they felt it was too dangerous as the Japanese Navy was holding maneuvers in the Sea of Japan.

Mr. and Mrs. Grinnell became personal friends with Douglas MacArthur and his wife, Jean, while in Manila. Gen. MacArthur and an aide once joined CCG and a friend in a round of golf, but CCG swore after 18 holes of the General's total frustration, thrown clubs and broken shafts, that he would never play golf with him again. The Grinnells were often invited to attend social functions at the Army-Navy Club in Manila where the military brass mixed socially with international citizens.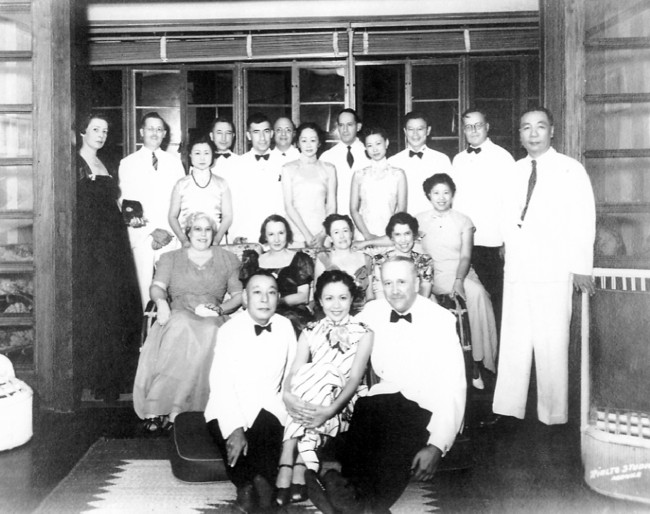 Taken at a party c. 1933-37, possibly at the Army-Navy Club in Manila. The occasion not known.
Standing (l-r): lady unknown, C. C. Grinnell, two aides to Gen. MacArthur, Mr. Frieder, Douglas MacArthur, 3 unknown gentlemen.
(The Asian ladies and men were members of the Soong Family,
a well educated Chinese Family prominent in public affairs and the Nationalist Chinese Government.)
Seated (l-r): Mrs. Frieder, Mrs. Weldon Jones, Ruth Grinnell, Jean MacArthur, possibly Mrs. T. V. Soong.
Front (l-r): possibly T. V. Soong (Harvard, later ranked second to Gen. Chiang Kaishek in the Nationalist Government), a Soong lady and Weldon Jones, U. S. High Commissioner of the Philippines.
(Click here to see the faces better.)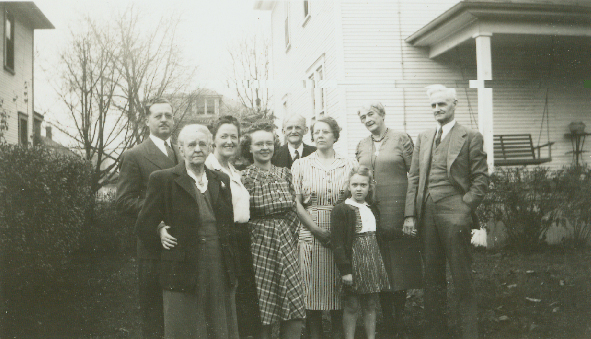 Family group photo taken in late spring of 1941
This was CCG's last visit with his family before being interned at STIC.


When the Philippines were attacked and invaded by the Japanese, travel restrictions imposed by the US were lifted temporarily. CCG managed to organize passage home for many American civilians and for himself on a single available ship. At the last minute before the ship embarked, he gave his ticket to a young woman with two children. On January 7, 1942, he was detained by Japanese soldiers and sent to Santo Tomas Internment Camp.

While CCG was working for G.E., he acquired extensive knowledge of the Japanese language and culture, which proved invaluable to him and the other internees. Many internees were able to purchase food on the basis of loans extended by Manila banks on lines of credit of G.E., Mr. Grinnell and other wealthy prisoners. CCG used his executive training to organize many of the internees' committees, including the finance, supplies, patrol and release committees. On July 28, 1942, the internees elected him to a new executive committee, and the Japanese commandant of that camp appointed Mr. Grinnell chairman of that committee. He served in that position until the Japanese military authorities reorganized the camp activities in February, 1944. At that time they appointed Mr. Grinnell chairman of a new internee committee.

On December 23, 1944, CCG, Alfred F. Duggleby, Ernest E. Johnson and Clifford Larsen were arrested on suspicion of aiding the Filipino guerrilla forces. CCG was last seen alive in early January, 1945 in a military police station in Manila. His body was discovered near Harrison Park about February 22, 1945. It is thought that CCG was executed on January 15, 1945; he had been beheaded. His body was moved to Santo Tomas University grounds and given a proper burial. Later, the government of Manila requested his family's permission to rebury CCG in a place of honor in the Manila American Cemetery and Memorial. While attending a reunion in Manila, CCG's son, David, was escorted to his father's gravesite and informed of the love and respect the people of Manila still had for his father.

Click here to see a condolance letter to Ruth Grinnell from Clark H. Minor, President, General Electric.

Click here to see a letter to all International G.E. employees formerly interned by the Japanese about Carroll Grinnell's passing.

Click here to see a condolance letter from the President of Columbia Gas & Electric Corporation, Stuart M. Crocker.

Letter written by James L. Kibbee to Ruth Grinnell - July 25, 1945

CCG was awarded the Medal of Freedom posthumously for his efforts while interned in Santo Tomas.

Article from the International General Electric co., Inc. (IGE) newspaper about Mrs. Carroll receiving the Medal of Freedom for her late husband.


---
June 25, 2005

In looking in my book Santo Thomas by Frederick Stevens (1946) I find that on Jan. 5, 1945 "three internees held in camp jail (C.C. Grinnell, A.F. Duggleby and C.L. Larsen taken away in afternoon by Japanese military police."

Then on Jan. 19, 1945 there is the entry: "Internee committee and Agents decide to address remonstrance to Commandant regarding two recent 'incidents' where internees were struck by members of Commandants office; also to submit request in writing for return of four internees (C.C. Grinnell, C.L. Larson, A.F. Duggleby and E.E. Johnson) recently removed from camp by Japanese military police, or for definite news of their whereabouts and charges (if any) preferred against them."

On Feb. 21, 1945 the entry reads: "Bodies of Carroll Grinnell, A.F. Duggleby, E.E. Johnson and C. Larsen found buried near Harrison Park."

Feb. 23, 1945 "More internees leave for the United States. About 360 say goodbye at 7:30 a.m.

Memorial services held for Carroll Grinnell, A.F. Duggleby, E.E. Johnson and C. Larsen.

Los Banos internees saved by another daring raid of the United States Army."

On page 65 of the same book: the Japanese had ordered all internees to deposit all their funds into the Bank of Taiwan and were allowed to withdraw P50 a month. "Mr. Grinnell's first comment on hearing this announcement was: 'This is the worst blow we have received in this camp. It means starvation.' Mr. Carroll said; 'This is an outrage. It is persecution.' One of the Japanese staff lieutenants present said; 'Do not oppose yourself to duly constituted authority.' "

On page 70: "Dec 23 started ominously for the Camp, when the Commandants staff and guards made a surprise search of Shanty Area B at roll call time...
Mr. E.E. Johnson was arrested about 3 p.m. and presumably taken out of Camp for investigation; Mr. C.C. Grinnell, A.F. Duggleby and Clifford I. Larsen were arrested later and held in the Commandant's office until after 7 p.m. when they were lodged in the Camp jail. The shanties of these four internees were thoroughly searched by the military police and soldiers and also Mr. Duggleby's sleeping quarters in the Finance and Supply office. No indication was given as to the reason for their arrests.

C.C. Grinnell was one of the most prominent men in Camp, being Chairman of the Internee Committee. A.F. Duggleby, vice president of Benguer Consolidated Mining Company, had held important positions in the Camp administration since its organization..."

"On the day following the Internee Committee requested the temporary release of these internees in order that they might spend Christmas Day with their families and friends, but this request was refused.

On January 5, 1945 the three internees were taken out of Camp by the Japanese military police.

The minutes of the Internee Committee have the following statement under date of Jan 14, 1945: 'In response to inquiries made by the Committee, the Commandant's office advised that they had no information as to the whereabouts of the three internees removed from camp by the military police on Jan. 5th....

After the occupation of Manila by the Forces of Liberation on Feb. 3rd, 1945 renewed efforts were made to obtain information relating to these four men. Many false clues were tracked down. The investigation presented great difficulties, and the search party were at one time under actual fire. The evidence pointed to the fact that at least one of the prisoners had been at the Philippine General Hospital. An interview with Dr. Antonio Sison, Director of that hospital, led the investigation to the home of Dr. Baldomero Roxas, which had formerly been used as a station of the Japanese military police, located at the corner of Cortabitarte and Mabini streets, Malate. In a field adjacent to the house, the body of Carroll C. Grinnell was found on February 20th....

According to Dr. T.D. Stevenson, who performed the autopsy, death had taken place on or about January 15, 1945. A careful examination of the clothing and other personal effects on the bodies, among which many items were definitely recognized by relatives and close friends of the deceased, made identification conclusive.

Burial took place near the Seminary Building, University of Santo Thomas on February 22nd. On the 23rd the internees assembled at the site to take part in the memorial services conducted by the Reverend Dr. F.W. Brush who said in part: 'More than three years ago, in our first days of internment, we gathered together near here in the Father's Garden for a memorial service for three men*. (Thomas Henry Fletcher, Henry Edward Weeks, Blakey Borthwick laycocks, executed by Japanese firing squad on February 15, 1942.) Today in our last days at Santo Thomas, we are gathered together again in honor of four men. we have learned during these years that the fellowship of troubled should is a large one. Rare indeed is the heart that has not at some time walked through the valley of the shadow, mourning the loss of a father, mother, brother, sister or friend.' "

I know that this information isn't much but maybe there is something in it that you haven't seen before. My grandparents (Frank and Mildred Miles) did speak of Mr. Grinnell and the great effort he expended in behalf of the internees and that he had paid the supreme price for his efforts. I think that they had known him before camp (from the way they talked about him) and considered him a great friend.

Good luck in your search.

Frances Searl Parker
aka "Toddy"
E-mail ronandtoddy@charter.net



If you would like to share any information about Carroll Calkins Grinnell
or would like to be added to my POW/Internee e-mail distribution list,
please let me, Tom Moore know.
Thanks!