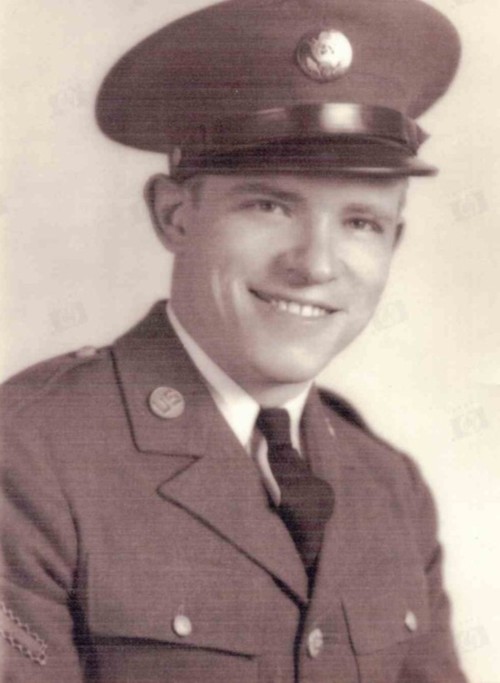 Pfc. Jesse Carl Boak


Jesse was in Cabanatuan POW Camp.

---
JESSE C. BOAK
2nd Lieutenant, U.S. Army
33rd infantry division of the U.S. Army
Written by his niece Patti Ahrens
January 27, 2007


Jesse was born December 15, 1917, Independence, Kansas. He is brother to five other siblings. Norma, Nina (RIP), Jim and Millie. There was another brother who died when he was a year old. Jesse was raised in Koshkonong, Missouri.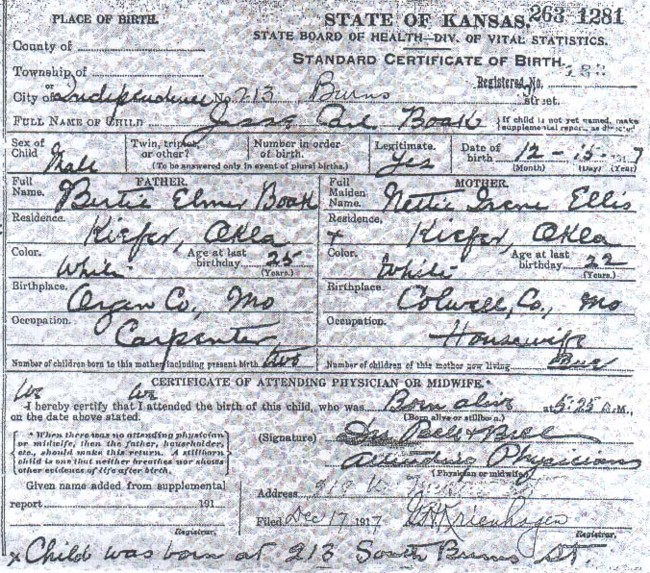 Koshkonong was built because of the peaches grown there. Good farm lands. When Jesse's parents met his dad worked on the railroad. After marriage they settled back into Koshkonong where Bert was from. His dad continued in construction. All of the family was raised there.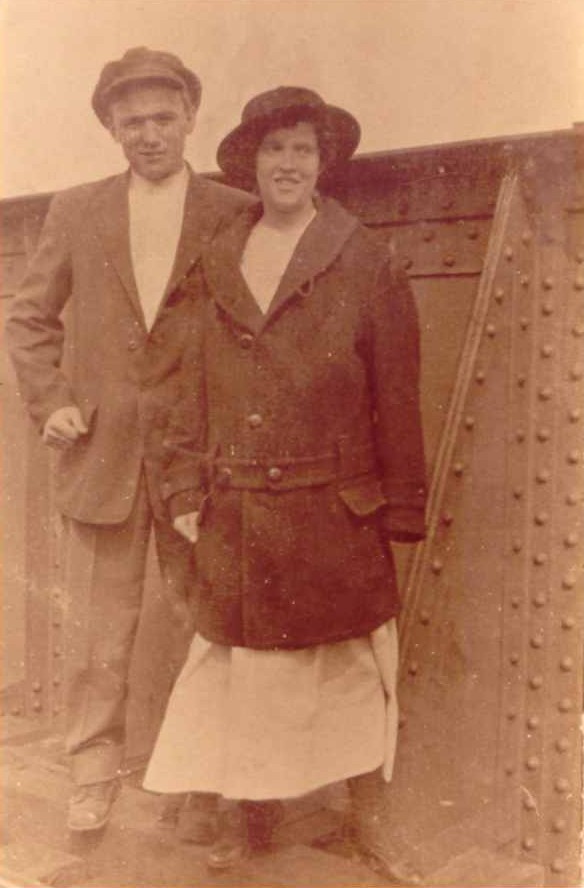 Jesse's parents Bert and Nettie Boak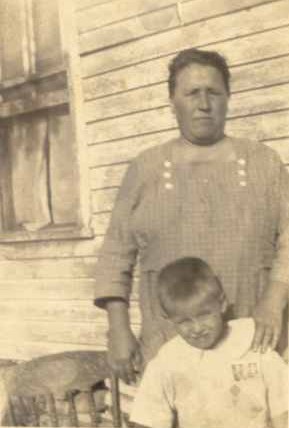 Jesse and his Grandma Mary


As I grew up not much was said about Jesse as he died as a POW in World War II. When his name came up everyone would get very quiet and sad. So I personally did not ever hear much about him except he was special. (What I write about Jesse as a child growing up has been told to me by his brother Jim and sister Norma.) Jesse was very close to his mother. His mother sang all day. Another sister told me that as family they sang a lot together at night. Jesse graduated from high school Salutatorian of his class. Jesse did do something that seemed to be beyond the ordinary for the late 1930's and 1940's. He took shorthand in high school which he carried with him into the Army doing court maritals and other court reporting.

In my own genealogical search for the Boak family I opened an email one night about three years ago to find an email from a man from the Philippines named Erwin, who was claiming that he was the grandson of Jesse. My only knowledge of Jesse regarding him having children was that there were none. He had married a lady by the name of LaRae whom he had known in school. Not believing Erwin he became persistent, only wanting a picture of Jesse, for his mother and Aunt whom he believed were the daughters of Jesse, we kept the contact going. I went to see my mother who did not want to talk about the subject. She denied me the picture. Erwin found another lady named Lisa whom believed Jesse was the father to her mother-in-law. This was all becoming quite over whelming to me. I wanted out but wanted to know more at the same time.

Soon I went to my home town to visit with my Uncle Jim who is Jesse's brother. He gave me the picture you see on this page. We talked some but did not talk a lot about the growing up years of him and Jesse.

The emails flew back and forth with everyone saying it all had to be true that Jesse had three daughters -- Margie, Virginia and Dotty.

At a luncheon that I hosted for my high school alumni in Western Washington a few of us were talking in the parking lot afterward. I was telling the story of what had gone on so far. They were all giving me their experience to do with genealogy which I was listening intently. A man who was also listening to everything and not saying much finally stepped forward to tell me he had a friend who had been a POW could probably help me in my search for truth. Reuben telephoned his friend, set up a date that I could meet him and his girl friend for lunch.

Chuck Towne was about 82 years old. When we met he began to tell me immediately with tears in his eyes about his experience as a POW from the Bataan Marche in the Philippines. When the Japanese took the prisoners they we're loaded on what were called the "Hellships". The ships were at Subic Bay in the Philippines when they we're bombed by the Americans which they thought were Japanese ships. The ship Chuck was on was called the "Oryoku Maru". There were 300 survivors out of 1600 men who were put into the cargo hold. Chuck had a ship list which showed my uncle's Jesse's name. For the first time in 60 years the family would finally know what happened to Jesse. The three hours I spent with Chuck was like spending three hours of finally knowing my Uncle whom I had not ever met. Chuck did suggest from his knowledge of working with POW's that I get everyone to get a DNA.

A side note about Chuck Towne. He spent 3 l/2 years as a POW in Korea. When he was released and returned to the States he spent a good percentage of his life helping POW's and military people. Chuck went to last year to the memorial ceremonies for the new memorial at Subic Bay for the Hellships (http://www.hellshipsmemorial.org/dedication/index.html). He died of a heart attack right after he returned. Chuck will always be remembered for his wonderful work with others in the military. I can't thank him enough for what he did for our family.

Being everyone from the Philippines and the lady in Hawaii's daughter-in-law Lisa were so persistent that they were daughters of Jesse I decided it was time to do something about it so no one would ever have a question again about the truth of him being their father. With agreement of my Uncle Jim to do a DNA I e-mailed everyone letting them know it was to be done. The DNA was finished in early 2006. Yes, Jesse does have three loving daughters whom are now after so many years finding they have a lot of family besides there own.

The first meeting of the family began on January 24th, 2007. Greg, son of Margie in Hawaii, through his military endeavors, knew he was going to the Philippines so he arranged to meet the two sisters, Virginia and Dotty and some of their family. The day they met as Lisa discovered was the 62nd Anniversary of Jesse's death. The meeting was a very happy event which we hope Greg and Virginia and Dotty will write more about.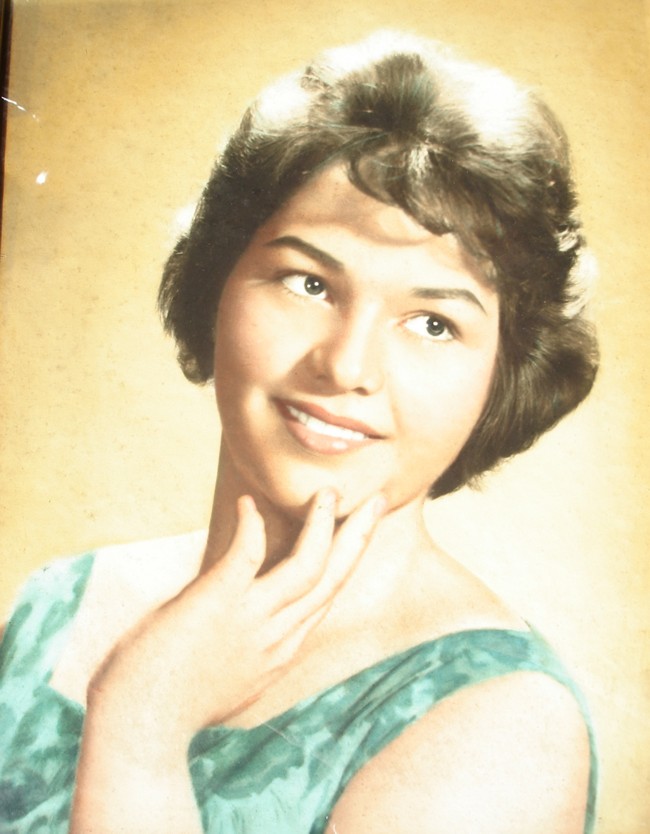 Dorothy at 13 in 1958
(Courtesy of John Gaddi, half brother of Dotty and Virginia)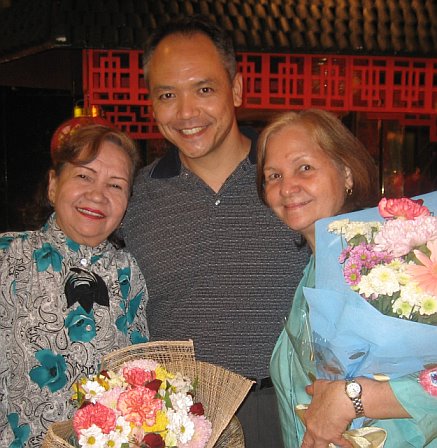 Greg with Aunts, Virginia and Dorothy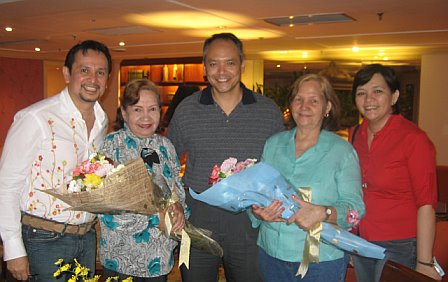 John, Virginia, Greg, Dorothy, and Rowena (Virginia's daughter)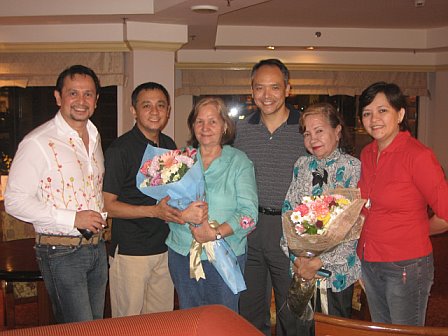 John, Edmund (Dorothy's son), Dorothy, Greg, Virginia, and Rowena (Virginia's daughter)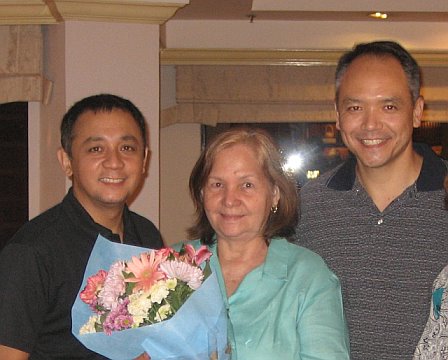 Edmund, Dorothy and Greg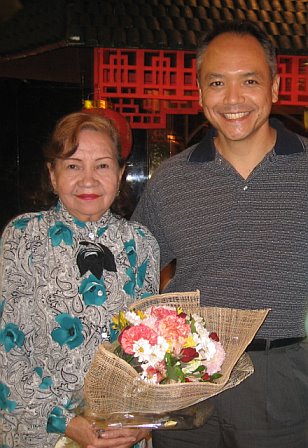 Aunt Virginia and Greg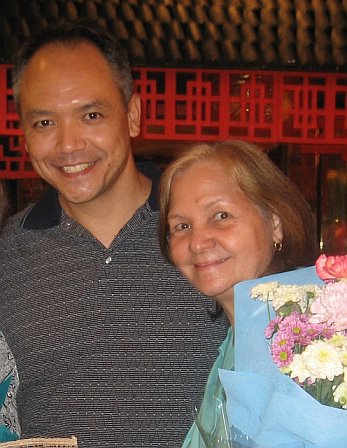 Greg and Aunt Dorothy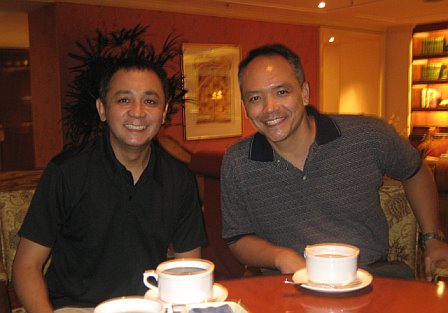 Edmund and Greg (first cousins)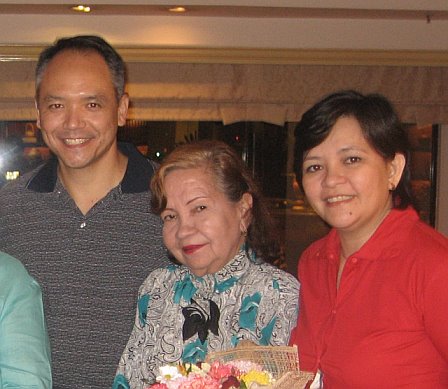 Greg, Aunt Virginia, and Rowena (first cousin of Greg)


Hopefully more of us will meet this year. I know plans are being made. To everyone who visits this site. This page on Jesse Boak has provided great closure for the family and tribute to the soldier of your family.

To Jesse C. Boak - whom I wished I had have known. Have gotten to know him through the past three years with all that has happened with the family. Wish this had come about many years ago.

February 1, 2007
Written by Jesse C. Boak's niece
Patti Jones Ahrens
E-mail waterbird7@msn.com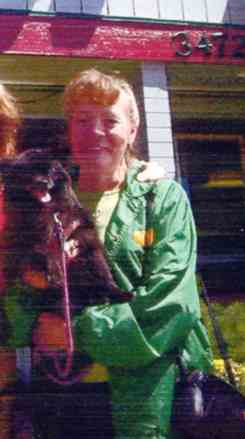 Gunny and his Mistress, Patti - 2005
---
Here is the 2006 Christmas letter sent out from Jesse's grandson, Greg and Lisa Kalua:

Mele Kalikimaka And Aloha!
The Kalua O'hana
(Greg, Lisa, Jake 11yrs., Duke 5yrs, Sophie 4yrs, Amy Elisa 2yrs)

Merry Christmas and Happy New Year to all our Friends and Family... Have a Blessed Season and year to come!

In honor of both Lisa and Greg's Grandfathers:

This is the 65th Anniversary of the attack on Pearl Harbor. Lisa's Grandfather, Norman C. Miles, was a 24 yr old sailor aboard the heavy cruiser USS New Orleans. His ship was strafed by Japanese planes, as it sat across from the USS California on Battleship Row next to Ford Island. He used to tell us that he was to be in the quarter finals for the Navy Wrestling Championships that morning. The sailors were all up on deck, standing in two long lines, waiting for chow. They saw the planes diving in and bombing the sea planes on Ford Island and started to laugh and joke and talk smack about the Army Air Corps., whom they thought were doing the bombing. Being sailors, the thought of the ground-pounders getting in trouble, was funny. That was the last happy thought they had that morning. Next, a plane came around the top of their ship, and they could see the pilot's face, and the "big red meatball" on the side of the plane... The plane came around and swung back and forth trying to shoot at both lines of sailors on deck. My grandfather said if the pilot hadn't been so greedy he could have gotten them, but instead, he missed them all. The sailors all ran to their battle stations and yelled, "Its the Japs! And, "started to fight like hell!" Pop was a radioman and had a birds-eye view of the attack. The planes coming in to bomb Battleship Row, all flew in over the USS New Orleans.

Norman Miles is now 89 years old and living in Sacramento, California. He has 3 children, 7 grandchildren, and 11 great-grandchildren. He was married to Elizabeth "Betty" Lee Kinard for 56 years, until her death on 24th December 1999. We are very proud of him and his service to our country. He truly typifies the "greatest generation" our country has seen. We love him dearly.

This year Norman's oldest granddaughter (Lisa) and his g-grandson (Jake) attended the 65th Anniversary Seminars from 2-5 December downtown in Waikiki, Hawaii. We met many WWII Pearl Harbor survivors and veterans. We met Zenji Abe, the Japanese pilot that dropped the bomb on the USS Arizona that sunk the ship. We met Lt. Tyler, the officer at the Opana Radar Station on O'ahu who mistook the Japanese bombers as American planes. We met Jim Leavelle, who was in the harbor that morning on the USS Whitney, but also is famous for being the Texas detective holding the arm of Lee Harvey Oswald as he was being shot by Jack Ruby. We met authors and historians, and laughed and cried as they all told the stories. (Talk about a great home schooling field trip at the end of our WWII history lesson!) The American veterans were all very excited to know that my grandfather is still alive, and that Jake, representing the youngest generation, was attending. They don't want our country to forget.

Greg's family determined, after a long and extensive quest through research and DNA testing, that his grandfather was WWII veteran Jesse C. Boak... US Army stationed in the Philippines in 1941. The Japanese attacked the Philippines 9 hours after the 7 Dec Pearl Harbor attack. Jesse and his unit fought for four months before the Americans surrendered to the Japanese and were subject to the horrors of the Bataan Death March. Jesse's unit was one of the last to surrender. He was taken captive by the Japanese, but miraculously managed to be one of very few men who escaped the Death March. Then, his history is vague, but we know he assisted the Philippine resistance, still fighting until he was captured, again, and died a POW on 22 Jan 1945... almost making it to liberation and the victorious end of the war. He's listed on the MIA/POW wall at the American Cemetery in Manilla, the Hell Ship rosters, and possibly the Hell Ship memorial in Subic Bay. His name is on the WWII memorial in Koshkonong, Missouri, where his family was originally from. Jesse lived to be 28 yrs old. He was survived by a wife in California. He also had three daughters, one in Hawaii, and two in the Philippines... He did have love in his life. Though we didn't get to know him personally, we, his children, numerous grandchildren and great-grandchildren, remember and honor his ultimate sacrifice in the name of freedom.

We look forward to continuing our genealogy endeavors, making new family connections with cousins and relatives. We treasure our new and old friendships, with which we have been blessed. We strive to teach our children the lessons of our grandparents and to bring them up respecting God, family and country.

Our family picture was taken on Ford Island in Pearl Harbor, Hawaii, on 27 November 2006. It is a view that few have seen of the USS Arizona Memorial... and we hope it will inspire and remind people of our collective past.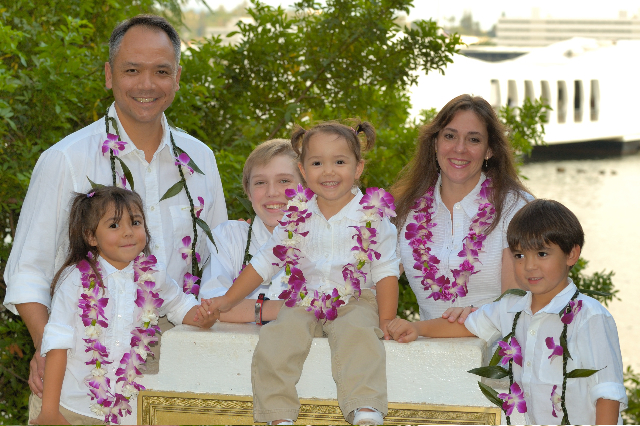 Greg Kalua, Grandson of 2Lt Jesse C. Boak. I'm the mom... Lisa Kalua.
Our children: Next to Greg is Sophie (4yrs old), Jake (11yr old blond behind memorial stone),
Amy Elisa (2yrs sitting in the middle), Duke (5 yrs old, next to me on the right side of the picture).
---
February 6, 2007 -- Here are some family pictures from Erica Snell, granddaughter of Jim Boak and great niece to Jesse Boak.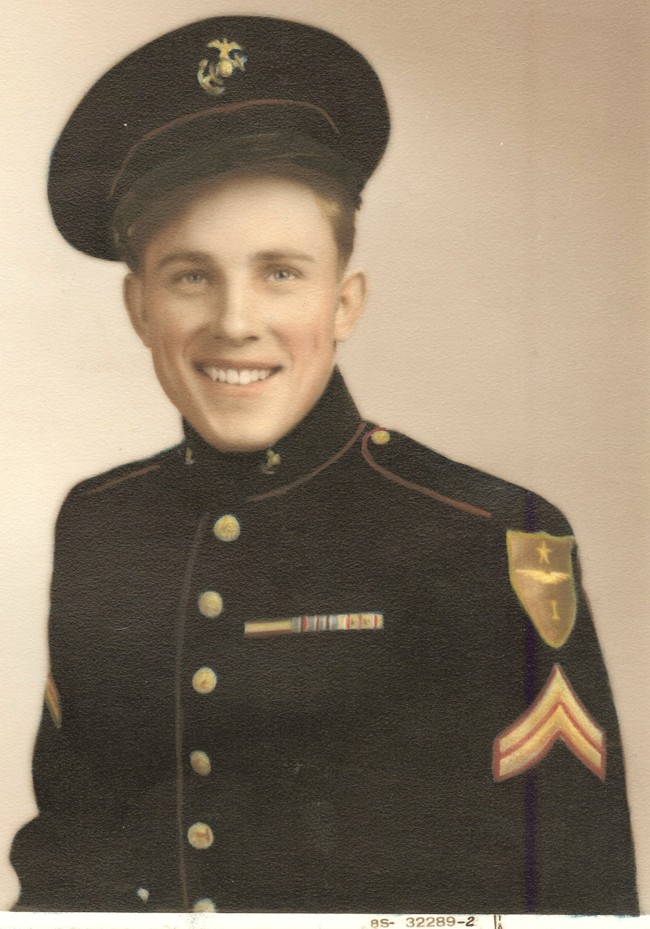 Jim Boak - brother of Jesse Boak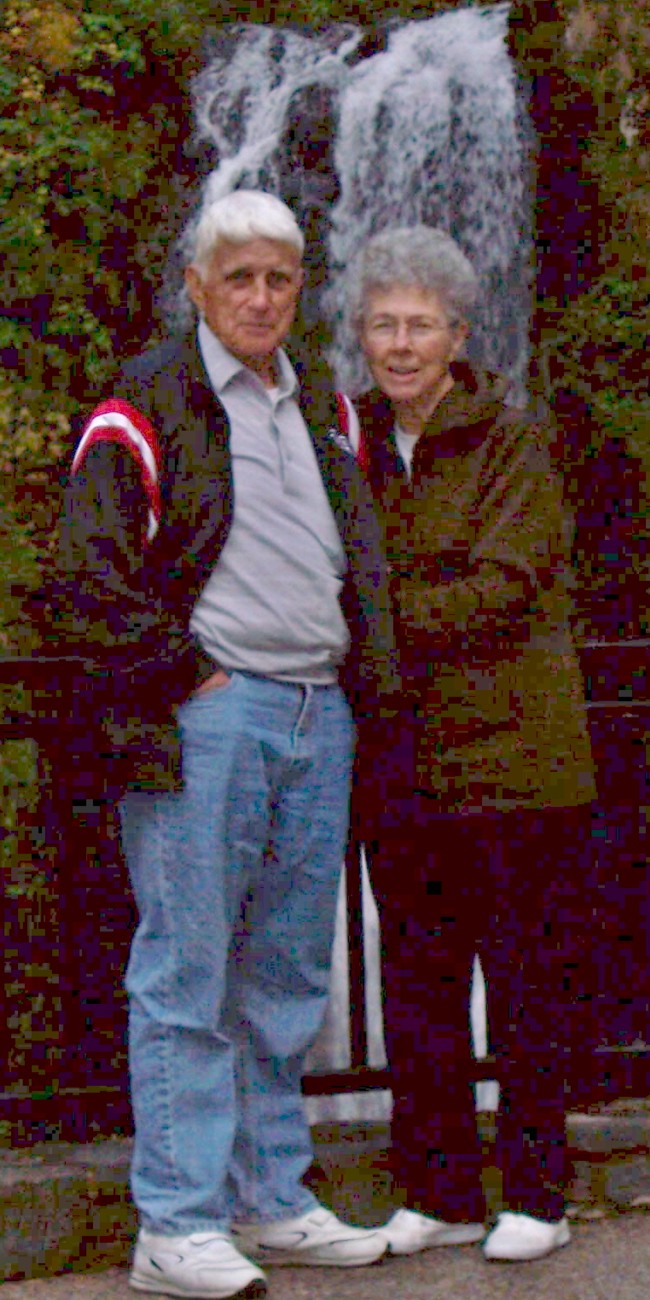 Jim and Kaye Boak
Multnomah Falls in Oregon, September 9, 2006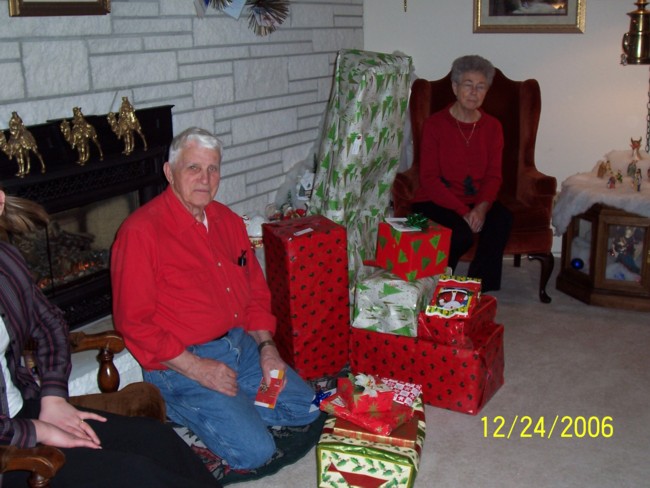 Boak Christmas - December 24, 2006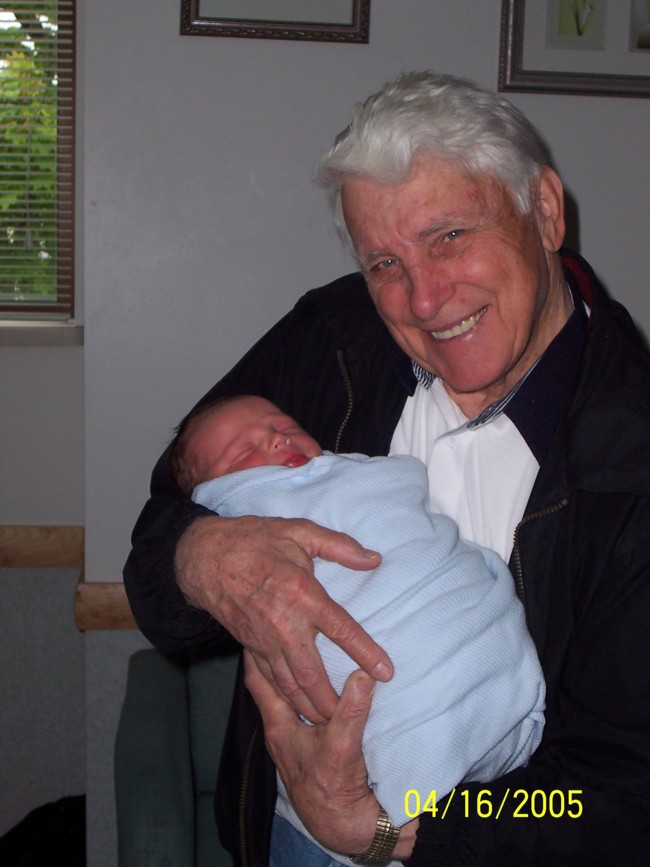 Jim Boak with his grandson, Soren II
Soren II is Jesse's great-great-nephew
April 16th, 2006, the day after Soren was born at Kadlec Hospital in Richland WA.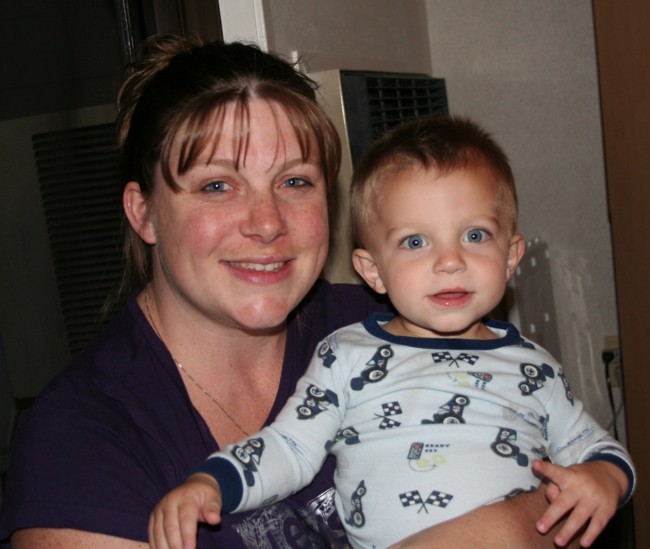 Erica Snell and son, Soren II
July 2006
---
February 7, 2007

Hello Tom, I would like to thank you for putting grandpa Jess on your site. I am going to do a website for my family but it will be more of a genealogy site that I will do with the help of other members doing genealogy research. Just tracing the roots back and honoring those that came before us.

I have attached a photo of my grandmother Josephine taken when she was young and a photomontage of the memorial in the Manila American Cemetery.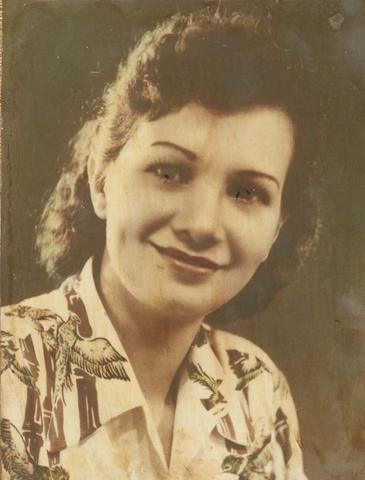 Josephine Boak
Probably pre-WW II or shortly after the start of the War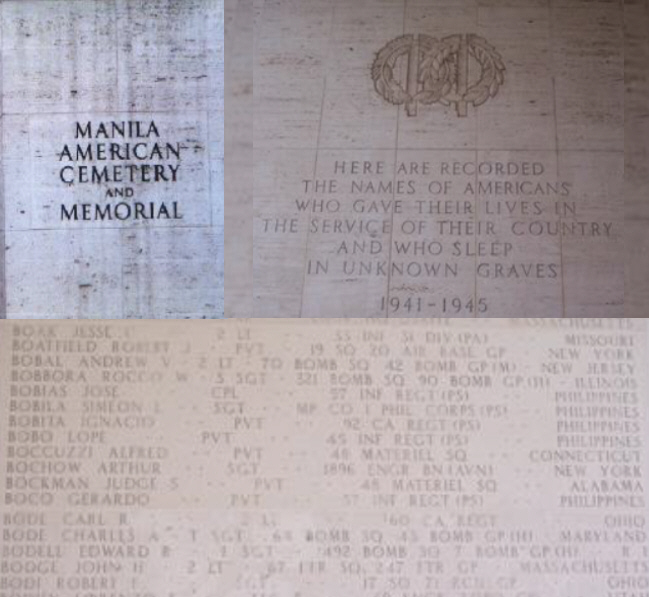 The above text and two photos were provided by:
Erwin (Santiago)
E-mail boaksantiago@yahoo.com
(NOTE: Erwin is the brother of Weng and the son of Virginia.)



If you would like to share any information about Jesse Carl Boak
or would like to be on my POW/Internee e-mail distribution list,
please let me, Tom Moore, know.
Thanks!