D. PAO
"David"
(Control Tower Operator)
(CNAC 194? - 194?)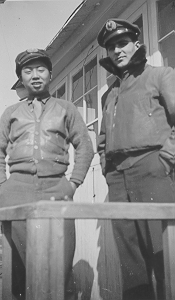 D. Pao and Ron Kliene
On the balcony outside the Lunghwa Control Tower, 1946


For some additional information, see Ronald I. Kliene.






If you would like to share any information about D. Pao
or would like to be added to the CNAC e-mail distribution list,
please let the CNAC Web Editor, Tom Moore, know.
Thanks!



Background music to this
page can be controlled here.
"Tuxedo Junction"