CHARLES DEAN ANDERSON (1914 - 1986)
"Dean" and "C.D."
(Pilot)
(CNAC October 9, 1944 - 1949)
(Captain - 194?)
(Hump Flights - ???)


This person has been tough to track down regarding his name. For a long time we had a "C.D. Anderson" a "Dean Anderson" and a "Charles D. Anderson". With the able assistance from Bob Willett we have finally realized that these three names belonged to the same man: Charles Dean Anderson


---
In the 1943-45 log book of Don McBride, Charles listed his home address as:


Charles D. Anderson
1014 W Capitol Dr.
Milwaukee Wisc.
---
Address in April 1949 was:
C.D. Anderson
2/316 Hing Kwo Road


---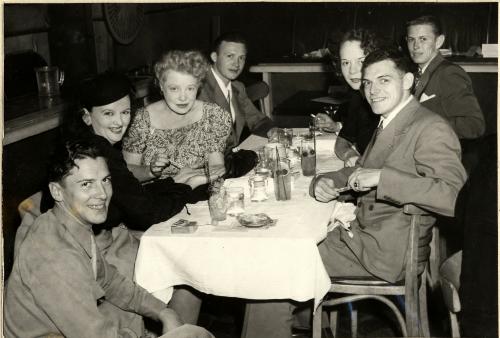 Miami in December of 1943
left side front to back:
Dean Anderson and his wife Jean, an unidentified lady and William Dill.
right side front to back:
Bob and Thelma McCaleb, and Bill Helling.
---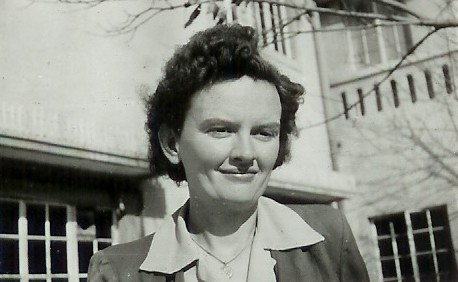 Jean Anderson
(Courtesy of Arnold Schilperoot)
---
February 27, 2006

Tom:

I was at Richter library in Miami last week and reviewed some files. I discovered Charles Dean Anderson was the same as C.D. Anderson. His contract was dated 12/22/44 but he was on the payroll since October 9 while he was at American Flyers Flight school. He went out to China with William Helling, William Dill and Robert McCaleb leaving January 9, 1945. He went home on leave in July 1947, applied for an extension which was refused - "Have Anderson return immediately other wise release him in the states."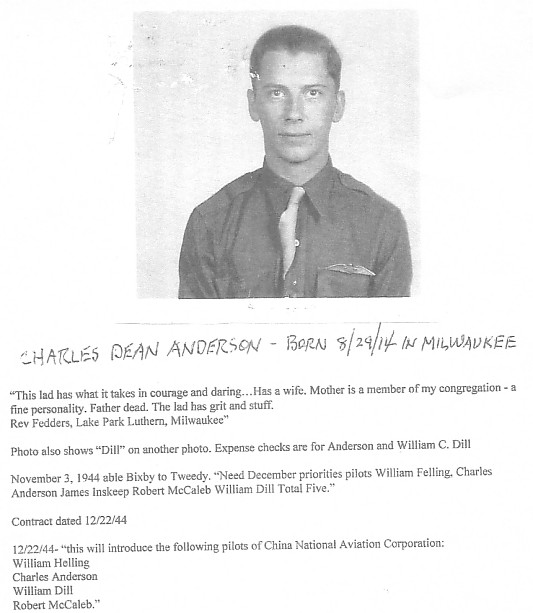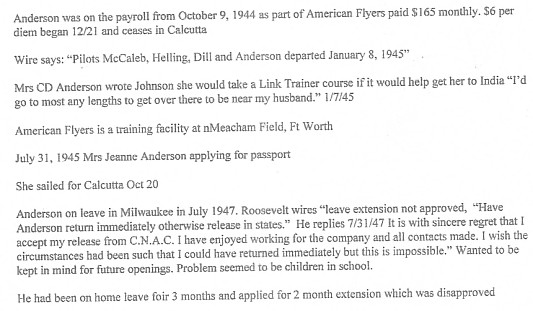 Incidentally, Mrs. Gene Banning has loaned me his notes about CNAC which he used for his book.

Bob Willett
willettr@bellsouth.net


---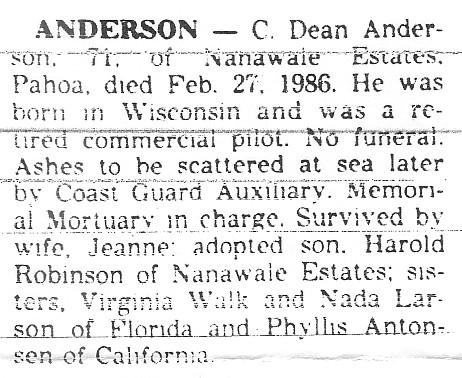 ---
September 30, 2008

Using the amazing Internet, I was able to locate sister, Phyllis Antonsen, in Washington State. Here are some comments from Phyllis:

I think Jean was as old or maybe a year or so older than Dean. I moved to Omaha in 1937 and they were married before then. Family records are buried in our "attic" so I can't access them readily. Her maiden name was Isham.

This is a photo of Dean Anderson taken while he was a civilian instructor for the Army Air Force before joining CNAC.

Interesting. I'll look up what information I have about Dean. He lived in New York State around 1955 when he flew the DEW line. Later in Alaska, but I don't know what company he flew for. Lived a long time in Chino. Worked for the DMV as a driver's license examiner. Moved to Hawaii sometime in the 70's I think. I'll look up some pictures and scan them.

I can't find the copy of an article that was in the Milwaukee Journal, now the Milwaukee Journal Sentinel, about the crash or shooting down of a CNAC plane over Laos. The article specifically mentioned Dean. I guess the pilot of the downed plane was an very good friend of Dean. As I recall there were several search flights but nothing was found. It was alleged at that time that the tribes in the region the plane went down were extremely primitive and given to cannibalism.

I tried the Journal website, but as I figured, the archives don't go back far. For older stories - before 2001 it was suggested trying the public library.

I did find an article for the San Diego Union about the Hump dated 02-25-95. I'll try to scan it and send it. If I can't I'll copy it I'll send it to you. Can you give me your mailing address?

You have sparked a lot of memories.

And if you are interested in other whacky WWII pilots, check out the glider pilots and their museum in Lubbock TX. I'm living with one.

Phyl






If you would like to share any information about Charles Dean Anderson
or would like to be added to the CNAC e-mail distribution list,
please let the CNAC Web Editor, Tom Moore, know.
Thanks!



Background music to this
page can be controlled here.
"Lovely Hula Hands" sung by Alfred Apaka