John Kenehan's list says that Duffy checked out as Captain Feb-48.

---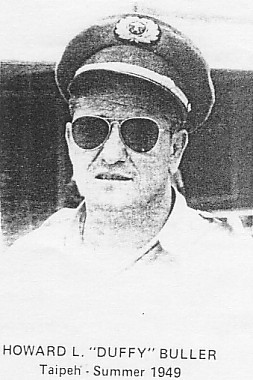 ---
From a list of CNAC pilots, 2 April 1949:
Buller, H. L.
Rm 12, Columbia Counrty Club
21899

---
From a 1960's CNAC Personnel list:
Buller, Howard L. p (pilot)
Saudi Arabian Airlines
Jeddah, S. Arabia

---
From a 1964 CNAC Mailing List:
H.L. Buller
P.O. Box 392
Vientiane, Laos

---
From a 1965 CNAC Mailing List:
Bird & Sons
Apo 152 San Francisco
changed to:
Apt B-11-2
College View Apts.
College Station, Texas

---
From the 1971 CNAC Members list:
H.L. "Duffy" Buller
1700 Micheltorena
Los Angeles, CA 90026

---
From the C.N.A.C. Active Mailing List - February 5, 1979:
H.L. Duffy Buller
6 Alpine Pine Lakes
Prescott, AZ 86301

---
December 31, 2001 -- From Don McBride, via his daughter Eileen McBride
"Howard Duffy Buller - Howard came to China in 1945 before Dad left in November of that year. Howard flew as a co-pilot during the late part of the war."


---
February 5, 2006

Hi Tom:

Here's another piece of the puzzle.

I'd never heard of Captain Buller until very recently. My sister was cleaning out some old boxes our Mother had accumulated (she died many years ago) and found some material relating to Ossip. She disposed of it by sending it to me. I'm forever curious so I read through the stuff and then re-assembled it into a few files, including a list of 'personages' mentioned. Ossip, as a portrait artist and a celebrity of sorts, hung out with society types, politicians, and, in 1917 and into the 1920's, with many generals from the U.S., France, and elsewhere. He painted them (their portraits that is) and/or used their sponsorships. I took the list I'd compiled, did some 'googling', and discovered who most of these 'names' were; including Captain Buller -- who seems to have had a remarkable career, with only a little imagination it's the stuff of spy/adventure novels. My Mother's uncle, Ossip, was that portrait painter in Russia, France, and America. He had been living in America from 1917 on, but in 1939 had to return to France and got trapped by the Nazis. He got out in 1942 via the Underground, and made his way to Miami and then in 1944 back to Washington, D.C. He was reported to have died in 1949.

Somewhere along the way he met Captain Buller, stayed at his home in Miami, painted a portrait of him "Spirit of 1944," and the Captain flew him to Washington in 1944. Captain Buller, according to Ossip, flew for "Eastern Air Transport" between Florida, Brazil, and Africa. (Reading between the lines on your website, I would guess that the Captain's career involved a whole lot more).

I don't know when or where they met. Could Captain Buller have flown him out of North Africa (or Europe) in 1942?

I've attached a 1944 article from the then Washington Star about Ossip which includes the relevant paragraph about the Captain.

I have no idea if he is still alive or where: that's where your efforts with the web site might help. I hope he is: if he is he's probably very much at home relaxing between adventures and contemplating his next change of address to some new and exotic clime.

These things sometimes work through co-oincidence and serendipity, so I'll stay attuned.

I looked at your personal web site: its attractive and informative. Your career background is very impressive and I can understand how and why you became involved with CNAC -- that's a proud chapter in military and aviation history.

I'm a bit older than you -- born in 1931 -- raised in Montreal where there was always a lot going on in aviation especially during WW II. Ferry Command flew thousands of planes across to Britain. Many started from Montreal. And the skies were generally occupied with trainers, fighters and bombers. After getting my engineering degree (1952 McGill) I worked on guided-weaponry for the Avro Arrow and on other defence-aerospace ventures including airborne navigation systems. Hundreds of F-86's were built in Montreal and they became a frequent sight and sound -- the first one off the assembly line did a low high speed pass at noon along Rue Sherbrooke from end to end (30 miles or so) and definitely got the immediate attention of the city. I guess aviation is in my blood, and I don't regret it for a minute.

Be well, and enjoy.

David A. H. Newman
E-mail danewman@pathcom.com

P.S. An anecdote from the late 1950's. Navigation visually from the air can get confusing, especially in the relatively crowded North East. One bright day as I sat in my office beside one of Montreal's alternate airports in St. Laurent (which is a private field with a 12,000 foot runway I think, a strange aircraft landed. It was a USAF B-45 and they thought they were somewhere in New Jersey. They got taken out for a good meal and what goes with that, and later poured into their cockpit, took off, and presumably landed safely somewhere else. Maybe even in New Jersey.



(Here's that article.)

WASHINGTON, D.C. Sunday Star May 07 1944
Noted Artist Returns to Capital After Fleeing Nazis in Paris
Ossip de Perelma plans Exhibit Soon at Mayflower


Ossip de Perelma, a Russian-born artists who painted portraits of President Wilson, Gen. Pershing and many other well-known public figures during the World War, has returned to Washington, thankful to be in a free capital again after a dramatic escape from his German captors in Paris.

A collection of four of his paintings, executed in Miami where he has been making his temporary residence since arriving in this country, will be exhibited soon at the Mayflower Hotel. Four others, painted earlier, are in the art collection of the National Museum of the Smithsonian Institution.

The 67 year-old artist, whose work has been widely exhibited both in this country and in Europe, arrived in Washington in a plane piloted by Capt. Howard L. Buller of Eastern Air Transport who flies in the transport service between Florida, Brazil, and Africa. Mr. De Perelma has been living in Capt. Buller's home in Miami and has executed a portrait of him in uniform which he calls "The Spirit of 1944."

Born near Stalingrad in 1876, Mr. De Perelma graduated from the Imperial Academy of Russia and later went to Paris where, under the sponsorship of Vladimir Stassof, noted Russian liberal and art critic, he soon gained considerable reputation as a portrait painter. He came to the United States during the World War and, introduced here by the French Ambassador, Jules Jusserand, executed a number of portraits as well as paintings symbolic of Franco-American unity and the war spirit.

Among those who posed for him, in addition to President Wilson and Gen. Pereshing, were Franklin D. Roosevelt, then Assistant Secretary of the Navy; Boris A. Bakhmeteff, the Russian Ambassador; Secretary of Interior Franklin K. Lane and Frank B. Noyes, president of the Evening Star Newspaper Co. The Lane and Noyes portraits were presented to the Smithsonian Institution's National Collection of Fine Arts.

Mr. De Perelma returned to Europe, then revisited America, intending to remain, when early in 1939 he received a cable saying his godfather, the noted surgeon, Francois Jean Bisserie, was seriously ill in France. He sailed for Paris, and was caught in the German invasion. For some months he eked out an existence by doing sketches of the conquerors, but his hatred of them impelled an intense desire to escape.

Finally, in 1942, he made contact with the French underground and was spirited out, reaching the United States in December, 1942.


End of Article




If you would like to share any information about Howard L. Buller
or would like to be added to the CNAC e-mail distribution list,
please let the CNAC Web Editor, Tom Moore, know.
Thanks!