May 21, 2001
I received the following message from Shiela Bishop Irwin, the daughter of Lewis Bishop.

"Tom,

Thank you for your prompt response and thank you for letting me add to the posting on Lewis Bishop, who was my father. We will be leaving Wednesday to attend the 60th reunion of the AVG Flying Tigers, and my first, so I won't have time right now to get a photo to you. I'll work on this when I return. I'm very excited about meeting my Dad's colleagues.

Dick Rossi supplied information I did not have on my father's CNAC experience, which I think is important and which I have included as part of this bio. My information is based on my father's POW notes written in late 1945 and on personal knowledge of later events.

Lewis Sherman Bishop was born August 19, 1915 in DeKalb Junction, in far upstate New York, and graduated high school there. He was the tenth of 12 children born to George Warren and Mary Lucy Cooke Bishop.

Before joining the American Volunteer Group (The Flying Tigers), under General Claire Chennault, Bishop served four years as an aviator in the U.S. Navy. He graduated from the Oklahoma Military Academy in 1937, and entered the naval air station, Pensacola, Florida, as an aviation cadet in the fall of that year. He was graduated and designated a naval aviator in September, 1938, and ordered to active duty in the U.S. fleet aboard the U.S.S. West Virginia, where he served two years. He then was detached and ordered to Pensacola, Florida, as an instructor in flying. He resigned from the Navy as an Ensign in August 1941. On September 24, 1941, he sailed from San Francisco with other volunteers including Dick Rossi and Charlie Bond. He reported to General Chennault in Toungoo, Burma, the training base of the Flying Tigers, on November 12, two weeks before his first daughter was born in Pensacola.

While bombing Japanese rail communications on May 17, 1942, his plane was shot down and he was forced to bail out. A high wind carried his parachute across the Indo-China border (Vietnam), and he was picked up by French authorities who shortly turned him over to the Japanese. He was a Japanese prisoner in China for just about three years.

For the first year, he was held mostly in solitary confinement as a political prisoner (Bridgehouse Jail). After he nearly died from malnutrition and beatings, and after endless interrogations, he was finally transferred to a regular POW camp (Kiangwan POW Campo) where fellow prisoners nursed him back to health. Two years later, the Japanese were transferring prisoners to northern China near Peiping. Bishop and four Marines escaped from the prison train on May 10, 1945. They made their way back through enemy territory to Kunming. Their journey, which took over 40 days, was made possible with assistance from Communist Chinese guerillas. The final leg of the journey was by plane, and he was invited to take the controls for first time in three years.

He was awarded the Bronze Star for "meritorious achievement while interned as a prisoner of war in China." Rear Admiral Monroe Kelly made the presentation at Third Naval District Building, New York City on April 8, 1947.

Dick Rossi and Claire Chennault were in Kunming when they heard that Bishop was coming back from captivity, and they both went to greet him. Rossi took Bishop over to see the CNAC Chief Pilot Hugh Woods. Rossi told Woods that he should hire him as a captain. Woody agreed, but first Bishop went home for a much needed rest and to see his wife and his young daughter for the first time. When he came back to fly with CNAC he only made two trips, as his nerves couldn't take the stress of this very difficult flying.

He later returned to the Navy and was promoted to the rank of commander. He served as commanding officer of a VF Squadron aboard the USS Leyte. He received shock treatment in a military hospital as a result of continuing problems arising from his confinement, and finally received a disability retirement from the US Navy. He owned a home and lived in southeast Florida for the remainder of his life.

Bishop suffered personally as well as professionally as a result of the period of captivity and isolation. He and his first wife were divorced after his return to the US in 1945, and both remarried shortly afterward. She and her second husband later had three children together. He and his second wife later had one child together. His second wife died of cancer in the early seventies, and he married a third time.

He died in Boynton Beach, Florida, November 1, 1987.

As a Flying Tiger ace he claimed 5.2 victories."


---
The following book, "Escape from Hell" (2004), was written by Lewis Bishop and his daughter Shiela Bishop Irwin.
The book is available from Shiela for $31.00.
Send your request to:
Shiela Irwin
105 Parkview Drive
Bloomington, IL 61701
If you ask, Shiela will be glad to sign you copy.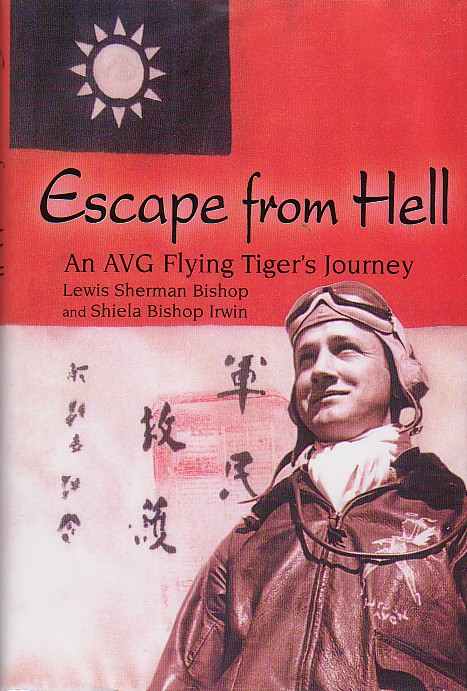 I just finished reading this book and enjoyed it. I think you will, too. Tom Moore

If you would like to share any information about Lewis Bishop
or would like to be added to the CNAC e-mail distribution list,
please let the CNAC Web Editor, Tom Moore know.
Thanks!