NOVEMBER 4, 1944
NIGHT LANDING AT DINJAN


From Fletcher Hank's, "WHEN AND HOW THE CNAC CRASHES HAPPENED ON THE HUMP AND ITS ENVIRONS DURING WWII" (hand-dated 5/4/02)

Don Codrea, 11/01/44, C-47 #80.
No fatalities. Chinese crew. Approaching for a night landing at Dinjan and both engines quit on base leg of his approach. Landed in a rice patty in the fog. Ship totaled but crew not scratched. Cause of accident, he failed to have each engine on a separate tank. He had enough gas to have landed safely.
Source: Kirkpatrick's log.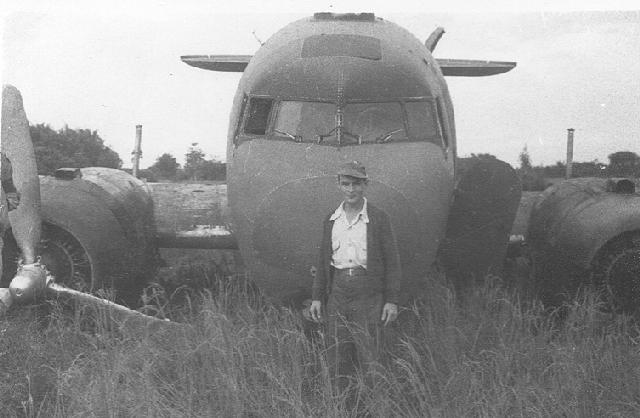 Art Prendergast in front of Don Codrea's airplane in a rice paddy.
(Caption and Photo Courtesy of Jim Dalby)



November 4, 2000
From Jim Dalby:
"On November 4, 1944 Don Codrea flying CNAC #80 coming from Kunming and was approaching Dinjan on instruments when his engines quit. Codrea made a successful landing in a rice paddy. (A successful landing is any that you can walk away from.) It turned out that Codrea had both engines on one fuel tank and and forgot about it. When that fuel tank ran dry both engines quit. The main fuel tank on the other side had lots of fuel in it. Running both engines on one tank was a common practice in order to balance the fuel on each side but you had better remember to return each fuel selector to seperate tanks when the fuel load is balanced.

Everyone makes mistakes and our bosses realized that. They only asked for the pilot to fess up tell the truth and accept the blame if the fault was his. They felt that by telling the truth that it might keep someone else from making the same mistake.

I was standing right there when Woody was questioning Codrea and Codrea tried to blame the co-pilot. This particular co-pilot was new and didn't know much. Woody blew up and fired Codrea on the spot.

Art Prendergast, Dick Stuelke and I inspected the accident and I took the photo of Art in front of the airplane."


---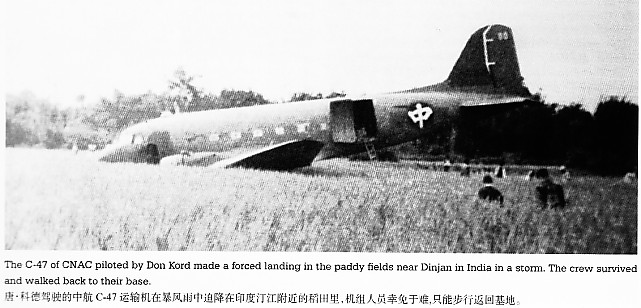 Actually we know the name to be Codrea not Kord.
Photo from a China Intercontinental Press book called, "The Memory of History"
(no published date, but I would guess the early 2000's)




If you can share any information about this accident
or would like to be added to the CNAC e-mail distribution list,
please let the CNAC Web Editor, Tom Moore, know.
Thanks!


Background music to this
page can be controlled here.
"Clair de Lune"