February 10, 2002
The following information and photo came from Eddie's son, Mike Russell.

Eddie R. Russell, 81, a Mississippi native and long-time resident, passed away February 4, 2002, in Jackson, Mississippi. A memorial service will be held 5:00 p.m., Tuesday, February 12, 2002, at St. Andrews Episcopal Church in downtown Jackson.

The son of Edmond Russell and Maggie Jane Dickson Russell, Eddie was born April 15, 1920, in Mt. Olive, Mississippi, where he was high school historian, co-captain in football, captain in basketball, a standout in track, and his senior annual noted, "There is so much wit and fun about him. There is no living with him, nor without him." He spent summers in Citizen's Military Training Camp and the coastal artillery batteries.

Eddie turned down college athletic scholarships to enlist and "fight Hitler" in 1940, entering boot camp at Barksdale, Louisiana, and progressing through Aircraft Armament and Radio Schools in Colorado and Illinois. He began a life-long love of flying as the highest-ranking enlisted member and third among all cadets of the U.S.'s first wartime pre-flight training class and was selected one of the first enlisted pilots, graduating as a Staff Sergeant Pilot August 5, 1942, in class 42-G from Ellington Field, Texas.

He then flew paratroop trainees at Pope Field, North Carolina, until February 1943, when he was sent to North Africa to fly supplies to the front and evacuate wounded. In August 1943, Eddie was selected to become the personal pilot for (British) Field Marshall Viscount B. L. Montgomery, and remained with "Monty" from the Sicily campaign until the German surrender, which he personally witnessed.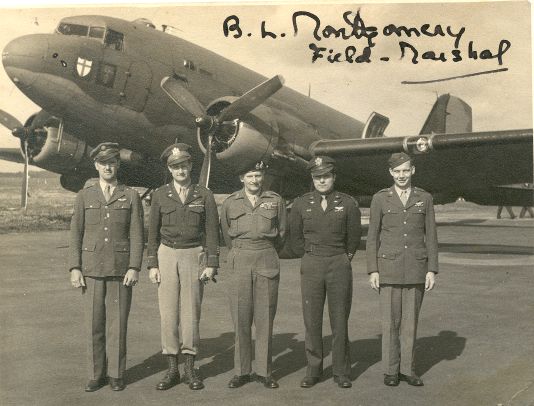 left to right
Unknown, Eddie Russell, Field Marshall Montgomery, Unknown, Unknown
(Monty's army's insignia can be seen on the C-47's nose.)


Eddie also had the privilege of flying other notable war figures, including General Omar Bradley, and meeting Prime Minister Churchill and Generals Eisenhower and Patton. Montgomery awarded him the Air Force Cross (the first for an American during the war) for skill and bravery in negotiating difficult flights at the front lines. After V-E day, Eddie then moved to the Pacific theater and flew supplies over the infamous "hump" routes. After the war, he served as assistant chief of staff for Pacific transport operations and separated as a lieutenant colonel in 1947 with several decorations, including the Bronze Star.

Eddie then served as a captain with China National Aviation Corporation, opening and flying difficult routes in and around China. He met his beloved wife, Anita, at this time and made a daring rescue of her as Shanghai fell in 1949. They married April 5, 1950, in Rome, Italy. He later trained pilots during the Korean War at Greenville AFB, Mississippi, and was sent to Indonesia as Director of Flight Training, where he was charged with initiating that country's air force from 1952-55. He returned home to Mississippi and was a corporate pilot in Jackson and Marks until 1971, when he retired with over 19,000 flight hours. He was a member of the Quiet Birdmen and the Flying Sergeants associations, among others.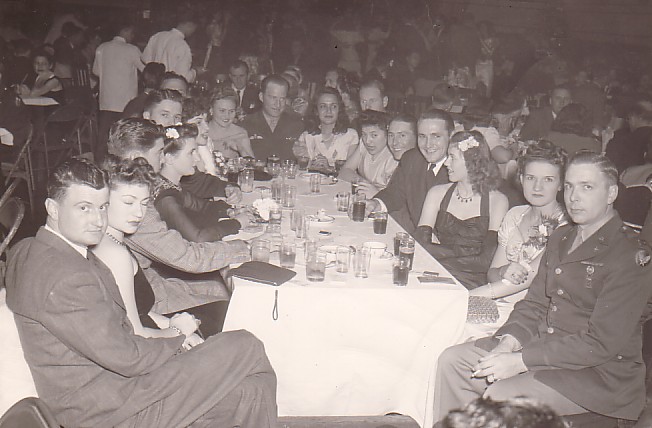 Shanghai - January 1, 1948
Left side, front to back
Ed and Anita Russell, Joe and Edelyn Frampton
Right side, 5th from the front is Don Hassig
others are unknown - do you know anybody?
(Courtesy of Don Hassig)
---
He was preceded in death by Anita and his eight brothers and sisters. Survivors include daughter Giselle Russell of Jackson and son and daughter-in-law Michael and Kay Russell of Tampa, Florida, and grandson Samuel. In lieu of flowers, the family asks that donations be made to the Air Force Enlisted Foundation, 92 Sunset Lane, Shalimar, FL 32579.



If you would like to share any information about Eddie R. Russell
or would like to be added to the CNAC e-mail distribution list,
please let the CNAC Web Editor, Tom Moore, know.
Thanks!