HARRISON LEON RICHARDSON (1916 - 1981)
"Bill"
(Operations Assistant)
(CNAC January 1946 - 194?)
(Hump Flights - ???)


February 24, 2006

Dear Mr. Moore,

Hello and thank you so very much for your website.

My name is Kathy Heim and I am the daughter of H.L."Bill" Richardson. My father was with the CNAC during WWII, he flew the "Hump", rescue missions out of China and with Gen. Chiang Kai-Shek.

My dad was born in Ohio on June 7, 1916. His given name was Harrison Leon Richardson, but everyone knew him as and called him Bill. He died in Buenos Aries Argentina on August 9,1981 (I was 17). I am going to ask for Glen Miller "Moonlight Serenade" for his song as I remember him humming that song when it would be played.

Attached are some of his I.D. Cards, old photos from China, and a picture from the CNAC/Flying Tiger reunion in Ojai summer of 1969.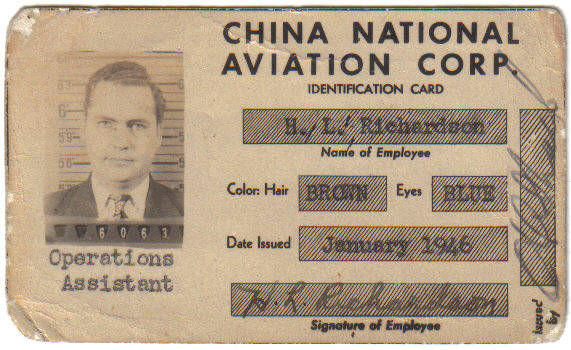 From H.L.'s log book, 1945-6.
Front page is the verification of his log book.
First two pictures are opposing pages of the log book.
Second two pictures are opposing pages as well.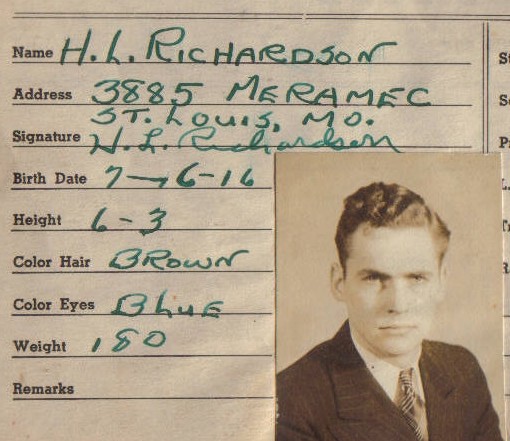 ---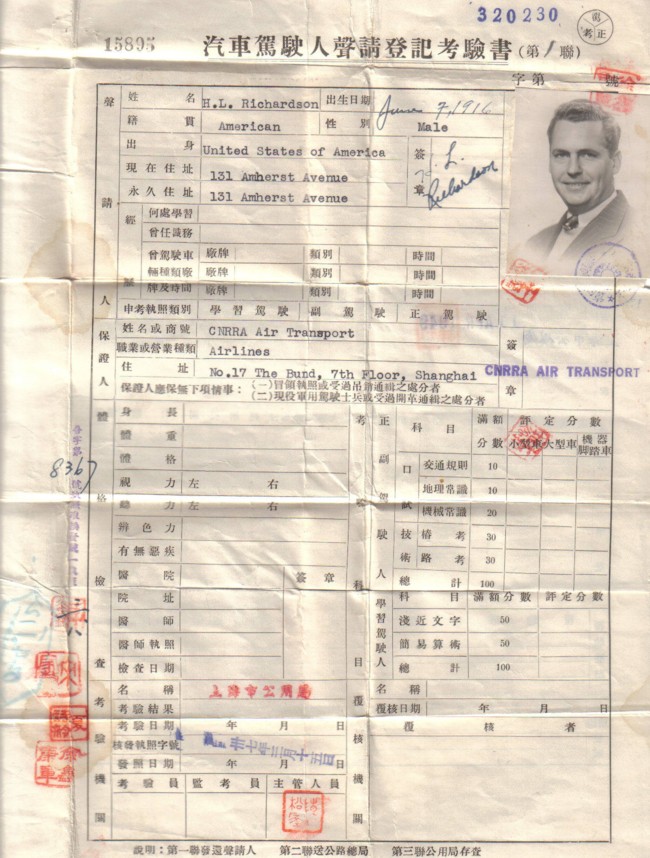 Chinese National Relief and Rehabilitation Administration (CNRRA) Air Transport
1946 or 1947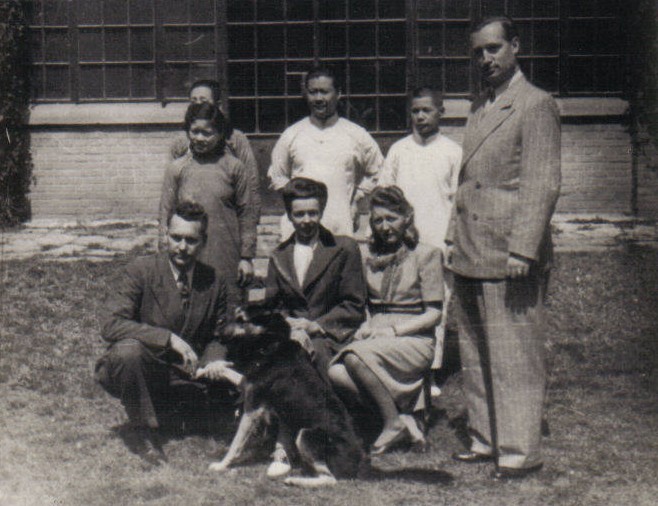 seated l-r; Bill Richardson, Unknown, Unknown
standing l-r; Unknown, Unknown, Unknown, Unknown and Unknown
The dog is Unknown
China - 194?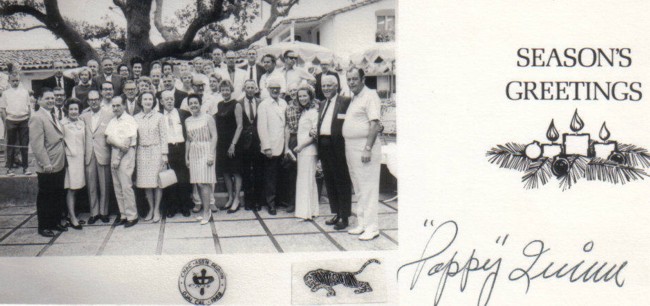 See 1968 Reunion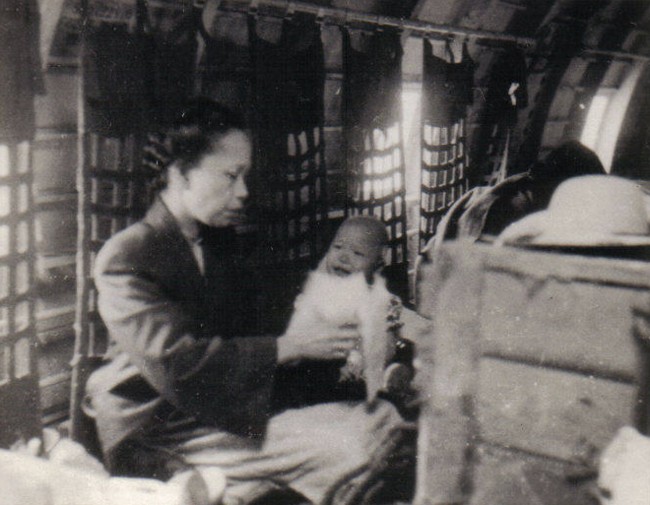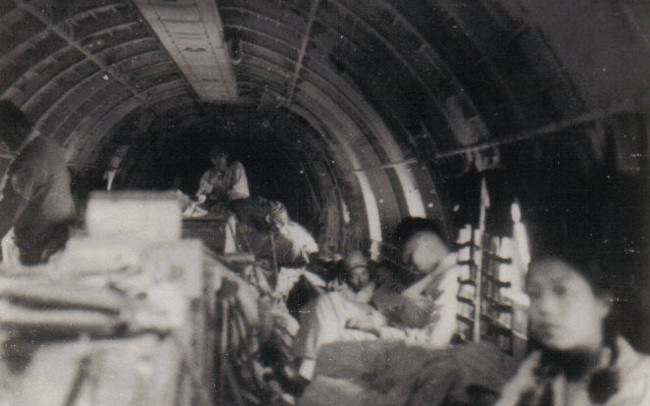 Rescue Flight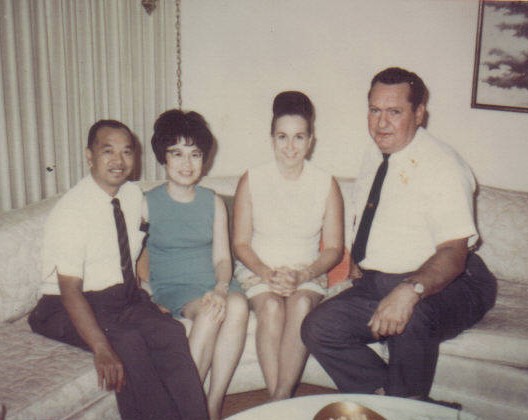 Andy and Sophie Tung, Orine and Bill Richardson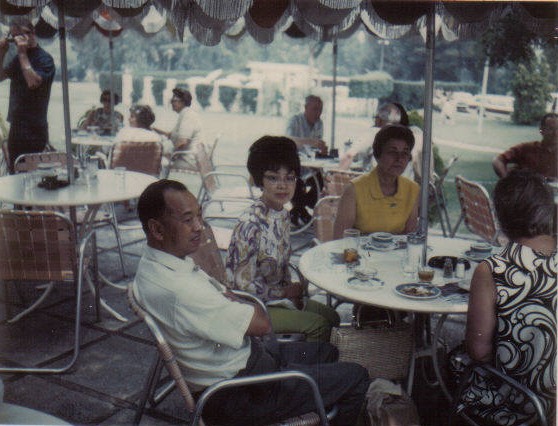 Andy and Sophie Tung, Unknown and Unknown


After my father came home, he sponsored Andy and his wife Sophie to come to the States.

I know that there are other pictures etc., that I have that I will dig out and scan if you are interested.

Thank you again for everything that you are doing. It means so much to my family. I only wish that both Dad and Mom were here for this.

Kathy Heim
E-Mail larson119@cox.net






If you would like to share any information about H.L. "Bill" Richardson
or would like to be added to the CNAC e-mail distribution list,
please let the CNAC Web Editor, Tom Moore, know.
Thanks!



Bill's daughter, Kathy, says that "Moonlight Serenade" was one of her father's favorites.
Here's to you, Bill.