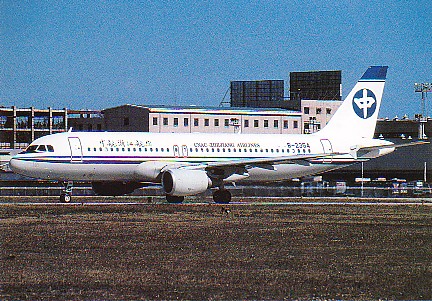 CNAC-ZHEIJANG AIRLINES
A320-214, B-2354 c/n 707
Peking - October 1997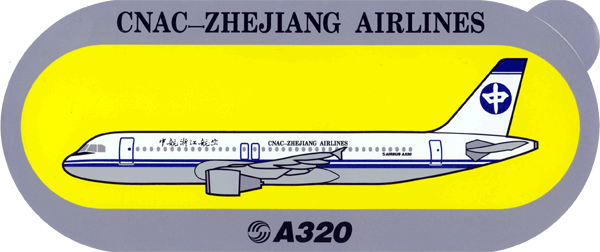 About 1995 - air sickness bag
(Courtesy of Tom Moore)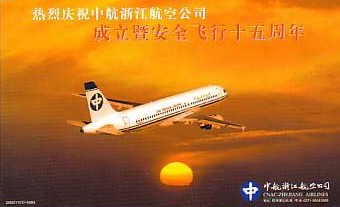 Do you have a copy of this post card?
Please let me know: pepperbud@pobox.com
---
July 21, 2001
Someone from New Zeeland writes with the following information about CNAC after 1949.
"Hi Tom,

I've just come across your website about the China National Aviation Corporation (CNAC) and its history up to 1949. This fills out a lot of void about the aviation scene when the mainland part of China was still under the ROC's administration. Nowadays this type of history is either suppressed in mainland China or Hong Kong SAR (all we know from the largely Communist-influenced tone type of information was how the CNAC staff welcomed the Communist liberation, end of Nationalist and American imperialist exploitations, etc) and ignored in Taiwan. An example of the Communist tone type of information is here: http://www.caac.gov.cn/gznb/99e-4.htm

Perhaps I should shed a few lights on the history of CNAC history after 1949. I think the Communists kept the organisation's name for what remained of the CNAC in mainland China but it became a shadow government department. The tasks of flying was passed on to the Civil Aviation Administration of China (CAAC) which also acted (and still acts) as the Civil Aviation Authority (like the FAA) of mainland China. However, CNAC became CAAC's overseas general sales agent, and I believe it is still the case today even in Hong Kong. What that means is that in the 1980s CAAC flew international flights under the name of CNAC, even though airport authorities around the world called the airline CAAC!

In 1995 CNAC bacame more active again. I believe it started charter flights from Peking for a couple of years and it expressed interests in "re-registering" to become Hong Kong's third airline. (Indeed the Australian Aviation magazine said something like this back in 1995: "It is interesting to note that the CNAC was the Chinese airline before the revolution", meaning Communist ascendency) Eventually it acquired 35.86% shares of Dragonair (HK's second largest airline, which was originally formed in 1985 by Hong Kong's local businessmen who were Chinese and I understood that the mainland encouraged that, but Cathay Pacific bought the controlling shares in 1990. Today Cathay and its parent, the British-based Swire Group, still maintains 25.5% of Dragonair's shares). It also holds about 5% shares of Cathay Pacific (from 1992). At about the same time it helped set up Air Macau (a new airline started service following the opening of Macau International Airport in 1995) with 51% of shares. So the CNAC does run a significant part of Hong Kong and Macau's aviation scene now.

Talks have been going on recently about the mainland Chinese aviation industry's restructuring. In 1986 CAAC divested the business of flying into six regional bureaus (headquartered in Beijing (Peking), Shanghai, Guangzhou (Canton), Changdu (don't know the name besides this pinyin name), Xian (not sure about the non-pinyin name), and Shenyang (not sure about the non-pinyin name)) The Peking-based bureau has become Air China today, while the Chengdu-based is now China Southwest Airkines. At this time CAAC became the Civil Aviation Authority of the mainland. The 1995 CNAC (the one introduced at your site) is in fact Zhejiang (Chekiang) Airlines and it still flies today. I understand that the CAAC wants to restructure all the mainland airlines (there are 23 now!) into three (3) major airlines (maybe they will be run as groups, or maybe these airlines will be merged). Air China is to be merged with CNAC group and China Southwest Airlines. This could mean that the name CNAC could disappear forever.

Hope this helps about the aviation scene in mainland China now.

Cheers

P.S. Other airlines formed out of the CAAC include:

China Eastern Airlines - based in Shanghai.
China Southern Airlines - based in Canton.
China Northwest Airlines - based in Xian.
China Northern Airlines - based in Shenyang.

Other airlines are formed by provincial or even city governments (such as Shanghai Airlines, China Yunnan Airlines, etc).

The following article comes from the 28 April edition of the Communist People's Daily: http://english.peopledaily.com.cn/200104/28/print20010428_68861.html

China to Set up Three Civil Aviation Groups via Reorganization Civil Aviation Administration of China Friday disclosed for the first time that the reorganization program of civil aviation enterprises has been fixed up in which three aviation groups will be formed with Air China, China Eastern Airlines and China Southern Airlines as their respective mainstay.

With Air China at the core, the first group will tie up with Chengdu-based China Southwest Airlines and China National Aviation Corporation in Beijing as supplements. The gross assets of the group after reorganization will add up to over 56 billion yuan. Having 118 airplanes it'll fly on 339 air-routes, including 286 domestic lines and 53 international ones staffed with more than 20,000 employees.

The second group takes China Eastern Airlines as its mainstay in combination with Yunnan Airlines and China Northwest Airlines to form a new aviation group. The total assets after reorganization will be 47.3 billion yuan. The group will have 118 planes to cover 437 air-routes, of which 383 are domestic routes and the rest international and regional ones with more than 25,000 employees dancing on the attendance.

The third one comprises of China Southern Airlines, the foundation of the group, Northern Airlines and Xinjiang Airlines. The gross assets will amount to 50.1 billion yuan. It will have 180 airplanes covering 606 air-routes, which include 512 domestic ones and 94 international and regional. The group will have more than 34,000 employees.

After the reshaping, the three aviation groups are free to arrange their transportation forces and adjust air-routes and flights according to the needs as shown in the aviation transportation market and regional disparities. With Beijing, Shanghai and Guangzhou as three large aviation hinges, a national airlines network will come into being.

The program also plans to merge China Civil Aviation Computer Information Center and China Aviation Accounting Center to form China Civil Aviation Information Services (Group) Corporation. The gross assets of the corporation will be 5.3 billion yuan. The China Aviation Oil Corporation and China Aviation Supplies Imports & Exports Corporation will also be merged for the establishment of China Civil Aviation Support Services (Group) Corporation with its assets coming to 10.6 billion yuan.



By PD Online staff member Du Minghua


This articles discusses the curent aviation industry in mainland China (including restructuring): http://www.orientaviation.com/pages/back_issues/00_07_08/OA_V7N9_ChinaChalle nge.html

---
Update!
(and the story goes on...) I stand corrected that CNAC has 43.29% of Dragonair's shares. (The original source of information comes from "Hong Kong Aircraft Handbook Part 1" by Danny C.Y. Chan. It is bilingual - English and Chinese - and was published Hong Kong in 1996)

Here's the URL for the "new" CNAC's official website that I found since the first message: http://www.cnac.com.cn/
Unfortunately it's only in Chinese (and even worse, it's simplified Chinese and it takes quite a bit of trouble to understand what the words mean). It mentioned that for the most part after the "liberation" until 1978 (roughly up to the time when Mao tse-tung died and economic reforms started) CNAC essentially had no business at all. In that year CNAC (Hong Kong) became established again and started to act as the "window company" for CAAC - which I think the arrangement still holds for Air China today. In 1991 it was allowed to register as CNAC in the mainland and has since acted as the role of CAAC's enterprise. This looks like a confusing arrangement with CAAC and other mainland China-based airlines (Air China, China Eastern Airlines, China Southern Airlines etc) esp since many of these airlines have now become corporations on their own.

Today CNAC is a "transportation enterprise" covering areas in airlines (Zhejiang Airlines, Dragonair, Air Macau, and it has a minor role in Cathay Pacific), airport terminal services, air cargo handling, aviation fuel services, air catering services, travel services, advertising, publishing, and even proporties! (Who knows whether the last items are relevant to airlines?)

It seems that the "new" CNAC still uses the name of CNAC because the mainland government doesn't recognise CNAC's liquidation in 1949. In November of the year many (if not most) of CNAC's Chinese staff pledged support to the Communist government and flew to Peking (It is still referred to as "uprising" in the mainland) so CNAC still technically existed in mainland at those time.



If you would like to share any information about the "uprising" of the "new" CNAC
or would like to be added to the CNAC e-mail distribution list,
please let the CNAC Web Editor know.
Thanks!