Clayton Kuhles
P.O. Box 12871
Prescott, AZ 86304-2871
928-899-1614
claytonkuhles@cableone.net

MIA AIRCRAFT


Please contact me if you are interested in finding a specific MIA airplane that was lost in the CBI theater during WW II. As of April 2009, I have successfully located and visited 15 US aircraft crashsites to date, and have thereby accounted for 102 MIA US airmen in the China-Burma-India theater.

All of my site reports, names of the personnel aboard in the aircraft I've found, and associated photos are posted on my website: http://www.miarecoveries.org.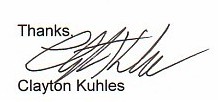 If you would like to share any information about MIA Aircraft
or would like to be added to the CNAC e-mail distribution list,
please let the CNAC Web Editor, Tom Moore, know.
Thanks!