Bill Gilger says, "Thirteen of us enlisted men (volunteers) were placed on detached sevice to the Air Corps, seconded to the Burma Road Engineers and assigned to CNAC support duty. Campisi was one of the thirteen. Nida was sent along in charge of the group to try and keep us out of trouble. Kenehan says Nida also flew - something I was not aware of."

Jim Dalby says, "On our airplanes we had two American GIs and two Chinese."

---
February 1, 2004

Bill Gilger provided this news clipping and comments:
"...going thru some old stuff and found this clipping - must have been from the CBI Roundup I had marked it 7 MAR 45. Anyway shows ten of us getting the DFC - not so.

I know Campisi got it (DFC) and maybe Nida did too since he was in charge; but most of the rest of us got the Air Medal. One of the guys had committed suicide by this time so, including him this accounts for ten of the 13 enlisted men plus Nida.

The clipping adds Headley, Seiple, Leedon, Kenny. O'Hara, Holm and Yawn to the list. My name is butchered to "Gilshinah".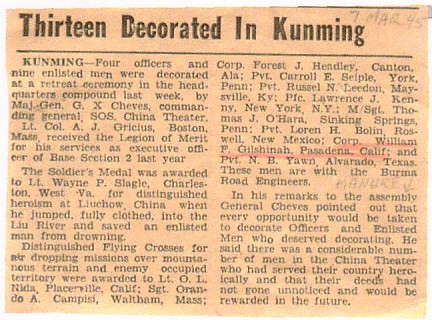 ---
August 29, 2005

hi tom,

attached are the special orders for the kickers from z-force to detached service

15 listed - i would swear there were only 13 of us

bill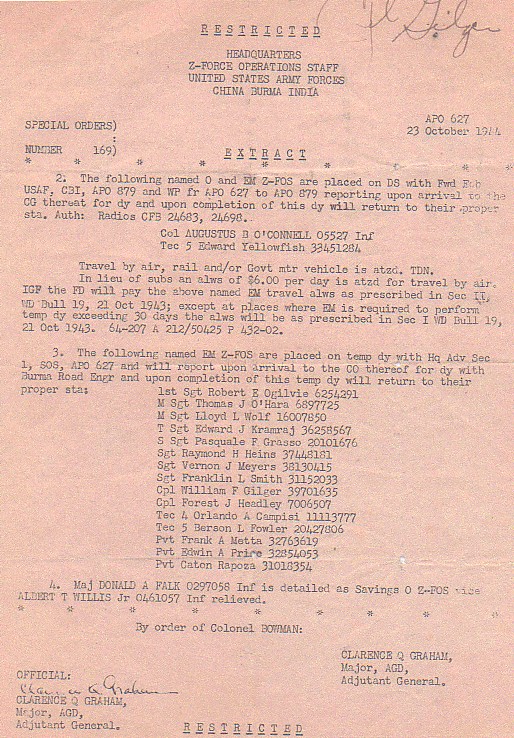 ---
An (*) next to the name indicates that the spelling and use of the name has been verified by the individual, their family or other documentation.
Private
Loren H. Bolin(*)
from Roswell, NM

Sgt., Capt. then Major
Orlando Campisi(*)
from Waltham, MA

Private First Class
Clifford R. Durgin(*)




William Gilger
"Bill"(*)
Pasadena, CA

Corporal
Forest J. Headley(*)
News clipping says Canton, Ala,
but I believe it's
Chilton County, Alabama

Private First Class
Lawrence J. Kenny(*)
New York, NY

T Sgt
Edward J. Kramraj

Bill Gilger was told that this Polish fellow commited suicide.

Private
Russel N. Leedon
Maysville, KY

Lieutenant
Orr L. Nida,
from Placerville, CA, USA

Master Sargent
Thomas J. O'Hara
Sinking Springs, PA

Private
Carroll E. Seiple(*)
York, PA

Private
M.B. Yawn(*)
Above news clipping has "N.B. Yawn" but it is "M.B. Yawn"
Alvarado, TX

Name Unknown

Name Unknown



In addition to the American Military Kickers there were also Chinese Kickers

If you can share any information on any of these kickers
or would like to be added to the CNAC e-mail distribution list,
please let me, the CNAC Web Editor, Tom Moore, know.
Thanks!