Ida Zelikovsky (mother, 1906 - 1989)
Ester Haimovna Zelikovsky (daughter, 1930 - 2006)
Abraham "Abe" Zelikovsky (son, 1932 - 2009)

---
June 6, 2006

Please sign me up. I was in STIC from Jan/1942 to liberation in Feb/1945. I was liberated two days after the rest since I was held hostage by the Japanese in the Ed Building. I was 13 when we were liberated. My mother and sister were also interned.

Abe Zelikovsky

---

November 21, 2009

My Father would have wanted me to pass this on to you.

I also interviewed my father about his camp experiences in 2004. His photographic memory was unbelievable. The raw footage is around 4 hours.

Blessings,
Dean Zelikovsky (son of Abe Zelikovsky)
(see below)



Abe Zelikovsky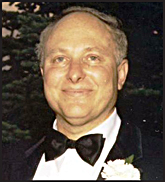 Abe ZELIKOVSKY Born in Harbin, China, 1/18/32, died in Bellevue, WA. 9/8/09. Abe studied piano under Madame Levinson, student of the famed Anton Rubinstein. At age 9 he was invited to study with Sergei Rachmaninoff, prompting the family to move to the US. A stop in Manila, Philippines coincided with the Japanese bombing of Hawaii and the US declaration of War. Abe and his family were imprisoned by the Japanese at Santo Tomas Internment Camp. A WWII POW for 3&½ years, Abe survived, moved to New York, then Vancouver BC. He obtained engineering degrees at UBC and UW, settled in Seattle and married Rita Ajas, who died in 1964. He worked as a mechanical engineer at Boeing on the 707, 727, 737, and SST. He married Fran Osmers in 1966. His passions were extensive and varied. Abe was a classical music enthusiast, bridge Life Master, Mensa member, and loved horse racing, chess, motorcycling, boating, baseball, history, economics, intellectual puzzles, classic movies, politics, and Israel. Abe was preceded in death by his mother Ida Z. Green Lassers, father Haim & step-father Bruce Green. His devoted wife of 43 years, Fran, and his children Dean, Dori, and Kim, survive him. Memorial services were held in Bellevue's Temple de Hirsch Sinai and Sunset Hills Memorial Park.

Published in The Seattle Times from September 20 to September 21, 2009
http://www.legacy.com/obituaries/seattletimes/obituary.aspx?n=abe-zelikovsky&pid=133118050

Regards,
Dean Zelikovsky



Liberation day.
My father at age 13, Abe Zelikovsky (upper left corner) as an American POW under Japan in Santo Tomas Internment Camp (Philippines).
After 3+ years as a POW he weighed 65 pounds.
In front, General Douglas MacArthur.
Liberation day.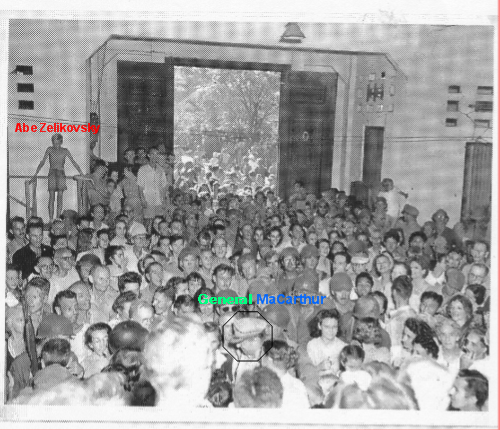 If you would like to share any information about the Zelikovsky Family
or would like to be added to my POW/Internee e-mail distribution list,
please let me, Tom Moore, know.
Thanks!