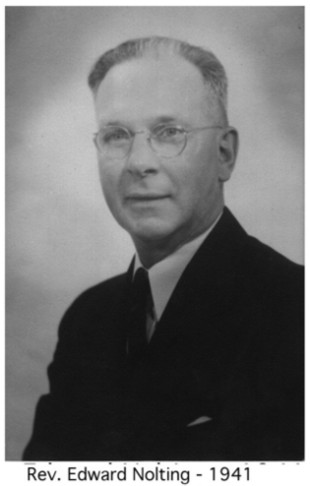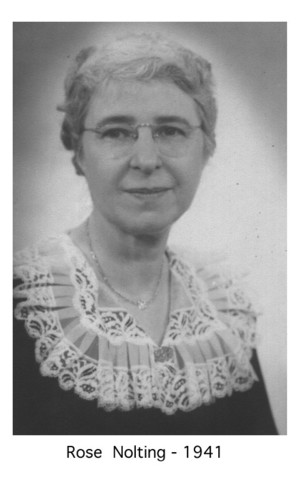 (Courtesy of nephew, Richard Luehrman)


I received these pictures and the following message after a couple of e-mails between two nephews:

December 29, 2003

As Aunt Rose would say, "What a wonderful surprise." So good to get your response. Most certainly you may use my email as starter for their page. In a separate Email I will send you more information on them. This is what I have entered in my genealogy program. I will have some photos, including one of a "cup" carved from bamboo with inscriptions on the side commenting "They made Monkeys of us."

I will make every effort to get more materials organized. I'm so pleased to have discovered your pages. I was idly searching for anything Santo Tomas and found you among the several thousand sites listed.

This is the entry for the Noltings in my genealogy program.

Edward Louis Nolting - born 5 June 1890 at Higginsville, MO - died 27 July 1964 at Webster Groves, MO. - married 30 June 1916 at Columbia, PA to Eda Rosina Witt - born 16 March 1892 at Columbia, PA - died sometime after 1969. (actually November 1973)

They had no children. They were missionaries at American College, Madurai, India from 1916 to 1953. On their way back to India after furlough in the US in December 1941, they were interned by the Japanese at Santo Tomas University, Manila, Philippine Islands. Edward's father, August Louis Nolting, died 17 March 1945, a short time before they returned home after liberation by US troops.

After their mission work, they settled in to the large Congregational church in Webster Groves, Missouri where they served until Edward's death in 1964. After that, Rosina (Aunt Rose) returned to her home in Columbia Pa. to live unhappily with her sisters there until her death in a nursing home several years later.

From the Higginsville Advance of August 1?, 1964.

"Rev. Edward L. Nolting, age 74, Webster Groves, died Monday, July 24, at the deaconess Hospital in St. Louis after suffering a heart attack on Saturday. He was born June 5, 1890, the son of Mr. and Mrs. A.J. Nolting, in Higginsville. He was married June 27, 1916, in Manila.(sic - obvious error. Probably several lines omitted since they were married in Columbia, Pa. and during WWII spent 3+ years in internment camp Santo Tomas in Manila.) Rev. Nolting had served the First Congregational Church, the United Church of Christ, was associate pastor of the Webster Groves church and had been a missionary to India for 36 years.

Survivors include two sisters, Mrs. A.C. Ernst, Quincy, Ill.; Mrs. Henry Luehrman, Lexington; and his step-mother, Mrs. A. J. Nolting, Lexington.

Memorial services were held Friday morning in Webster Groves with Dr. Martin Goslin officiating."

I'll get much more to you soon. Perhaps introductions are in order. I am the youngest child of Clara Nolting Luehrman who was the sister of Edward. My two siblings - Anna Lucille Luehrman Price, (1921-2003) died this past year in Springfield, Mo. She was the chief genealogist of our family. I put it all in the computer. - Edward Henry Luehrman lives in Lexington, MO. - I am Dr. Richard August Luehrman, Prof. Emeritus at Central MO State University in Warrensburg.

Best Regards,

Dick (Luehrman)
E-mail rluehrman@charter.net



If you would like to share any information about Rev. Edward L. Nolting and his wife Rosalie Nolting
or would like to be added to my POW/Internee e-mail distribution list,
please let the me, Tom Moore, know.
Thanks!