From the book, "Santo Tomas" by Frederic Stevens, page 514:

Wynne Trounce Judge

---

March 20, 2010

To Whom It May Concern,

My name is John M. Ryan from Salamanca, Spain. In Oct. of 1945 my Uncle, John Judge, who was born in Ireland was killed on a Japanese Prison Ship. Five Years before he had married a Wynne Judge (Maiden Name Unknown, but may be Trounce) in the Phillipines. In 1945 after the war she wrote a letter to another uncle in Ireland giving the history of there lives as it was happening in that terrible time.I was just able to obtain a copy of those letters (copies attached) and as you will note she gives a return address in Tacoma, WA. Wynne was a school teacher who was traveling the world and ended up marrying my uncle. I am also attaching a photo of Wynne taken before the Japanese invasion. As noted in her letters she spent more than 3 years in Santo Tomas Interment Camp. The second letter she wrote in 1948 she writes that she is remarried to a gentleman named Bert. I believe that he was also interred in Santo Tomas. They were going to return to the Phillipines in 1948. I do not have her maiden name or her second married name. I am trying to find out what happened to her. I am hoping someone in this forum may know who Bert was so I could try and trace them down. Thank you for any help that you can provide.

John M. Ryan
johnmryan33@gmail.com

Here is the photo of Wynne and her letters: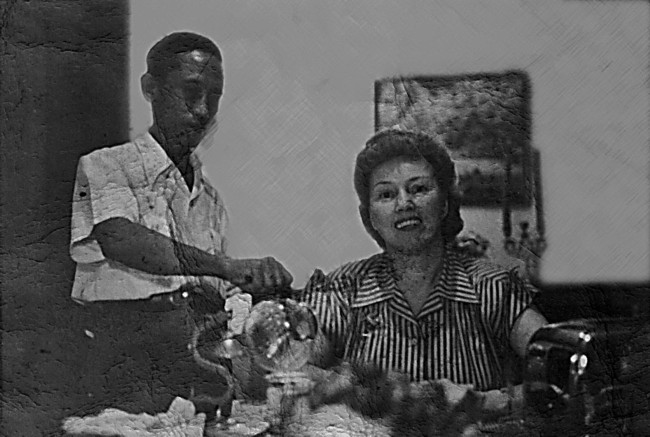 taken before WW II in the Philippines
and a little closer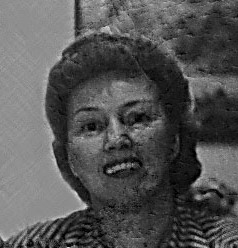 The first letter dated July 19, 1945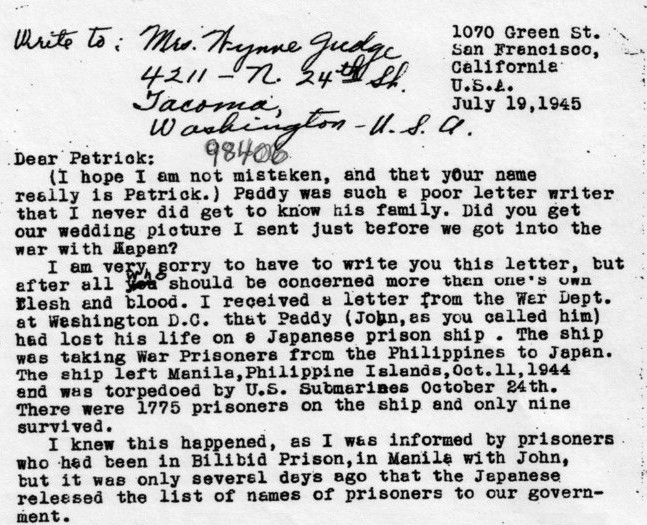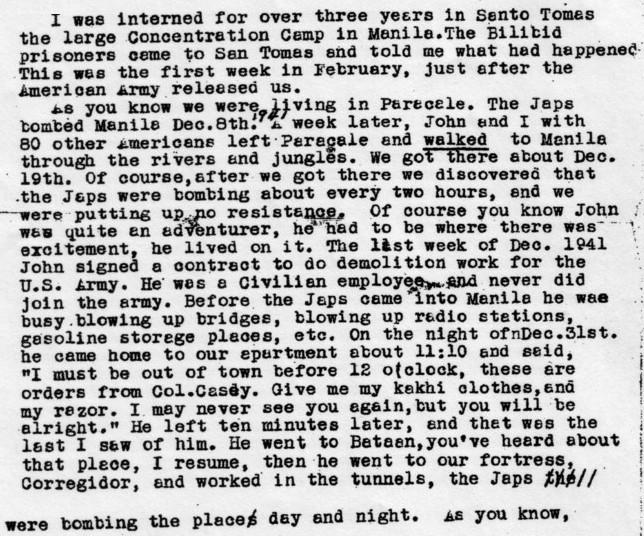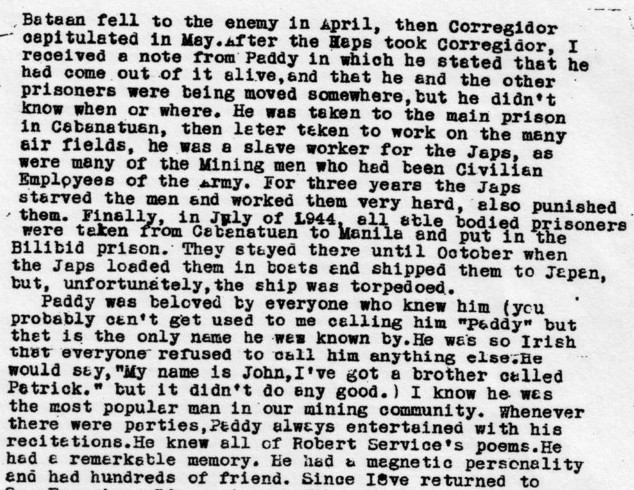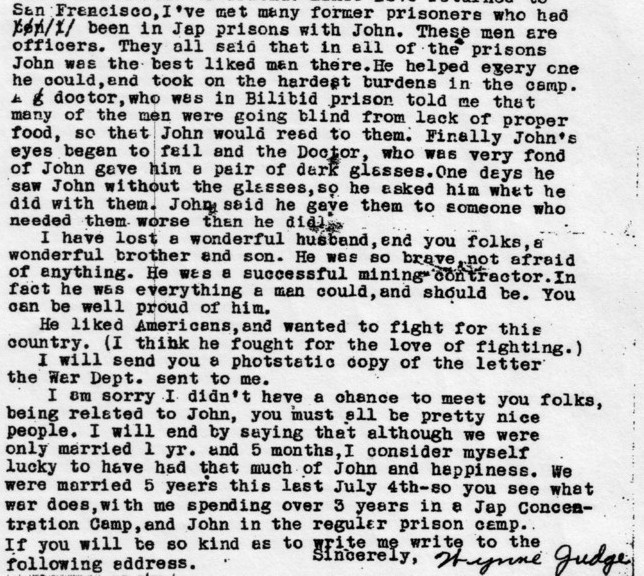 The second letter dated May 5, 1948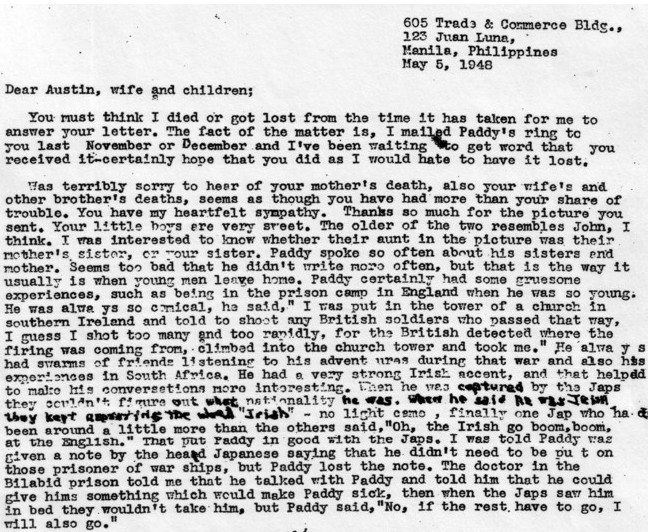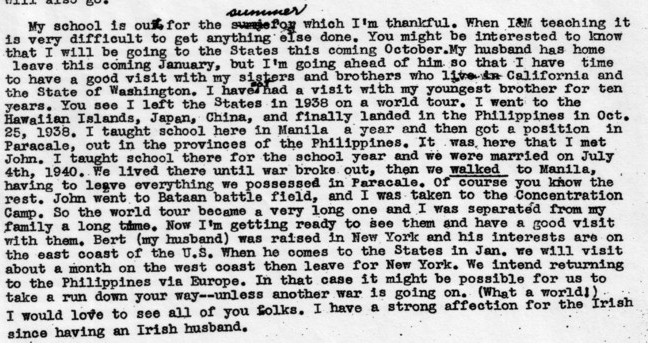 ---

March 21, 2010

Hello Tom,

Thank you very much for responding to my query about my search to find out what happened to my aunt Wynne Judge.

First to explain about my uncle John Judge. I am attaching a photo of him with his brother Patrick. John I think is the one seated.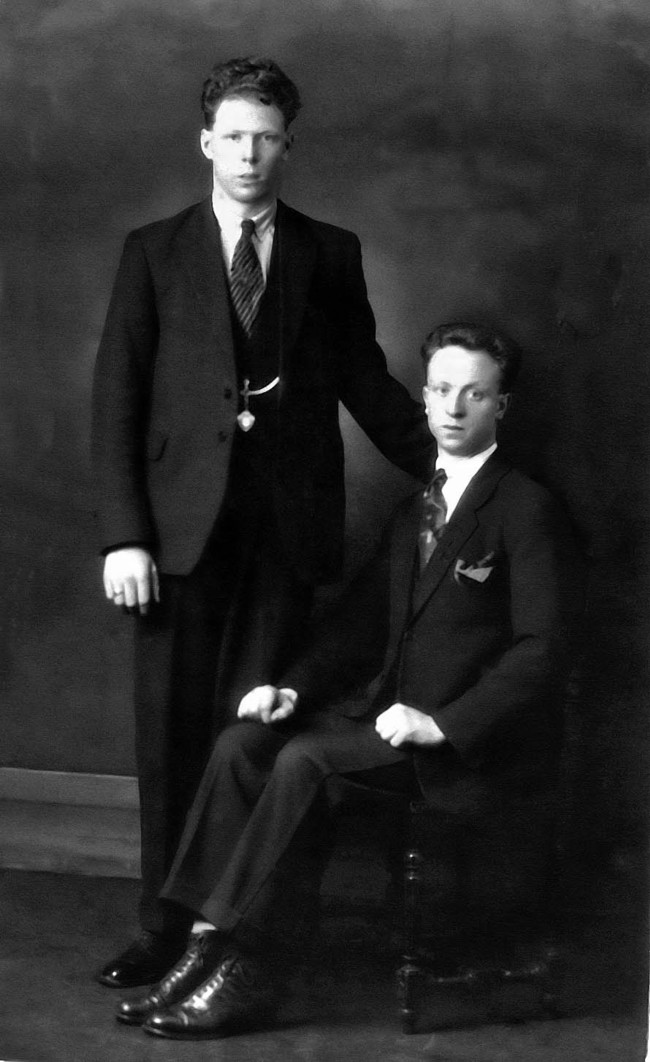 John was born in the west of Ireland in a small cottage one of 11 children. He left Ireland for England around 1930 and ended up in South Africa working in the mines and became a mining contractor and demolitions expert. Somewhere around 1936 he went to Paracale, Phillipines to work in the mines there. Wynne Judge was an American school teacher in Paracale where she and John met, fell in love and married on July 4, 1940. When the Japanese invaded the Phillipines they left Paracale with the other Americans working there and walked to Manila. John Judge was contracted by the American army to blow up bridges, gasoline dumps, radio towers, etc. He was working for a Colonel Casey but he never became part of the US Army. He was captured with the rest when the US Army surrendered and then he was in various camps. He was then sent to Bilibad loaded on the Arisan Maru which was sunk in Oct. 1944 by the submarine USS Snook with a loss of almost 1800 American lives and at least one Irish one.

Wynne Judge left Tacoma WA in 1938 for a trip around the world; she visited Hawaii, Japan, China, and ended up in the Phillipines and worked one year in Manila as a school teacher. She then went to Paracale to work as a school teacher there and as stated above met and married my uncle. My uncle left Manila with the army and Wynne Judge was interred in Santo Tomas with the rest of the foreign civilians until released in 1945. I firmly believe that she worked as a school teacher in Santo Tomas for the 3 years she was there. Some of the younger internees still alive today might remember her. Sometime after her release and death of my uncle she married a gentleman named Bert. I believe Bert was in Santo Tomas with her and after their marriage they stayed in Manila where he had business interests. All this information I got from her letters that I sent you in my first e-mail. My uncle is dead but from the letters of Wynne Judge she seemed like a marvelous and adventurous person and I really would like to find out what happened to her.

A side note about my uncle, he was one of eight brothers of which he and five other brothers were dead before they were 40 (War and mining accidents). When John Judge was 13 during the rebellion of Ireland against England he got ahold of a small french rifle and from a church tower held up a British convey for six hours. He was captured and spent the time in a British Prison in England until the Anglo Irish treaty was signed.

Tom, thank you very much for your cooperation in this matter. My main interest now as stated is to find out what happened to my aunt. I think she was from Tacoma WA. When I was 19 in 1953 near the end of the Korean war I took my basic training at Ft. Lewis, Wa. about 20 miles from Tacoma. If I only knew then I could have checked up on her.

Sincerely yours,

John M. Ryan
Salamanca, Spain

If you would like to share any information about the Judge family
or would like to be added to my POW/Internee e-mail distribution list,
please let the me, Tom Moore, know.
Thanks!