ERNEST JACOB JOHNS (1??? - 1971)
and his wife
BRAULIA LEDESMA DURAN JOHNS


August 21, 2005

Dear Sir:

My grandparents, Ernest Jacob Johns (American civilian, amputee, having lived in the Philippines since the late 20's) and his wife, Braulia Ledesma Duran Johns, along with some of their children were also interned at Santo Tomas. My grandfather was the Gym Monitor then. My granfather passed away on February 1971 in Cebu, Philippines. From what I was told by my grandmother, they were living in Masbate when the war broke out and when the Japanese occupation started. Kindly include their names on your list.

Thank you.

Sincerely,

Jake Johns
E-mail johnsjake@hotmail.com

August 23, 2005

Dear Tom:

Thanks for your email. My grandfather's last name was spelled with an "S" at the end - JOHNS, so how it is currently listed in Mr. Stevens' book is an error. I found out more information about my grandparent's internment at Santo Tomas also. It appears my grandmother was released very shortly since at that time she was pregnant with my mother who was born on Aug, 1943, so it was my grandfather who stayed in the camp until the end of the war. I also found out from his other children that he was also one of the cooks in the camp at the time of his internment and he actually used to smuggle extra food to the other prisoners. I have kept a couple of camp memorabilia which he had, I guess these were given to him by one of the American camp leaders then. One memorabilia indicated he was the Chief Gym Monitor, and the other one was for "Smuggling Chow".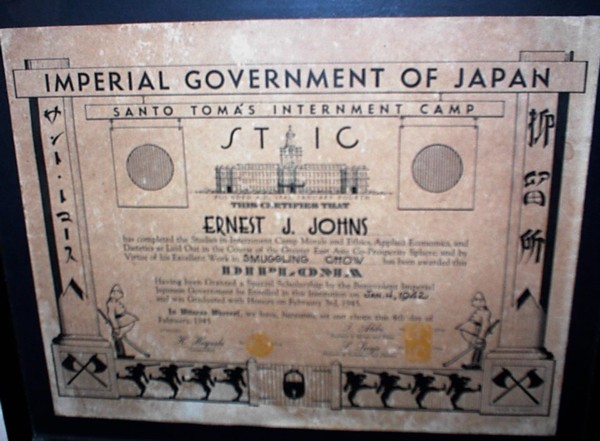 It's nice that even during such hardship under the Japanese occupation, they were still able to retain some humor in their lives under those conditions. Also, thank you for including me in your mailing list. I appreciate your help. Thanks much.

Jake Johns




If you would like to share any information about Ernest Jacob Johns or Braulia Ledesma Duran Johns
or would like to be added to the POW/Internee e-mail distribution list,
please let me, Tom Moore, know.
Thanks!


Background music to this
page can be controlled here.
"Yin Nian Hao"