From the book, "Santo Tomas", by Frederic Stevens, the following were liberated from Santo Tomas:

Marion Albion Fulstone (father, 1901 - 1982)
Elizabeth Hancock Fulstone (mother and wife of Marion, 1909 - 1996)
Jack Wayne Fulstone (son of Marion and Grace, 1926 - 2006)
Gerald Hancock Fulstone (son of Marion and Elizabeth)


---

December 5, 2009

Hi Tom,

Good to hear back from you. This photo of my grandfather, Marion Albion Fulstone and his new wife, Elizabeth Wimbish Hancock, on their return trip to the Philippines. I believe I mentioned to you in an earlier email that they both had lived in the Philippines once before. Therefore, this photo must be of their journey back to the Philippines for their second stay before the war broke out. My grandparents are shown with 4 other men (unidentified) and it appears they are all standing on the deck of a very large ship, showing the bottoms of the life boats behind them, and they are out to sea. Miles of open ocean is seen behind them. They're all properly dressed and look quite healthy and happy.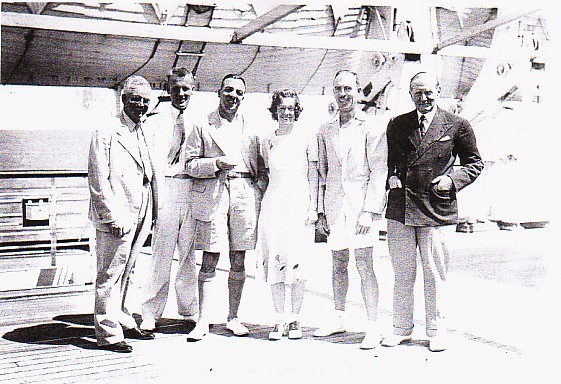 The names of my family are as follows:

Marion Albion Fulstone who also went by the name Larry. His oldest son, Jack Wayne Fulstone. His youngest son, Jerry Fulstone and his wife, and mother of Jerry, Elizabeth Wimbish Hancock Fulstone. Jerry was born in the Philippines, as the family had been there once before for employment. Marion Albion Fulstone met Elizabeth Wimbish Hancock in the Philippines. Elizabeth Wimbish Hancock worked for the Library of Congress. Jack Wayne Fulstone and Jerry Fulstone both attended schools in the Philippines and both Marion Albion Fulstone and Elizabeth were working in the Philippines when they were marched into the Santo Tomas Camp and imprisoned. There is one unidentified man in the group photo with my family.

ELIZABETH WIMBISH 'HANCOCK' FULSTONE, date of birth was 09 Dec 1909, date of death was 12 Sept 1996. Both Marion Albion Fulstone and his wife, Elizabeth, died in Las Vegas, Nevada. Jack, Marion's son, died in Oregon. Gerry, is still living.

MARION ALBION FULSTONE married ELIZABETH WIMBISH HANCOCK in Pasay, Rizal, Philippines on February 01, 1938. GERALD HANCOCK FULSTONE was born in Paracale, Camarines North, Philippines 19 March 1939.

I have a letter that was sent to Marion Albion Fulstone's mother from her attorneys congratulating her upon his safe return, dated April 18, 1945.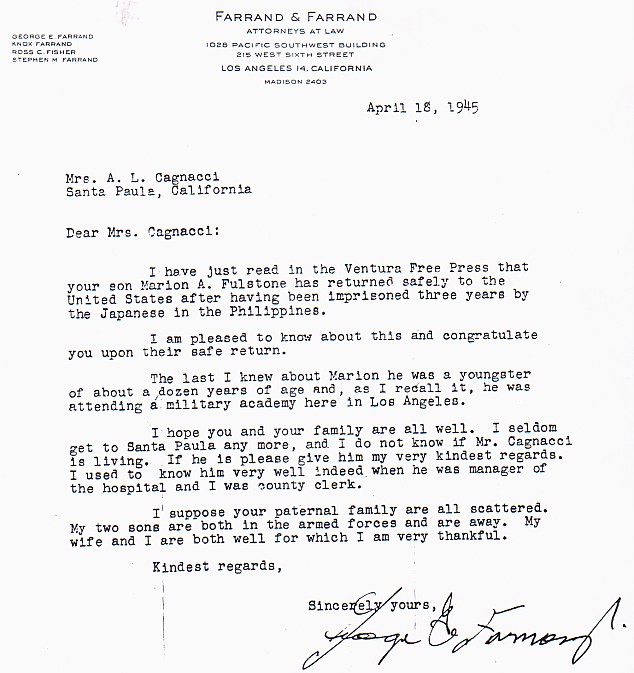 Our thanks to Stephanie Pendleton for finding the actual article.

This is the actual article that appeared in the newspaper that corresponds with the letter from the attorney
that was sent to my great grandmother, Cora Mae Fagan Fulstone Cagnecci on the safe arrival
of her son, and my grandfather, Marion Albion Fulstone and his family from the Philippines.
Again, our sincere thank you's to Stephanie Pendleton for finding this material.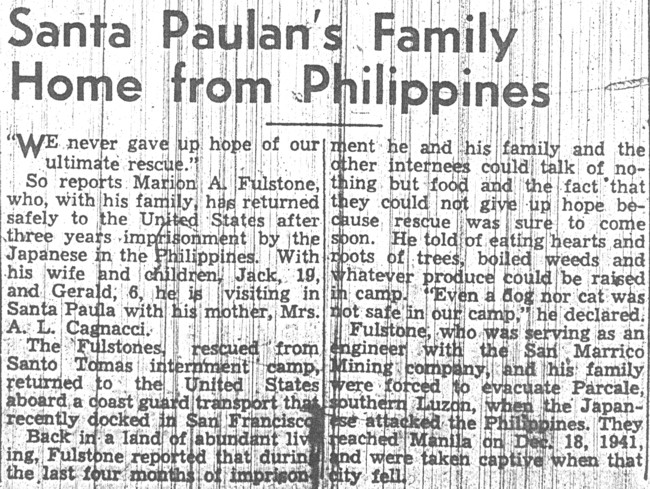 With all best wishes,

Debera Fulstone Spear

The above Debera provided copies of the following photos. Thank you Debera.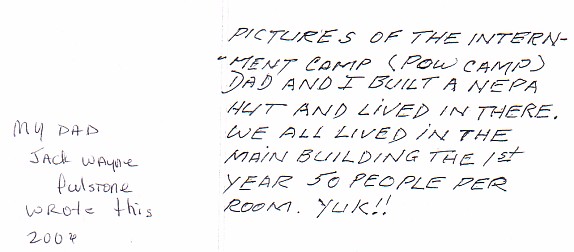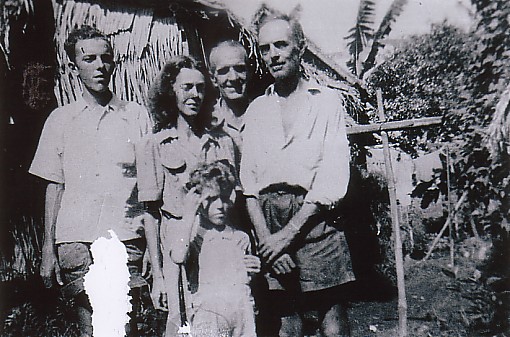 left to right
Jack Wayne Fulstone, Elizabeth Hancock Fulstone, unidentified man in background, far right Marion Albion Fulstone
Little boy in front is Gerald Hancock Fulstone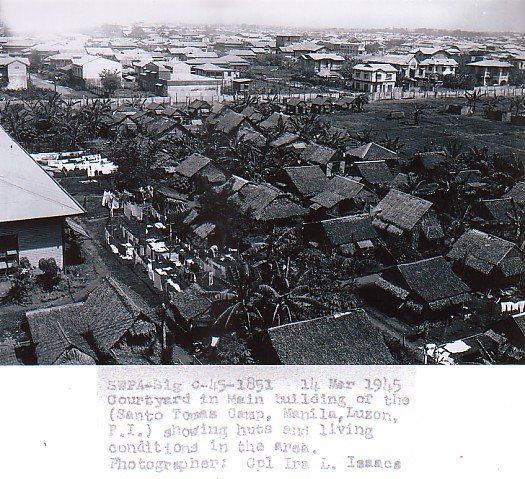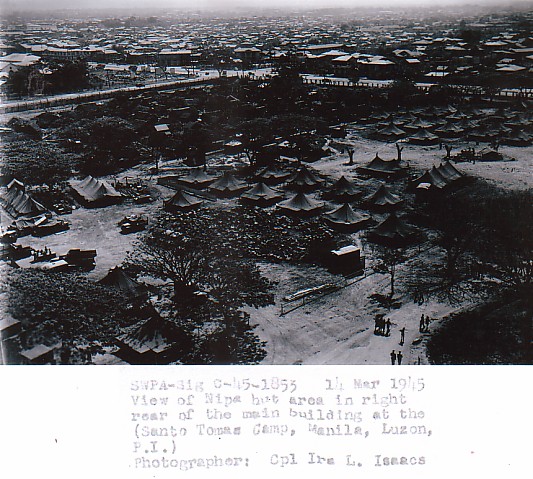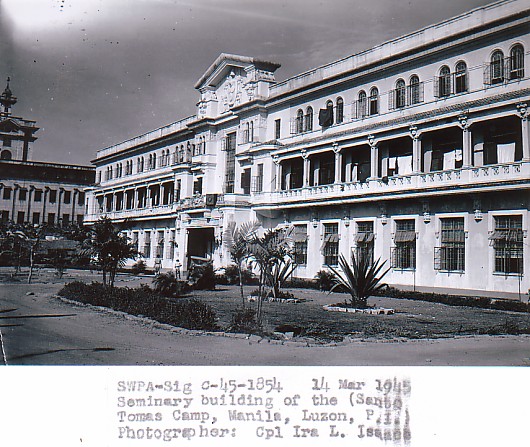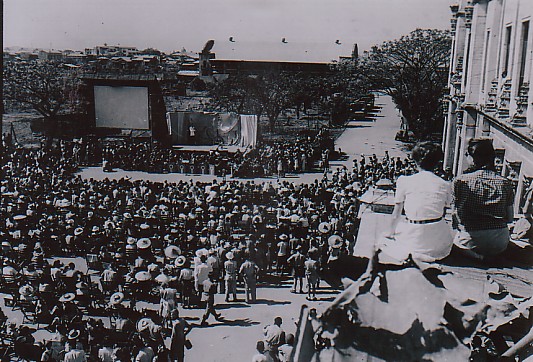 Is that you sitting on the ledge???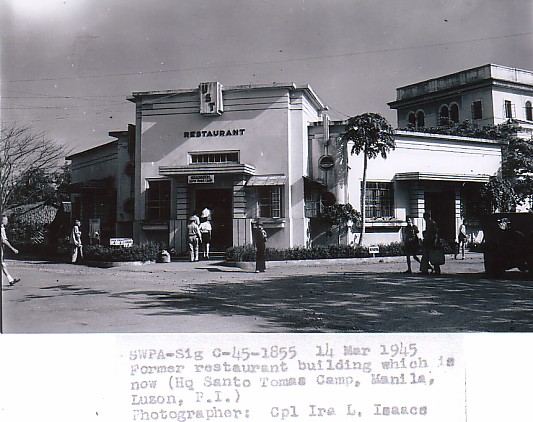 If you would like to share any information about the Fulstone family
or would like to be added to my POW/Internee e-mail distribution list,
please let the me, Tom Moore, know.
Thanks!