The Internet really does make this World a much smaller place. It's a wonder! Please read on...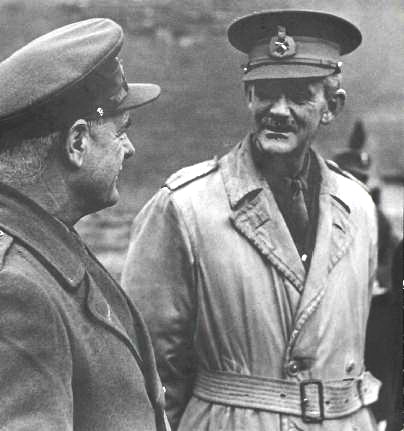 left to right
General Archibald Wavell and General Dennys
Courtesy of General Dennys' grandson, Nicholas Dennys, QC (Queen's Counsel)
---
December 11, 2008

Tom,
Here is what I have gleaned from my research on Major General Dennys

General Lancelot "Lance" Ernest Dennys

Known duty assignements:
1936 - 1939 General Staff Officer 1, War Office
1939 - 1940 Commanding Officer 1st Indian Brigade (1st Punjab Regiment)
1941 - 1942 Military Attaché to China (Chunking)
1941 - 3/14/1942 Head of the British Military Mission to China

Recipient of the Military Cross medal for his service in India. Here is info on how he earned his Military Cross decoration.

Captain Lancelot Ernest Dennys, 54th Sikhs, Indian Army (in Egypt)

At Shejarhar Bridge, on the 20th September, 1918, he led his company through an intense cross machine-gun barrage and took his objective with the utmost determination and dash. His personal gallantry and disregard of danger greatly inspired all ranks. Although severely wounded, he endeavored to crawl and continue commanding, but finally had to be carried back by his orderly. (London Gazette, 4 October 1919, page 12241)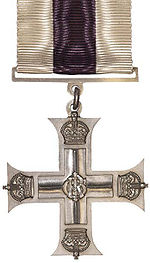 The British Military Cross


Born 1890 and died 1942. He is now buried at the Sai Won War Cemetery in Hong Kong and his regiment is listed as the 1st Punjab Regt. Indian Army. 14th March 1942. Section IC6. I believe he was moved to this cemetery in 1946 as many of Great Britians dead were moved there after the war. He could not have possibly been buried there before as Hong Kong fell to the Japanese on Christmas Day, 1941, before General Dennys was killed.



The Canberra Times (Australia)
Tuesday, March 17, 1942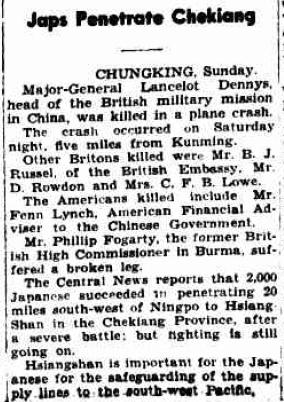 Gen. Dennys had a son named Major John Edward Dennys (Dec. 1973) whose wife was Lavina Mary Yolande Lyttleton, who was the daughter of , Sir John Cavendish Lyttelton, the 9th Viscount Cogham, and Violet Yolande Leonard. Maj Dennys also was a recipient of the Military Cross.

I have located Gen. Dennys grandson's last known address as of 2004. I will send him a letter to see if I can locate him and learn more about the General.

Rick Lawrence
rglawrence_rick@yahoo.com


---
From General Dennys grandson...
April 26, 2009

Dear Mr. Lawrence,

I apologise for the unconscionable length of time that it has taken me to respond to your e-mail - my only excuse is that I had to go through my late mother's papers in an attempt to find information and a photo. The latter is attached (see above). My grandfather is with General Wavell. As you know, at the time of his death Lance Dennys was the head of the British military mission in China as military Attaché to the British Embassy in Chungking. His role as I understand was to advise the Chinese Government and Generalissimo Chiang Kai Sheck in its war with the Japanese but more particularly to persuade Chiang to assist in the defence of Burma. He was expert in mountain warfare having served in his early career on the North West Frontier. In the Great War he was awarded the Military Cross and bar, but although I have the medals I do not have the Citations. He was also mentioned in dispatches. After 1918 my grandfather had a number of staff appointments, including GSO2 Intelligence AHQ Peshawar, GSO2 training Southern Command; Imperial Defence college and colonel GSO1 at the War Office. He was also Brigadier commanding the Raznak brigade and Brigadier Gurkha brigade according to the record I have located. My grandmother was friendly with Madame Chiang - they went shopping together. If I find more I will be in touch.

Kind regards,

Nick Dennys



If you would like to share any information about Lancelot Ernest Dennys
or would like to be added to my mailing list,
please let me, Tom Moore, know.
Thanks!