From "Santo Tomas" by Frederic Stevens:

Alfred Carpenter Davis (father, 1887 - 19??)
Eva Grade Davis (daughter)

Dorothy Davis the youngest daughter and her mother, Marjorie Anderson Davis, were repatriated before liberation. They arrived in California on the Gripsholm. Dorothy, along with her mother, came back at liberation time to locate their family and Dorothy's fiance, Don.


---
Dorothy wrote the following book (1996).
Excellent history of a family in Asia before WW II.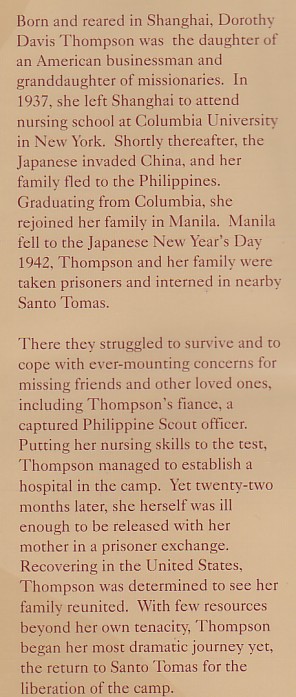 If you would like to share any information about this Davis family
or if you would like to be added to my POW/Internee e-mail distribution list,
please let me, Tom Moore, know.
Thanks!

td>