A short pre-War history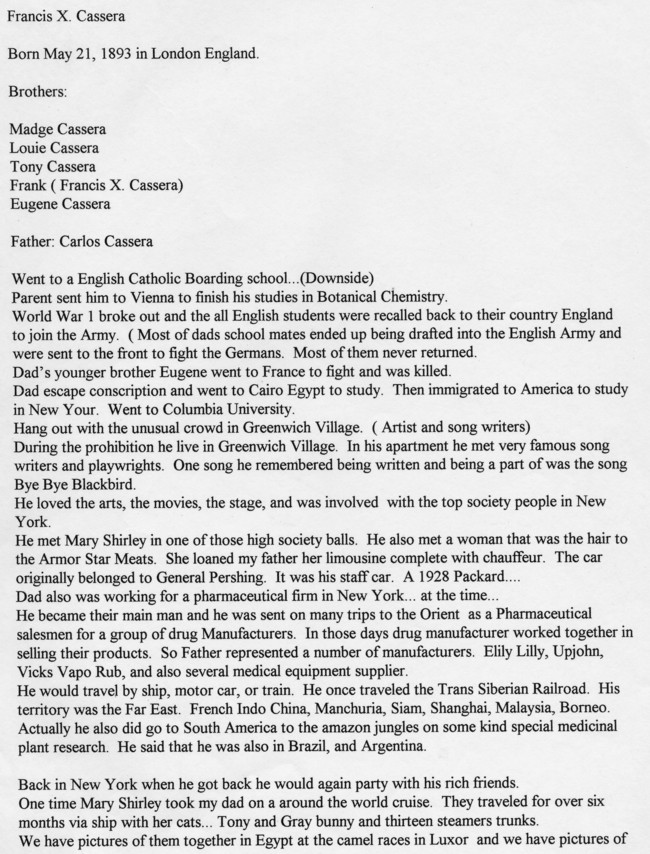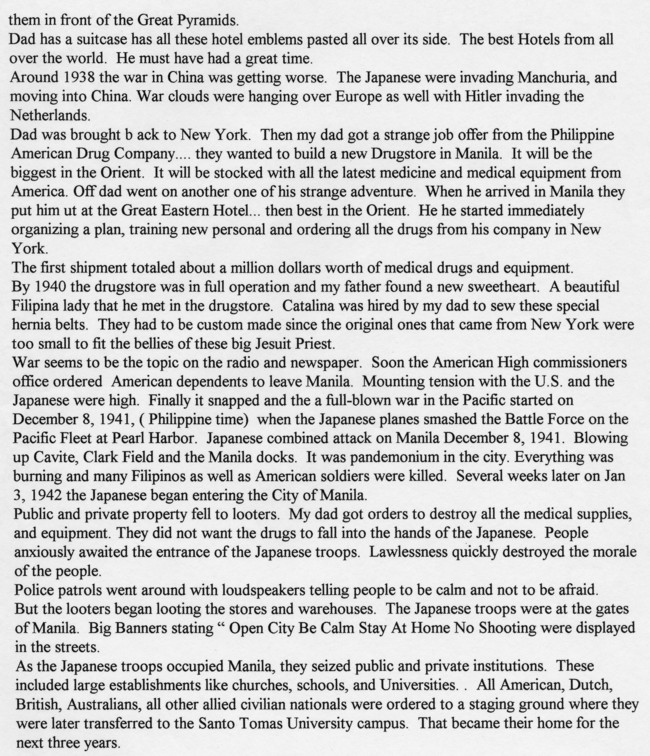 July 29, 2007

Regarding Reverend Foley...my father said that he knew him in the camp. He was killed during the liberation of Santo Tomas. The shelling in the camp...

My father has an oval aluminum pan that my father got from Mr. Foley. We still have this pan in the family. We call it the Foley pan. It's been with the family since my father got out of Santo Tomas. One of a few mementos from the camp.

I live in Portland Oregon now.

Tony Cassera
E-mail tcassera@comcast.net


---

Tony Cassera - January 9, 2008
From: Tony Cassera

Sent: Wednesday, December 26, 2007 10:28 PM
Subject: (Frank Hayashi,) http://stic.wordpress.com/2006/01/05/hello-world/#comments

William Curtis
Cranford NJ Historical Society

Mr. Curtis:

In one of my fathers letters he mentioned a Japanese officer by the name of Hayashi. He worked in Fort Santiago as an interpreter. He may be working in part with the Japanese Kempentie. Strange circumstances that brought these two together. My father's home state was New York and was a graduate of Columbia in the 1930's and became a chemist. He worked a for big pharmaceutical firm in New York. He was their medical detail man and sold X-ray machine and pharmaceuticals drugs in the Far East. ( Orient) He was later hired by the Philippine American Drug Company and brought out to the Philippines to set up Botica Boie and to stock this drug store with millions of dollars worth of pharmaceutical drugs and medical equipment.

Francis X. Cassera came to the Philippines sometime around 1937 or 38. He was an employee of Biotical Boie which later became the Philippine American Drug Company. He was there purchasing agents and in his letters said that for many years his organization average two million dollars a year in drug purchases. When the war broke out his company insisted that he stay to protect the company's investment and the result was he spent three years and two months in Santo Tomas Concentration Camp.

He was chosen by the overseeing committee in the camp for the job of catching rats because of his background in chemistry. He experimented with various compound and evolve a potent rat poison. Of these experiments he kept very detailed notes and observations. The Japanese of the day, being super-suspicious of everything they did not understand, grabbed my dad Francis Cassera and took him in for interrogation at Fort Santiago, under a charge of preparing bacteriological warfare against the Japanese. He was badly beaten around the head and starved for many days. In his last interrogation he met this Japanese officer, Mr. Hayashi. Hayashi immediately recognized my dad as fellow student and friend at Columbia University in New York. My dad quoted the words that Hayashi said " My God Francis what the hell are you doing here….. My dad explained to Mr. Hayashi that fleas carry bubonic plague…and that he was the exterminating engineer in the camp. His job was to get rid of the rats in the camp. The Jap soldiers found all these chemical in his shantie but the soldiers could not understand a word of English. They did not understand what he was doing with these chemical. They did not understand that rats carry fleas and…… Hayashi understood and said to to my father…" These stupid idiots…we have to get you out of here…

This Hayashi must have had some clout…he shouted at the guards …and my dad got out of Fort Santiago and was soon back at Santo Tomas. Its a remarkable story but it seems to fit because Mr. Hayashi is also from New York, and the same time frame…the 1930's They must have known each other then…classmates at the University..friends after graduate work?

Mr. Hayashi went back to Japan sometime 35 or 36 , my dad with his background in Botanical drugs got a job with a huge pharmaceutical firm in New York.

How they ended up in this Manila dungeon, this torture chamber is truly an amazing story. My dad never followed up with Mr. Hayashi…they never connected after that incident or saw each other again after the war.

I want to thank Mr. Hayashi because he save my dad's life. They said than anyone that is taken to Fort Santiago is never seen again. I believe this could be the man your interested in. Can you give me more information about Mr Hayashi and how are you connected?

Hayashi probably was the officer in charge of interrogation in Fort Santiago or maybe one of the interrogators since he spoke perfect English. He was the one who authorize to released my dad and to send him back back to Santo Tomas. Hayashi was a classmate of my father at Columbia University. They must have known each other quite well. Hayashi went back to Japan just prior to the war and since he spoke fluent English and was given the job as an interrogator for the Japanese Kempentie?

I will be posting my father's stories and many more of his short anecdotes about his experience in the Philippines and his internment and release.

Francis Died in 1979 at the age of 87 here in Portland Oregon
Married a Filipna
Three children

I am one of the sons
Tony Cassera
I live in Portland Oregon
tcassera@comcast.net

William Curtis – March 5, 2007
I am trying to research the life of a man (Frank Hayashi, born in 1908 of Japanese parents in Cranford New Jersey) He and his family returned to Japan in 1934. It's rumored that he might be the perfect English speaking Japanese Officer at the Internment Camp. If that's true could someone contact me? I'm a member of the Cranford NJ Historical Society. Thank You.

---

November 29, 2009

Dear Tom Moore,

It again a pleasure to see your Web site. As a son of a former prison camp survivor ( Francis X Cassera ) I want to thank you for providing us with a way to post our bit of historical data on our family's experiences.

Your passion is the spark that is lighting up the darkness of that time, and the memories of those forgotten prisoners.

Indeed time is running out for them and our greatest responsibility now is to make certain that stories like this continue to be told in all its raw misery and all its glory.

Thank you for your wonderful and encouraging news, comments, stories and history on this site. We will never forget these "Victims of Circumstance".

Sincerely,

Tony Cassera
503-226-0219
tcassera@comcast.net



The Rat Catcher With Nine Lives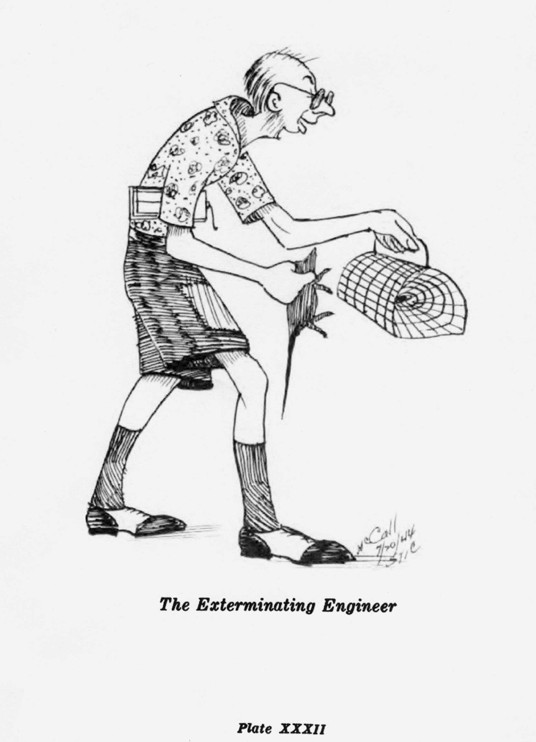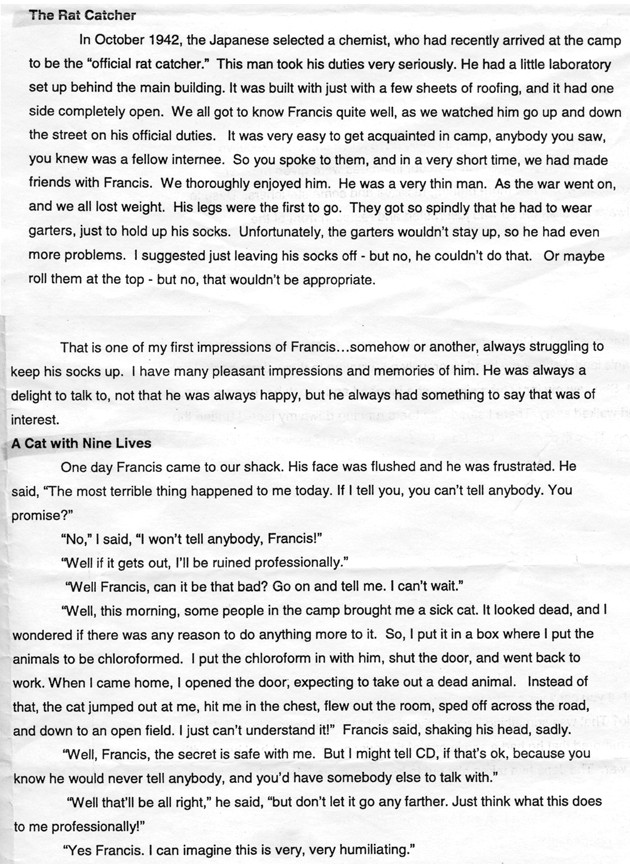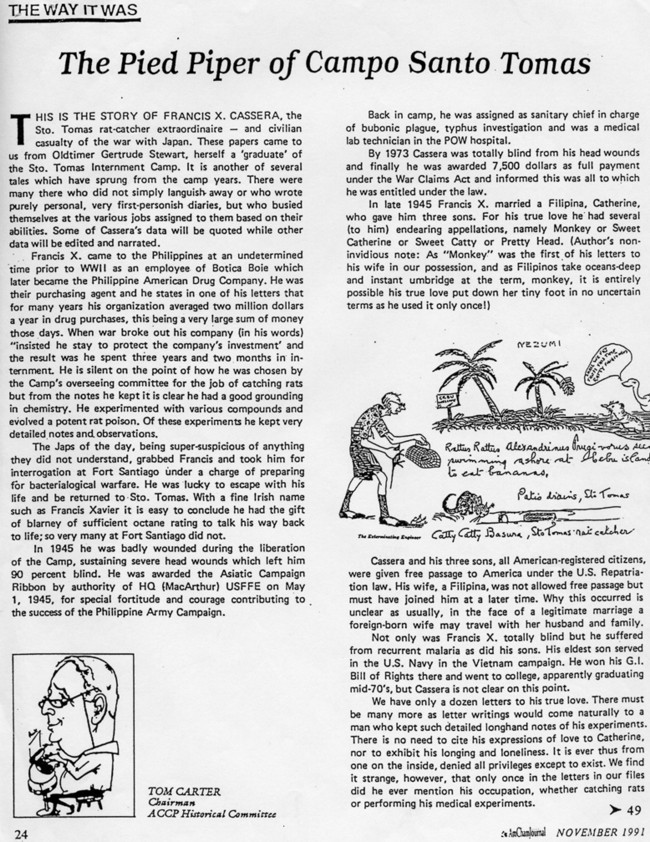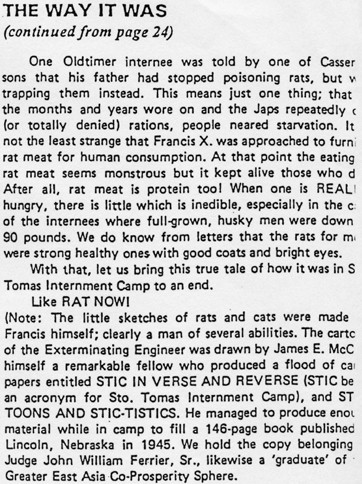 Catherine Cassera in the Photo and note from Francis X. Cassera to her, smuggled out of the Santo Tomas prison camp.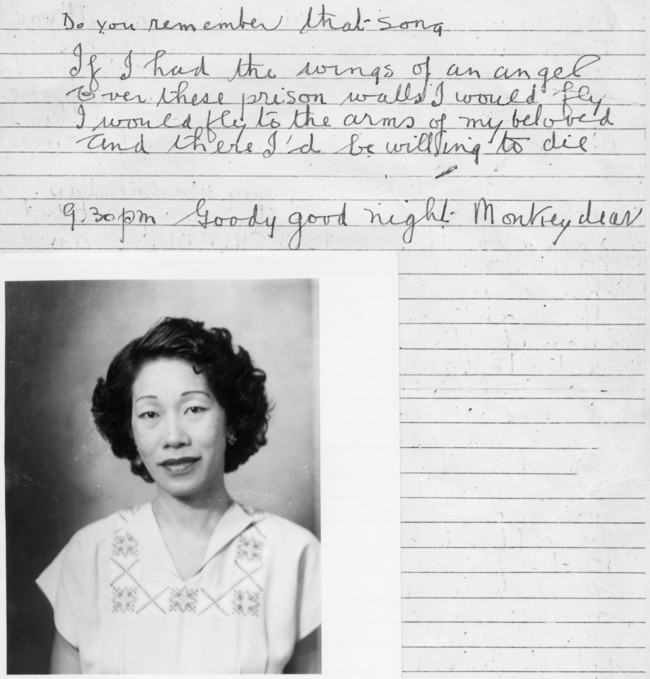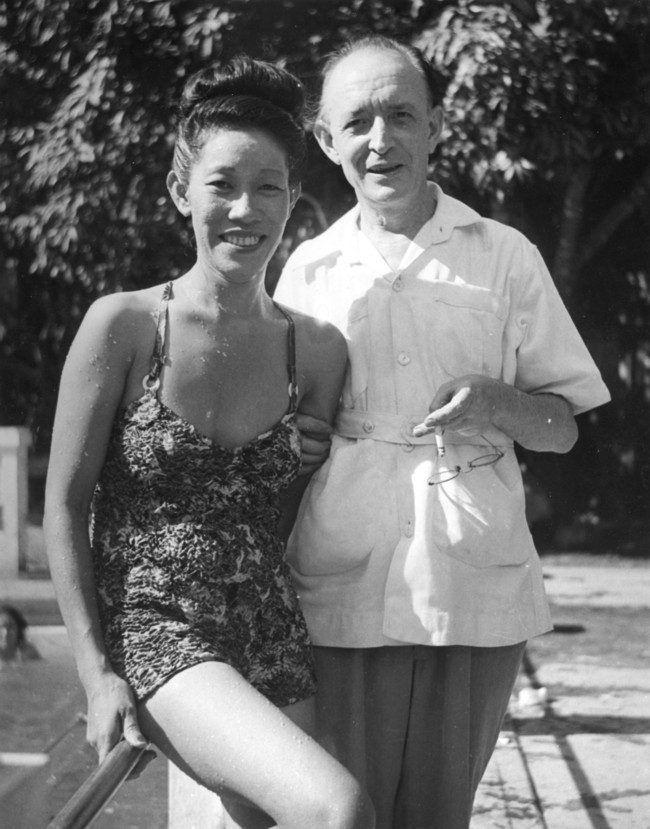 Catherine and Frances W. Cassera
Manila Hotel swimming pool 1947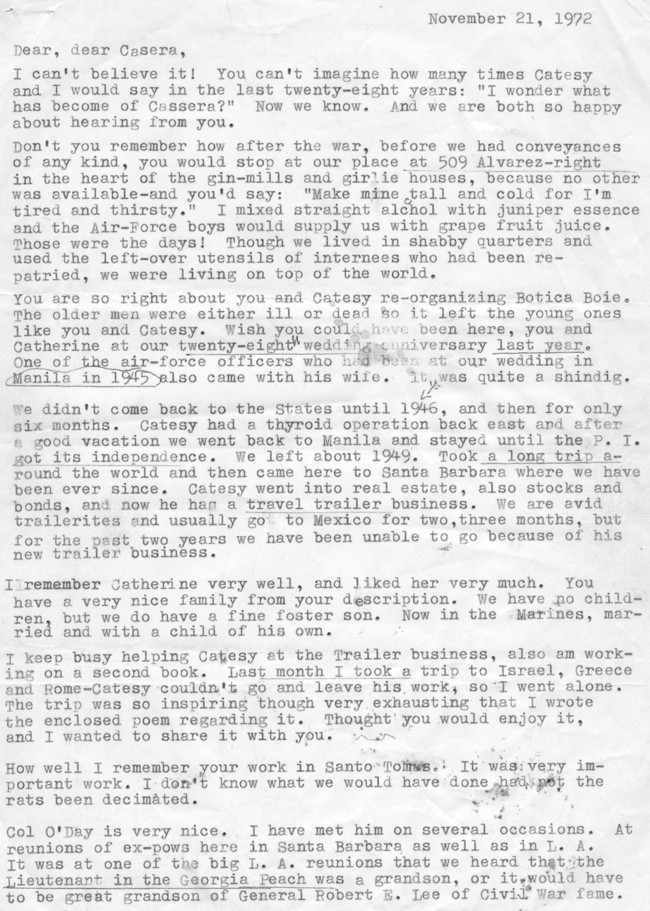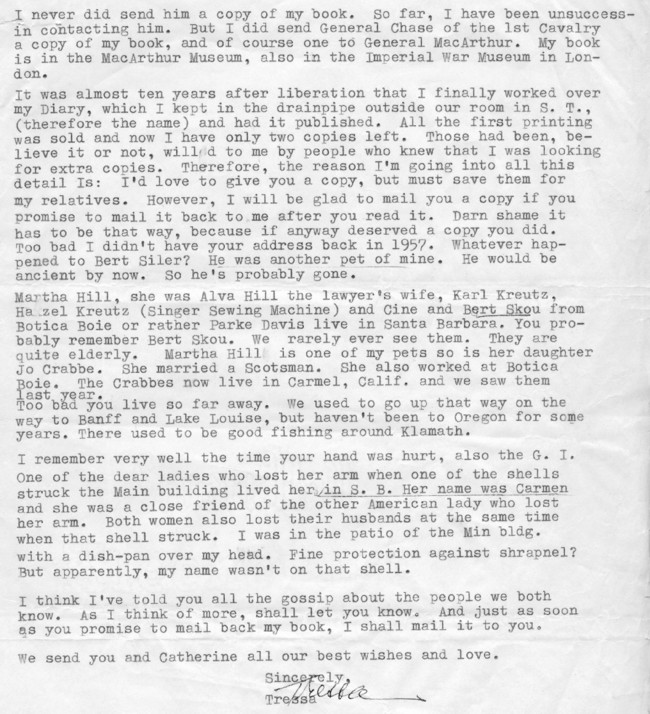 The above letter is from Teressa Cates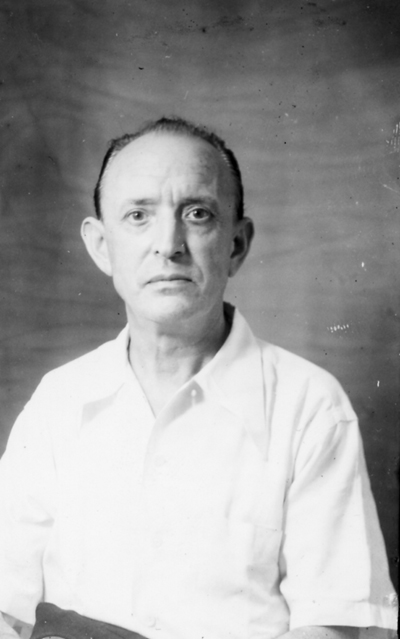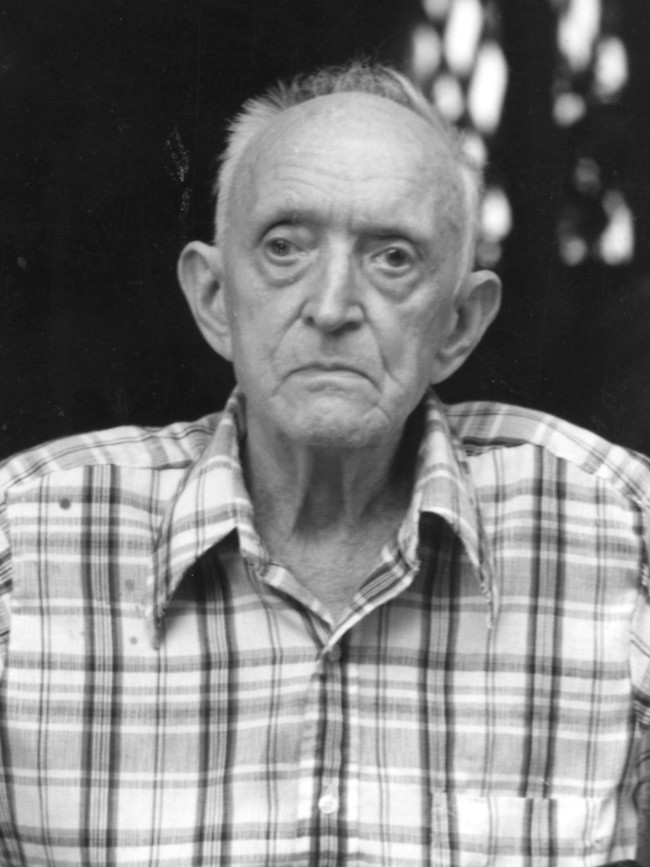 Francis X. Cassera - age 84
Portland, Oregon - 1977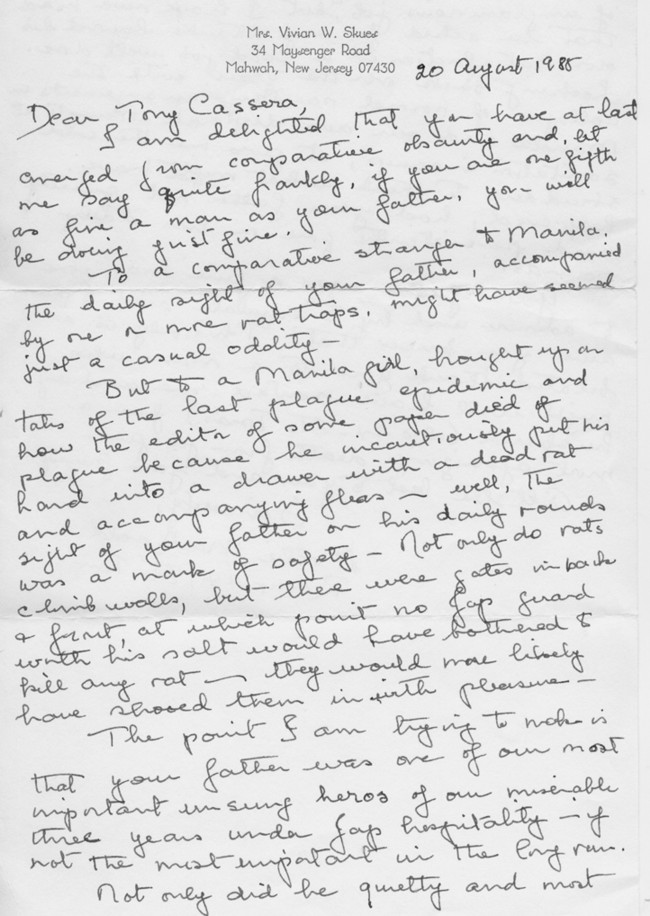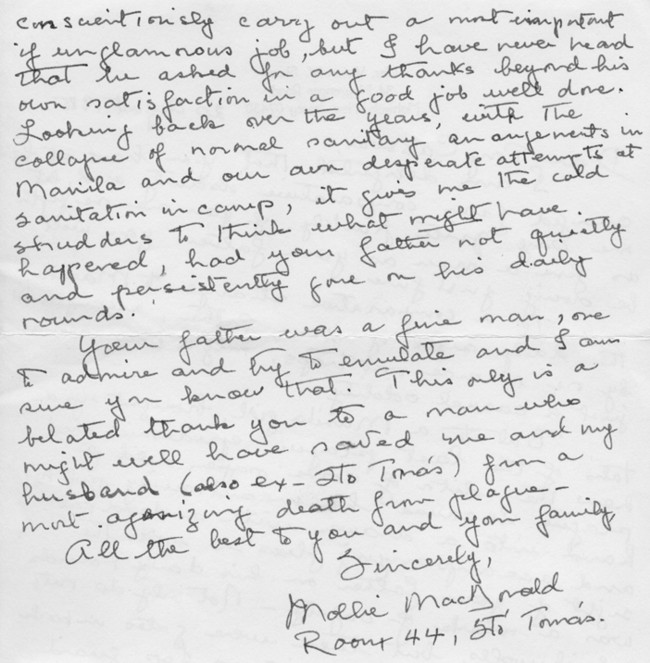 If you would like to share any information about Francis Xavier Cassera
or would like to be added to my POW/Internee e-mail distribution list,
please let me, Tom Moore, know.
Thanks!