THE CAPEN AND RODRIQUEZ FAMILIES


Charles Capen - father (1???-19??)
Morris Noel Capen - son (1923 - 2007)
Elizabeth Emma Capen Rodriguez - daughter
and husband, Joaquin Badolato Rodriguez


---
Morris Noel Capen was just a young boy in camp.

---
December 3, 2005

Morris Noel Capen was the son of Charles Capen of Topsfield Massachusettes and Florence Noel of Arkansas and Alsace Lorraine, France. Charles was stationed and died in the Philippines. Morris was first incarcerrated in Los Banos, Laguna and saved the lives of many American soldiers when he reported to the American soldier-prisoners the plan of the Japanese the kill them prior to the arrival of the advancing American troops. Morris is still alive and lives in Sacramento. (deceased in 2007)

My mother, Elizabeth Emma Capen Rodriguez, married to Joaquin Badolato Rodriguez, and sister of Morris Capen was also in Santo Tomas and at Camp Holmes in Baguio. She comes from Topsfield, Massachusettes and came to the Philippines at a very young age with her father, Charles Capen. She studied at the American Central High School.

Joaquin Rodriguez
E-mail jcr_ph@yahoo.com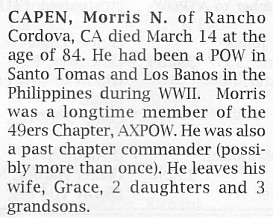 If you would like to share any information about the Capen or Rodriguez Families
or would like to be added to my POW/Internee e-mail distribution list,
please let the me, Tom Moore, know.
Thanks!


Background music to this
page can be controlled here.
"Yin Nian Hao"