THE ALLMOND FAMILY -- MARY, DENNIS AND JEANETTE


Mary Amparo Allmond (mother, 1913 - 1999)
Jeanette M. Allmond (daughter, born 1939)
Dennis M. Allmond, Jr. (son, 1940 - 1971)

---
Several months ago, I wrote trying to get my mother, brother and my name on your list of those at Santo Tomas. But I do not see it on the list still.

(NOTE: We now have some documentation about this family. See excerpt below.)

My mother was born and raised in Manila, of Spanish and American ancestry. She was a prisoner of war for 3.5 years. She has died and I am trying to find out as much as I can about the camp, with the hope of finding someone that might remember her, although that may be almost impossible at this late date. Her name was Mary (Amparo) Morris Allmond, my brother was Dennis Allmond and my name was Jeanette Allmond. My brother was born in 1941 and I was born in 1939.

My father, Dennis Allmond, Sr., was in the Navy and was killed (12-31-1941) at sea soon after the war broke out. He was killed on the USS Huron. I had two uncles who were on the death march. Their family name was Morris. I wish I had discovered this site years ago while my mother was still alive. I only have a picture of us after we arrived in the states. Some of the mementos she had were lost in a fire.

Any help you can give me in learning more about the internment would be greatly appreciated.

Jeanette Reilly
jeareil@aol.com


---
February 3, 2009

Dear Lou (Gopal) and Tom,

Thank you so very much for all your help. I am sending you, in an attachment, some photos I have of my mother, brother and me shortly after arriving in the US. (see below)

Today, I found a letter written by a Colonel C.W. Weeks, U.S.A. retd. Chapter Chairman. I think he was with the local Red Cross. He wrote to Mr. Willard Chase, of the Veterans Administration and gave the account of my mother as follows:

"January 1 to May 1942 the widow lived at her home in Manila P.I. May 1942. The widow was evicted by the Japanese and she went to live with a friend, Pilas Pradilla in the District of Santa Cruz in Manila..January 1943. The widow was arrested by the Japs, being suspected of aiding the guerillas. She was detained three day in Fort Santiago while being questioned and then placed under guard in Hospicio de San Jose, Ayala Bridge, Manila. February 10, 1945. Upon entry of the American Army into Manila, Mrs. Allmond was liberated....."

This seems to indicate that she was at Hospicio de San Jose. This also accounts for the pictures she has of some sisters of Charity who might have been with her for awhile. She has pictures and a few letters she received after the war. I so regret that I didn't do this searching earlier, but with working and family and before the invention of the internet and email, it just didn't happen. Mom didn't like to talk about it very much.

Thanks again.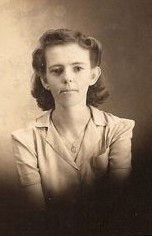 Mary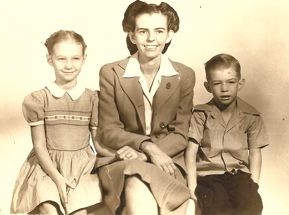 Jeanette, Mary and Dennis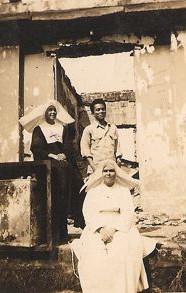 The nun in the dark habit was Sister Julita from the Hospicio.
The other are unknown.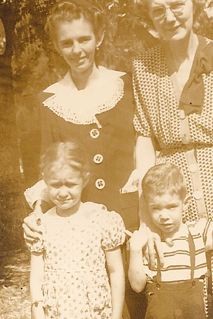 Jeanette and Dennis in front
Mary and aunt in Florida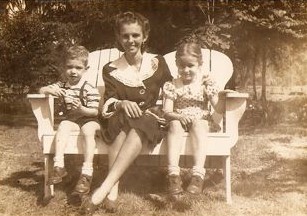 Dennis, Mary and Jeanette



If you would like to share any information about the Allmond family
or would like to be added to my POW/Internee e-mail distribution list,
please let the me know.
Thanks!